Many things we buy turn out to be a bad investment. We get little in return for the money we spend. Other times, we do better. My Dad cooks his breakfast every morning in a cast iron skillet which has been in our family for around 150 years. It shows no sign of wearing out. Whoever paid 50 cents (or whatever) for that pan in the mid-late 1800s got their money's worth.
In my house, we have a few things like that. For example, this clothes hanger that came with the dry cleaning. Apparently a long time ago, because the business phone number is "Westhampton 1019." We still use it every day. Whoever paid for dry cleaning that day got their money's worth.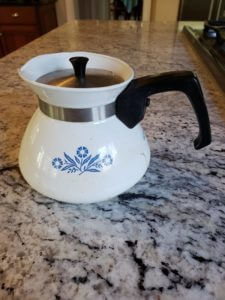 How many of you have one of these teapots in your house? I don't know how old it is. My wife says it's just always been around. I use it every morning to boil water for my coffee (I use a French press). Every morning. How much water has this little pot boiled over the years?
We also have old furniture and pictures of course, but it's the little doodads that are old, inexpensive, and unremarkable that I find fascinating, for some reason. If only they could talk – the stories they could tell. I'm using them without thinking of them, just like many of my relatives who died long before I was born.
I love my new cell phone, my new laptop, and my spiffy new car.
But I love my old stuff too. Can't help it.
Do you have any old doodads that you still use?
Published in General