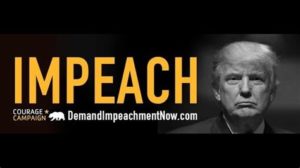 The unfolding of the impeachment saga sounds like a very poorly written detective story, where the Left already knows who committed the crime. But the Democrats are still trying to re-write a story that the public will swallow. It's not going well.
This story required dozens, maybe hundreds, of bureaucrats, who were delighted to be led along in the Trump impeachment story. It's not difficult to understand why those who have been interviewed are so angry (since Trump violates everything about their Leftist agenda), but their determination to indulge in lies and distortions is revolting and even bewildering. They have decided to be "strung along" and assist in the writing of the detective story because they hate the supposed perpetrator.
They may be successful in impeaching Trump, and they will also be successful in destroying any respect that citizens may have held for the Democrat party.
The reasons for the destruction of the Democrats is that they once again assume that the general public is naïve, stupid and gullible. The flood of negativity is probably turning off many people on both sides of the aisle. But if the Republicans use a laser-focus on the huge flaws of the Democrats' arguments, they have a chance of winning the minds of the people. The Republicans' job is to create a clear narrative of why and how this story is being played out.
I'd like to focus on the biggest flaw of the Democrats: they decided that their key argument would be on the President's applying the pressure of a quid pro quo. This kind of bartering (not bribery) occurs frequently between countries. Even the biased CBS News acknowledged this charge to be a fallacy:
All of this presumes there is something wrong with a 'quid pro quo.' But even that seems untrue. In fact, 'quid pro quo' arrangements are normal in diplomacy. A House bill passed recently by Democrats would establish a 'quid pro quo' that bars Russia from access even to private U.S. funds until it can be shown not to have interfered in U.S. elections. Trump, Democrats say, sought his personal or political interest; it also happened to be a national interest.
Okay. So let's not call it quid pro quo; let's called it bribery instead. Or extortion. Part of the problem is that if the party that is supposedly being bribed is not aware of being bribed, it's not a bribe—is it?
Here's what Kurt Volcker, the U.S. Special Representative for Ukraine until recently, said:
Volker said that the suspension of military aid came to his attention on July 18, a week before the president's call with Zelensky. He told the committees that he had tried to find out the reason for the suspension, but 'nobody ever gave a reason why.'

He said withholding the aid struck him as 'problematic,' and he 'acted immediately to argue this has to be reversed.'

However, Volker also refuted the idea that military aid was used as a bargaining chip for a White House meeting. He told the committee that he didn't believe the Ukrainians were even immediately aware that the assistance had been suspended. 'I don't believe — they were aware at the time, so there was no leverage implied.'
One important point to stress is that Mr. Volcker's statement was an assumption, based on a lack of evidence to the contrary. When I review the other statements made by several others, they will be stating their assumptions as fact. The lack of evidence dominates their testimonies.
It's helpful to examine statements regarding quid pro quo of five other parties: Fiona Hill, Gordon Sondland, Marie Yovanovitch, Colonel Alexander Vindmann, and Bill Taylor.
First, let's look at the comments of Fiona Hill:
At Bolton's request, Hill told NSC White House lawyer John Eisenberg that Mulvaney knew about a quid pro quo: 'Ambassador Sondland had basically indicated that there was an agreement with the Chief of Staff that they would have a White House meeting or, you know, a Presidential meeting if the Ukrainians started up these investigations again,' she told the committees.
Now, an observation about Gordon Sondland's statement, the United States Ambassador to the European Union:
But there are two big logical leaps in Sondland's statement.

The first is that he only 'presumed' there was a "quid pro quo' — that is, he did not have direct knowledge of one.

The second is that he told the Ukrainians that a 'quid pro quo' was 'likely' — that is, he did not know with certainty.
Sondland amended his statement but I assume he did so under pressure. (Forgive my own assumption.)
Next, a portion of the interview of Marie Yovanovitch:
According to a transcript of her testimony October 11 released Monday, Yovanovitch testified she learned in late 2018 that Giuliani and former Ukrainian Prosecutor General Yuriy Lutsenko had plans to "do things, including to me." She said Lutsenko and Giuliani had several meetings, and Lutsenko sought to remove her in retribution for the embassy's efforts to rid the prosecutor general's office of corruption.
Let's look at a comment by Colonel Alexander Vindmann, a White House official:
In hours of questioning on Tuesday by Democrats and Republicans, Colonel Vindman recounted his alarm at the July 25 call, saying he 'did not think it was proper' for Mr. Trump to have asked Mr. Zelensky to investigate a political rival, and how White House officials struggled to deal with the fallout from a conversation he and others considered problematic.
And finally, a portion of the interview of Bill Taylor, former ambassador to Ukraine:
Taylor also testified that his knowledge of the phone call between Trump and Ukrainian president Volodymr Zelensky wasn't first-hand knowledge.

'And this isn't firsthand. It's not secondhand. It's not thirdhand,' Rep. Lee Zeldin, R-N.Y., said to Taylor. 'But if I understand this correctly, you're telling us that Tim Morrison told you that Ambassador Sondland told him that the president told Ambassador Sondland that Zelensky would have to open an investigation into Biden?'

'That's correct,' Taylor admitted.
Have you noticed a pattern?
Several people had only second, third or fourth-hand information and considered those to be facts.
A number of them made unsubstantiated assumptions from rumors.
A few assumed they were more qualified than the President to make foreign policy.
All of them decided that a quid pro quo had occurred and was unacceptable.
Additional analysis would probably yield more absurdities and distortions.
* * * * * *
Republicans are allowing themselves to be overwhelmed by the sheer volume of outrageous procedures, assumptions and lies. They have to get their act together and take control of this impeachment story and reveal how misguided and despicable the actions of the Democrats have been. They need to limit the amount of information they include and choose the most egregious issues to make their points. The House will still probably vote for impeachment, but they will be damaged in the process.
Republicans need to act now.
Published in Politics