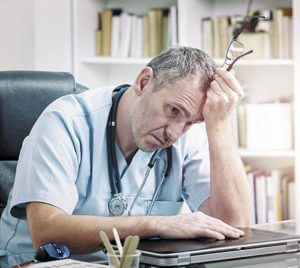 Physician burnout has gone from an occasional issue to a national epidemic over the past 20-30 years or so. Doctors have always worked a lot of hours but, in general, we work fewer hours now than we did before. So why the sudden surge in burnout? Physician alcoholism, drug abuse, and suicides are at all-time highs and continue to grow.
Wendy Dean, MD, has an interesting theory. Dr. Dean spent time as a psychiatrist in the military and noticed a similarity between the PTSD she saw in soldiers and the "burnout" that so many physicians are struggling with.
She avoids the term "burn out" and describes this phenomenon of exhaustion, demoralization, and depersonalization among physicians as "moral injury." Dr. Dean delineates the root causes of this condition: "Moral injury … describes the challenge of simultaneously knowing what care patients need but being unable to provide it due to constraints that are beyond our control." She explains that physicians are "… increasingly forced to consider the demands of other stakeholders – the electronic medical record (EMR), the insurers, the hospital, the health care system, even our own financial security – before the needs of our patients."
Aristotle would understand this. It's not that doctors are working too hard at their job. It's that they're being prevented from doing their job in the way that they believe it should be done. This creates inner conflict that is a slow-acting poison to the soul.
The best physicians are the ones who give a crap – the ones who really, really care about their patients. And unfortunately, those are the ones most affected by this phenomenon, as you might expect. So our best doctors quit or burn out. Which leaves the rest of them.
You can understand why doctors who really care about their patients struggle with modern medicine:
Each patient is going to the doctor because something very important is wrong, but they're herded through like cattle. They're treated like a number, not a neighbor that we care about. The doctor orders a test to find the diagnosis, and gets a message on his computer screen the next day telling him that the test was either denied, or requires additional meaningless paperwork, after which it will be denied. By a nameless, faceless somebody who has never met the patient. So he guesses, and writes a prescription to treat the disease he suspects the patient has, and gets a message on his computer screen the next day telling him that the prescription was either denied, or requires additional meaningless paperwork, after which it will be denied. By a nameless, faceless somebody who has never met the patient. And so on and so forth.
He does this thousands of times a year. And his natural human compassion that drove him to medical school years ago starts to feel a little numb. On a bad day, with a difficult case, he'll reach inside for that personal compassion that he needs to care for someone, and be unable to find it, for some reason. His brain feels overfull of tasks regarding Medicare compliance and HIPAA regulations, but his soul feels strangely empty. He's still functional, he tells himself. Just a little numb, for some reason. Eh – it'll pass.
The numbness leads to pain. Alcohol helps convert the pain back into numbness, which is sort of an improvement. But only for a while.
Sometimes it gets worse. It never gets better.
He yearns for sufficient apathy to keep him, well, mostly functional. The inner drive and personal compassion that made him an outstanding physician now make him a below-average bureaucrat, clicking boxes on his EMR, filling out more forms that he doesn't understand or care about.
This gradual process of depersonalizing our most compassionate profession is regrettable. But if you're a sick person, it's terrifying.
---
Modern leftism is partially based on the diffusion of responsibility. You feel guilty when you don't volunteer at a homeless shelter or when you see a child in need and you keep walking. But you absolve your guilt by voting Democrat. Hey – it's not my problem, it's our problem. It takes a village. Government is the name we use for things we do together. When someone is hurting, government must act. Cooperation is nice, right? We can all come together to achieve Utopia. People gradually defer their responsibility for one another to the collective. Diffusion of responsibility sounds good – it's so tempting. Which leads to stronger, more centralized power structures.
The individual starts to get sort of lost in the complexity of the ever-growing government. And people gradually become depersonalized.
Their responsibility for their neighbor becomes diffused to the society as a whole, meaning government. Loving their neighbor becomes more of a chore. After all, she's really not his problem. I don't need to walk across the street to say hello. I'll just "like" her post on Facebook. Didn't her husband just lose his job? Can't remember. Not really my concern, anyway. That's why we have unemployment benefits. It's nice that Elizabeth Warren wants to help the unemployed. I'm voting for her. That makes me nice, too. A little numb, maybe. But nice.
---
The moral injury of demoralization and depersonalization that Dr. Dean describes may be more exaggerated among physicians, because of our personalities and the nature of our profession. But I think it's more widespread than just among doctors.
Much of society suffers from this affliction, to varying degrees, in my opinion. The diffusion of responsibility and the resulting dominant power structures of modern leftism just don't fit with the natural compassion of human nature. In fact, it must suppress human nature. And when our natural human compassion is suppressed, we feel numb. And then we hurt. Booze and pills help. But only for a while. Just ask a doctor. Or ask anyone who's lived behind the iron curtain.
Modern culture is often described as coarse or vulgar.
I think it's just demoralized and depersonalized.
The diffusion of responsibilities is a tempting drug, but it has serious side effects.
Trust me. I'm a doctor.
I know.
And I'm really trying to care.
Published in General