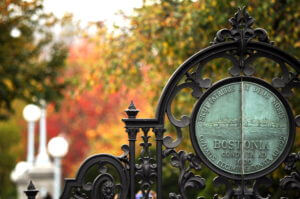 It's been 40 years since I moved into a third-floor studio apartment on Hancock Street in Boston. Street parking was wicked. You had to pay close attention to street-cleaning days or a towing operator's bounty and a ticket were in your future. My rundown little place was dark, literally in the shadow of the statehouse. I was a young CPA working for a big downtown firm but I rarely visited the office. Mine was a world of commutes from Boston to various clients in and around New England, some as far away as Providence — even upstate Vermont. Had Holiday Inn provided frequent stay points in those days, I'd still be redeeming them today.
I was a reverse commuter. The traffic, for me, was usually tangled, but always in the opposite direction. I lived in the inner city because that was where the action was. I could easily walk to the bars and restaurants near Faneuil Hall or the North End. Fenway was a couple of stops away on the green line. The Garden was less than 10 blocks away. It was a fun place to live, despite the constant battle with various vermin. City life requires pesticide. The landlord kept a five-gallon can in the basement and provided free spray bottles for tenants.
As a reverse commuter, I was an exception. Most folks who lived in the city worked in the city. The city's many ethnic, blue-collar neighborhoods provided the labor that made the city work. Construction workers, cops, firemen, yardmen, dockworkers, cooks, bottle washers – they all hailed from Boston's storied neighborhoods. The professionals – lawyers, bankers, brokers, and accountants – lived in Wellesley, Lexington, Newton, and the other tony suburbs. Middle managers lived in the less tony suburbs. That was just how it was in those days.
But that has changed.
My youngest graduated from college last year. She's now teaching at her old middle school and living at home. (I insist, as I want her to save her money so she can go to grad school, buy her own place, and create a little rainy-day cushion.) One of her best friends, Megan, pursued an engineering degree and upon graduation was offered a job at Raytheon in their management training program in Andover, MA. She's a very bright young lady, certainly deserving. I had earlier hired her as a summer intern to work in my employer's engineering department and she did very well. Megan came to me, as she knows I'm originally from the Boston area, to ask about where she might live.
I told her that I grew up less than 15 miles from Andover; that it was a lovely community then and I'm sure it still is. Finding a place might be difficult as rental properties and apartment complexes are generally scarce in the suburbs, but I was sure that she could find a place to live in Andover or in one of the nice surrounding towns.
But Megan had no intention of living in or around Andover. She wanted to live in Boston – Charlestown, South Boston, the West End, the North End, Hyde Park, etc., or in one of the surrounding cities – Sommerville, Cambridgeport, Chelsea; that was where "everyone" lives. She wanted to reverse commute.
Then it dawned on me. Boston's old ethnic neighborhoods are no longer home to immigrant and first-generation denizens; they've all sold out, cashed in, and been replaced by young professionals. Some of these new residents work in the city, but others, like Megan, reverse commute. This trend is not limited to Boston. In Denver, the developers cannot build their downtown condo complexes fast enough and young professionals flock to the city. Silicon Valley engineers prefer the San Francisco city life and commute to their jobs in the Valley. Even New York City's neighborhoods are turning over as young professionals reject suburban life for an urban lifestyle.
I think that this can be seen as a part of another, different, and somewhat disturbing trend. Young professionals are deferring marriage and children in favor of careers and an urban lifestyle. The twenties and early thirties have become blurred, a sort of pre-adult time of self-discovery and indulgence. As biological clocks tick louder and it becomes clear that life should include a family with children, the suburbs become more attractive. In the meantime, many of our older cities are benefitting from a sort of renaissance. I suspect that as Boomers transfer their wealth to their urban-dwelling children, many of these people will use that wealth, at least in part, to settle down in the suburbs.
When Megan first came to me and asked about Charlestown, South Boston, Sommerville, I thought, why would she want to live in one of these insular, ethnic, crime-ridden areas? But it's been decades and these are not the neighborhoods I grew up with. They've been transformed, some would say, for the better. Other folks, those who stubbornly remain, might not.
I have mixed feelings about it.
Published in General