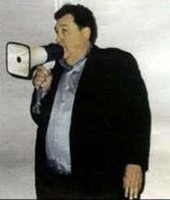 Thursday, November 7, 2019, brought three significant actions by President Trump: two Proclamations and one award ceremony. They all addressed service, freedom, and gratitude.
Presidential Message on the National Day for the Victims of Communism, 2019

On this National Day for the Victims of Communism, we remember the more than 100 million people who have died as a result of communist oppression. Today, we renew our commitment to helping secure for all people a future of peace and prosperity founded on the core tenets of democracy—liberty, justice, and a deep respect for the value of every human life.

This year's National Day for the Victims of Communism coincides with the 30th anniversary of the fall of the Berlin Wall. On November 9, 1989, determined men and women put President Ronald Reagan's powerful words into momentous action, tearing down that symbol of totalitarianism and sending a message to the entire world that democracy and the rule of law will always triumph over oppression and tyranny. As we commemorate this milestone for human rights, we resolve to continue working with our allies and partners to ensure that the flames of freedom keep burning as a beacon of hope and opportunity around the globe.

As we pause on this day of remembrance to honor victims of communism everywhere, we must resolve always to safeguard the cherished liberties that foster peace and unleash unparalleled prosperity. Together, we can build a future free from the evils of communism.
Here is that famous speech by President Reagan, penned by our own Peter Robinson:
Presidential Proclamation on Veterans Day, 2019

On November 11, Americans commemorate the service, sacrifice, and immeasurable contributions of our Nation's veterans who have proudly worn our country's uniform to defend and preserve our precious liberty. As we celebrate Veterans Day, we pause to recognize the brave men and women who have fearlessly and faithfully worked to defend the United States and our freedom. Their devotion to duty and patriotism deserves the respect and admiration of our grateful Nation each and every day. We are forever thankful for the many heroes among us who have bravely fought around the world to protect us all.

[…review of important actions, legislation supporting veterans…]

Time after time, throughout the history of our Republic, veterans have defended our way of life with integrity, dedication, and distinction. In respectful recognition of the contributions our service members have made to advance peace and freedom around the world, the Congress has provided (5 U.S.C. 6103(a)) that November 11 of each year shall be set aside as a legal public holiday to honor our Nation's veterans. As Commander in Chief of our heroic Armed Forces, I humbly thank our veterans and their families for their willingness to answer the call of duty and for their unwavering love of country. Today, we pledge always to fight for those who have fought for us, our veterans, who represent the best of America. They deserve our prayers, our unending support, and our eternal gratitude.

NOW, THEREFORE, I, DONALD J. TRUMP, President of the United States of America, do hereby proclaim November 11, 2019, as Veterans Day. I encourage all Americans to recognize the fortitude and sacrifice of our veterans through public ceremonies and private thoughts and prayers. I call upon Federal, State, and local officials to display the flag of the United States and to participate in patriotic activities in their communities. I call on all Americans, including civic and fraternal organizations, places of worship, schools, and communities to support this day with commemorative expressions and programs.

IN WITNESS WHEREOF, I have hereunto set my hand this seventh day of November, in the year of our Lord two thousand nineteen, and of the Independence of the United States of America the two hundred and forty-fourth.

DONALD J. TRUMP
Many of the veterans honored in memory and action had a part, large or small in the long struggle against the Soviet empire, called the Cold War, so it is doubly appropriate that both proclamations would be issued the same day. And then there was a veteran of the British and the American military, who fought against communists in hot wars in faraway places. Then he came back to his adopted home, America, and was a hero again on 9/11, saving around 2,700 people from the South Tower.
President Bush the Second did not honor this patriot and hero, nor did President Obama. After all, this man saved all those lives by planning and drilling his company personnel in emergency evacuation, assuming the next attack (after the unsuccessful 1993 World Trade Center bombing) would be from the air. His basis for this conclusion was analysis that the national security experts, the Deep State we are now told to venerate (because Orange Man Bad), missed in willful blindness. Too hard on Bush, you say? Here are two veterans calling out President Bush's inaction during his presidency:
In 2002, hundreds of veterans had signed a petition requesting that President Trump award the Presidential Medal of Freedom posthumously to Rick Rescorla. Michelle Malkin wrote about this in the Washington Times, March 2002, in a "Tribute to Rick Rescorla":
If politicians can find it in their hearts to give away government aid to illegal alien relatives of the victims of September 11, isn't it time to reward a naturalized American hero who sacrificed his life to save hundreds, if not thousands, of lives on that day?

[…]

Rescorla's bravery has been recounted in worldwide media outlets, from The Washington Post to the New Yorker magazine to the BBC. A movie based on his life is now being planned. And hundreds of veterans have signed an online petition urging President Bush to posthumously award Rescorla the Presidential Medal of Freedom.'
President Trump finally acted, as the first president to publicly honor Rick Rescorla, and did so with the second highest Presidential award: the Presidential Citizens Award. Why not the Presidential Medal of Freedom? It would certainly be appropriate, by its criteria.
Ah, but the president normally only presents that award on the recommendation of a panel, whose members hold a five-year term. So, we can see where the problem likely lies. President Trump took matters into his own hands, giving the highest honor he could without disregarding long-established published procedure.
Eighteen years after she lost her husband, as he laid down his life so others might live, a president of the United States took the hand of Susan Rescorla and supported her as the military aide read the award citation. Well done, Mr. President, yet again. And may God bless the Rescorla family.
See the full transcript at Remarks by President Trump at Presentation of the Presidential Citizens Medal.
---
There is more about Rick Rescorla here on Ricochet:
Published in General