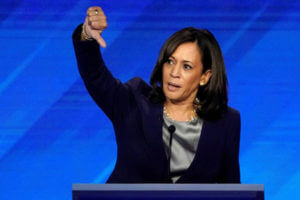 Democratic presidential candidate Kamala Harris is introducing a Senate bill to keep kids in school from 8 a.m. to 6 p.m. The proposed goal is to align schedules between the average school day and workday. While this might be convenient for working parents, it would trap students in classrooms for 10 hours, five days a week.
The actual goal is something different: strengthening teachers' unions, federalizing local schools, and further replacing the family with the state.
In a glowing profile, Mother Jones attempts to sell Harris's plan:
The majority of schools days end around 3 p.m., two hours before the end of 70 percent of parents' workdays. And most schools don't have a way to make up the difference. Fewer than half of all elementary schools—and fewer than a third of low-income schools—offer after-school care. Beyond that misalignment, schools shut down, on average, for 29 days during the school year, the majority of which are reserved for professional development, parent-teacher conferences, and myriad vacations and minor holidays the federal government doesn't recognize. That's a full two weeks' worth of days more than what the average American has in holidays, vacation, and paid leave combined. And then, of course, there's summer vacation, a two- to three-month break that leaves working parents scrambling for day-long care.

The school day and calendar is a bad deal for children: In the absence of a better alternative, 3 percent of elementary-school students and 19 percent of middle-school students look after themselves from 3 to 6 p.m. on school nights. But it's an equally bad deal for working parents—and the economy as a whole. A family paying out of pocket to cover child care for those two hours between the end of the school and workday costs an average of $6,600 dollars per year, or nearly 10 percent of an average family's income. Almost 40 percent of all workers lack access to any paid vacation time, which means parents will often have to scale back their workday to accommodate child care duties.
In that case, why not eliminate half the holidays and cut summer vacation to a week? That way, unmotivated parents could be even less involved with their kids and focus on what's really important: sending more tax dollars to Washington.
Published in Education, Elections