This post is a flip side of my posts on "What Harshes My Mellow." Unfortunately, I've discovered that there are only seven things in this world I like, three of which involve Bob the dog, so this won't take long.
1. Bob the Dog. Who's a good dog? Bob is. 
2. Marie the Bounteous. What more is there to say? Well, I also like the way she pads around the house in her housecoat. After 56 years of marriage, Marie is still as cute as cute can be. 
3. My daily Hot Tub Soak. Every night about midnight, I go out on the deck and soak for a half-hour in our hot tub's 102-degree water. Oooooooooh. I sometimes try to come up with an idea for a Ricochet post while I soak.
4. Mrs. She's Prose. After 30 years of teaching English, I still analyze prose as I read. I can't help myself. We have a lot of really good writers on Ricochet, but it's Mrs. She's prose that just totally swells my mellow. I'm sorry, Mrs. She, if my regular praise makes you uncomfortable. I'm not really a prose stalker. Well, I guess I am. But I'll try to restrain myself from now on.
5. My 105 Previous Posts. I enjoy rereading them. Yes I do. I say to myself every now and then, "Boy, you nailed that sentence, Kent." You think I'm an egotist? My wife does. I guess I am. But I do hope that someone out there in Ricochet land also rereads his own posts and is willing to confess to that personal shortcoming. That way I won't feel so alone in my self-absorption. (I wrote a grammar book about 50 years ago, and I still follow my outdated advice in that book. That's why I still use the personal pronoun "his" —see boldfaced "his" above — when logically it should be "his or her." The solo "his" to represent both sexes used to be common usage, but my use of the illogical singular in this modern age of "his or her" puts me square in the fuddy-fuddy category.)
6. My Morning Ritual. Every morning around 4:30 a.m, I'm at my iPad in the kitchen, with Bob the dog behind me on the couch in the den. He keeps one eye open for the signal: "Bob, let's go see Mom." When he hears that, he gallops up the stairs full bore and waits at the bedroom door. By the time I get there, he's usually moaning in anticipation, his tail wagging furiously. When I open the door, Bob springs into the bedroom, then jumps up onto the bed and onto the shoulder of a sleeping Marie. Then he peers over her shoulder and tries to lick her face. She's wide awake by this time, laughing and saying, "Bob, no tongue!"
I leave the room to go into the computer room to run off my crossword puzzle. His job over, Bob follows me in and lies down on the floor by my feet. And that's the end of our daily morning ritual. That just starts my day off right.
7. My New Baseball Cap. About a month ago, I ordered the baseball cap, with Bob's photo, that you see here. I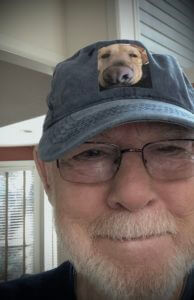 bought it through Amazon, though the company that makes the cap is located in China. Yesterday my cap finally arrived, I like it so much that I think I'll wear it to bed tonight. Just joking. I'm not that dotty. Yet. 
The cap with the photo set me back ten bucks, a price that included shipping from China. China is going to go broke at this rate.
Published in General