After the brouhaha of my last post, a critique of the myth of the Noble Savage, and a follow-up post on the question of why that same Indian post with 48 Likes didn't make it to the Main Feed (a post that rained down a few brickbats upon my sensitive bald head), I thought I would back off from controversy and post my usual inconsequential essay on things that harsh my mellow. Too much excitement in my life threatens my serenity.
I keep thinking that I'm going to run out of things that harsh my mellow. After all, I'm an easy-going guy who doesn't let many things bother me. But as I go about my day, something annoys me and I think, "Criminently, the Ricochet peeps are going to want to know about this."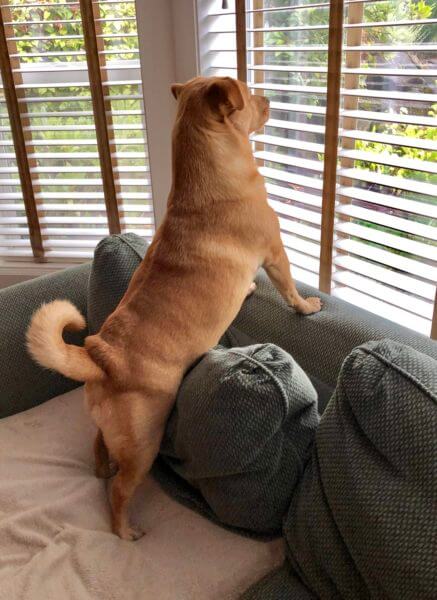 1. The Pussycat Next Door. The darned thing sashays around the neighborhood like she owns the place, pooping here and there, but mainly on our flower beds. Bob the dog tracks her, as you can see in the photo to the right, as she walks back and forth in front of our house. That cat harshes both Bob's and my mellows. 
2. Fat guys in the sauna. Lately I've been baking in my gym's sauna (190 degrees) after I lift weights. There's some old guy who comes in about the same time I do. He weighs over 300 pounds and wears nothing but a pair of shorts. You remember that boxer called Butterball? That's sorta what the guy looks like. He's totally bald and has a pot belly as big as a cow's udder that hasn't been milked in a week. It seems to threaten to burst. If it does explode in such an enclosed space, he will take all of us in the sauna down with him.
I said "Hi" one day when just he and I were in the sauna. I shouldn't have. The guy's conversation was as careless as his appearance: loud, slurred, and full of "You know what I mean" tags onto the ends of sentences and the use of "goes" instead of "says."
But then I think, "Kent, you're terribly small-minded for thinking such unkind thoughts. You don't look so hot yourself." So I feel bad about my lack of empathy. And that's why the fat guy harshes my mellow. He brings out the worst in me.
3. My brother-in-law. Because he's a California left-winger. I don't think I need to say anymore.
4. Dog Poop Scofflaws. My normally warm feelings toward mankind cool down when I see dog poop on the sidewalk. Behind that poop, of course, is a dog owner who said to his fellow citizens, "I'll leave my messes behind for other people to deal with." These are the same kinds of people who pick up a six-pack of Coors Light in Wal-Mart, change their mind, and put it back wherever they happen to be at the moment.
I have to confess that I occasionally would like to released from John Locke's social contract when Bob poops in tall grass 15 feet off the dirt path. Surely I can get away with leaving that poop, just this once, to the elements. But Marie calls me back to good citizenship as she sends me off the trail to search for the poop. Marie follows every rule she meets, plus some she makes up just so she can follow them.
5. Age spots. They've started to show up on the top of my balding head. Normally, I wouldn't even think about them because I can't see them. But when Marie cuts my hair (or at least trims the few strands that remain), she reminds me of their presence. "Uh Hon, you've got some age spots on your head." Like she didn't tell me that the last time she cut my hair.
I'm five years older than she is. I think she reminds me of my age spots in order to subtly remind me that she's much younger than I am. The woman is clever — but not clever enough. I see into the various ruses that she uses to get the upper hand in our marriage. So on the same day that she reminds me of my age spots, I make sure to remind her that the skin of her upper arm is beginning to sag.
For 56 years, our marriage has been a zero-sum game. And that harshes my mellow.
My life is a living hell. 
Published in General