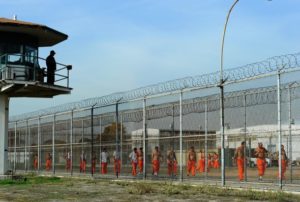 I spent the weekend in North Carolina, with a friend who works for the North Carolina prison system. He was discussing the complexity prisons face, in providing for the needs of different types of prisoners. He said that they used to have a special prison for violent offenders, which had more staffing, more elaborate security systems, more doctors, psychologists, and so on. He said that because of all this, violent offenders were much more expensive to house.
He then cited an interesting statistic. Twenty-five years ago, violent offenders (those serving time for a crime of violence against another person) made up 27% of the NC prison population. Now it is 70%. This incredible and rapid transformation of their clientele has put an enormous strain on the prison system. Most of their facilities are just not designed for this population. It occurs to me that our society was not designed for this population, either.
A free society, based on personal liberty and personal responsibility, does not function well with such citizens. One wonders: what happened? Where did all these people come from? Where were they before? People aren't any different now than they were 25 years ago. Not genetically, anyway. So why are they so different?
This would not appear to be due to the emptying of the mental hospitals – that happened in the 1960s and 1970s. Twenty-five years ago was 1994. Something has happened recently. And very, very rapidly.
Is this trend likely to continue? Will our society continue to become increasingly violent?
What's strange is that our violent crime rate is falling, and has been for years. Could it be that we're just so efficient at identifying, capturing, and convicting violent criminals that we now have lots of violent prisoners and fewer violent free citizens? That seems unlikely to me, although I guess I don't know.
Maybe prison overcrowding has led authorities to release all but the most dangerous criminals, so the only ones left in prison are the most violent offenders. Again, I don't know.
So what do you think?
Why is our prison population becoming more violent so quickly?
Why is our violent crime rate falling at the same time?
Will these trends continue?
These seem like enormous changes in society. But I really don't understand what's going on.
Any help would be appreciated.
Published in General