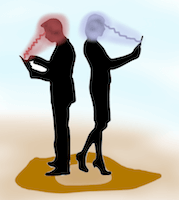 Are we all ill-served by "smartphones" that actually stupify? Beyond the concerns about mental health (depression and anxiety, addiction) driven by social media engineered to drive constant desire for interaction, beyond worries about muscular-skeletal concerns from people hunching down into their hand-held digital devices, beyond even negative cognitive performance results, there appears to be a loss of social skills important to every brick-and-mortar business, including restaurants.
This last concern arises from observing servers and bartenders, usually at least partially compensated by tips, ignoring customers, money-making opportunities, lost in keeping up with their Instagram, Snapchat, Facebook, or Twitter account. So, teens and young adults are being harmed in their job and career development, aside from all the other claimed negative effects of smartphones on teens. To the extent that Americans are putting such devices into children's hands at a younger age than parents in other countries, they may be building in lifelong disadvantages, while being sold the line that they are actually helping their child get ahead.
How would we expect a young person to pay attention in a workplace, when they have been allowed almost unlimited screen time for years? Should we be surprised that people will not make eye contact? Consider this current commercial for the latest Samsung Galaxy:
Exactly what did the classroom look like? What is the boy's focus? How is this a selling point to the adult who must sign the phone contract and buy this very expensive ego extension and magnifier? How does this contrast with the reported behavior of the people behind Google, Apple, and the rest of the information technology field, the parents in Silicon Valley? Would you say that this concluding paragraph in a Psychology Today article, "Screentime and Arrested Social Development," matches your impression of the boy in the smartphone advertisement?
In short, screen-time makes children less able to tolerate disappointment and boredom, more entitled, and less willing to work — whether it be for school, at a job, or to improve a relationship. Is this really what we want for our children?
Are we, as a nation, being ill-served by stupefying phones? What sort of training and supervision, including of supervisors, do you think it would take to overcome the long conditioning to constantly have at least one eye or ear out for the next ping from the social media apps on employees' phones?
Published in Group Writing