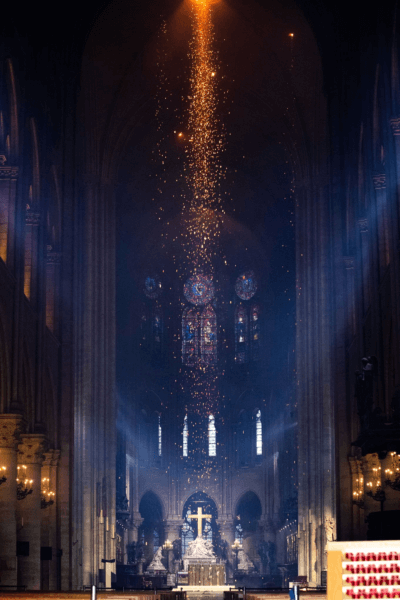 A few days ago Le Figaro published a picture from inside Notre Dame Cathedral at the moment the area above the altar caught fire and began to rain down hot lead from the 856-year-old roof. It is simultaneously horrifying and mesmerizingly beautiful.
If it were not for the knowledge of the destruction to come, this 1/30th of second would look like the very glory of God Himself over the cross. And maybe it was, as a test to the nation of France and the entire Western world.
It will take perhaps 20 years before Notre-Dame de Paris is restored. Pray that we all don't lose interest before then.
Morning in Paris, the city awakes
To the bells of Notre Dame
The fisherman fishes, the bakerman bakes
To the bells of Notre Dame
To the big bells as loud as the thunder
To the little bells soft as a psalm
And some say the soul of the city is
The toll of the bells
The bells of Notre Dame…
— Alan Menken and Stephen Schwartz
Published in General