They came tumbling into the building pape and plastic bags strewn along the hallway, guitars under their arms, and energy to spare; they were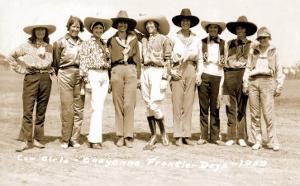 close to the same ages as the patients they would be entertaining. I didn't realize at the time that they were going where I was going, to the Memory Unit. I was going for my weekly visit to see my hospice patient whom I'd been seeing for several months; they were going to entertain the patients with their musical act.
As musicians and singers go, they were not the most talented bunch. But they made up for their lack of skills with enthusiasm and joy. They were dressed in cowboy hats and boots. They'd brought colorful Halloween leis for every person in attendance. They weren't always sure of the words of their songs, or the chords they intended to play on their two guitars, so they had small poster boards filled with the lyrics to help them along the way.
We were treated to This Land is Your Land, God Bless America, and a Spanish song; I can't remember its name, but everyone (including me) joined in on the chorus with a raucous, "Ay-yi-yi-yi!" That song was clearly their biggest hit. They sang one Beatle song and donned colorful wigs to imitate the Fab Four. It was quite the show!
To give some background on this story, every Friday the patients are treated to music. Often the performers are former professionals, bring their amps and computers, and sing along with the music, and the performers are pretty good. I'm not sure what happened on this Friday, but it was certainly . . . different.
The singers lost track of the words, sometimes sang in a different key than they played on their guitars, but never stopped their efforts to entertain the patients and always encouraged them to sing along if they knew the words. If the patients liked a song, they sang it twice. When they ran out of songs, one of them suggested Christmas songs, and asked the group for suggestions: Jingle Bells and Rudolph the Red-Nosed Reindeer were at the top of the list, and we all sang loudly. I didn't quite know what to think about the performance, and wondered if they were a quickly hired replacement act, or if they'd just wandered in.
Then I stopped indulging my critical mind.
Who did I think I was to stand in judgment of these women who had given up their time to entertain these patients? They probably knew that music is a wonderful way to engage dementia patients; the patients were delighted by their presence and excited by their act and often joined in. The cowgirls walked around the room introducing themselves, asking the names of the patients, shaking or taking their hands in their own, making eye contact and always, always speaking with the joy of being alive. All the cowgirls lived in the same 55+ development as I did, although we didn't know each other. One of them had her own mother in that unit, and I knew her mother, who was a sweet, friendly woman.
My initial reaction of puzzlement and judgment melted away as I realized what a sweet gift the cowgirls had given these patients. Clearly, the patients knew what they'd been offered and treasured their performance.
As I realized what I had just witnessed, so did I.
Published in Culture