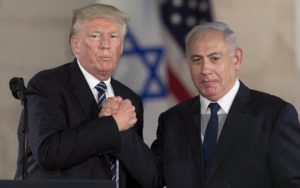 The organization J Street has been a thorn in the side of Jews and Israel for quite a while. They purport to be pro-Israel, but many of the policies they support work to Israel's detriment. Recently they held a conference that Ben Shapiro reported on; six of the Democrat presidential candidates attended the conference or sent videos in their stead:
This week, four of the top candidates for the 2020 Democratic presidential nomination—Pete Buttigieg, Amy Klobuchar, Julian Castro and Bernie Sanders — gathered at the J Street Conference to explain why the United States ought to pressure the state of Israel to make concessions to terrorists, why the Obama administration was correct to appease the Iranian regime and why American Jews ought to value the opinions of Bernie Sanders over those of Israeli Prime Minister Benjamin Netanyahu on the future of Jewish safety.

Two other top Democrats — Elizabeth Warren and Joe Biden — sent video messages in support of the group.
In contrast, all the candidates were invited to attend AIPAC's conference and not one of them attended. Although AIPAC doesn't always agrees with Israel's actions or decisions, its commitment to Israel's interests is straightforward.
If we assume that attending this conference was not in itself a statement, what did the candidates specifically say? Here's Shapiro's summary:
So it was no wonder that Bernie Sanders arrived at the J Street conference and quickly suggested aid to Israel be redirected to the Gaza Strip, run by Hamas, to the cheers of attendees. It was no surprise when Buttigieg suggested that the Iran deal correctly ignored Iran's terrorist funding and ballistic missile testing, while also suggesting that America reconsider aid to Israel if Israel continues to build in disputed areas of Judea and Samaria. It was no shock when Julian Castro pledged to open an embassy in East Jerusalem for the Palestinians — despite the fact that no solution has been negotiated with regard to the final status of Jerusalem.
Elizabeth Warren added her two cents worth:
Warren stated that she would welcome the Palestinian General Delegation back to Washington and would reopen an American mission to the Palestinians in Jerusalem.

Warren also stated that she would resume financial support to UNRWA, knowing full well that these funds would be used to incite Palestinian terrorism against Israeli citizens.
Why should attendance at the conference and these comments be judged unacceptable? First, J Street is no friend of Israel. Here is a statement from its website, as an example:
J Street believes that Israel's capital is in Jerusalem and will be internationally recognized as such in the context of an agreed two-state solution. We believe that the surest way to achieve that international recognition for the Israeli capital in Jerusalem is through a negotiated and viable two-state solution whereby– as outlined in the Clinton parameters and subsequent discussions between the parties– Jewish areas of Jerusalem are secured as the capital of Israel and Palestinian areas of East Jerusalem become the capital of the future Palestinian state.
Jerusalem has been the capital of Israel for centuries, long before the Muslims built on the Temple Mount. To consider dividing it as part of a two-state solution is not acceptable. Attending a conference sponsored by an organization that works against Israel's interests in this area as well as others is not acceptable.
In looking at the candidates' comments, their suggestions to negotiate with terrorists is absurd. The Palestinians and the related terrorist organizations refuse to recognize Israel's right to exist. Notice, too, that there are no expectations of the Palestinians regarding the Israel/Palestinian conflict.
The farther the Democrats move to the left, the more their anti-Israel comments grow. Although they make statements about Israel being a friend of the United States, their criticisms essentially threaten Israel's existence.
Friends don't treat friends this way.
Published in Foreign Policy