Way back in the 1980s, I played in a string quartet with some other amateur ladies. We played strictly for fun, and we did have a lot of it. One year, we decided to have a Halloween costume party for our many musician friends. We asked all of our friends to base their costumes on something musical, and that could be anything at all with a musical theme. We made cookies with music-note cookie-cutters, and someone brought a cake with a very clever frosting in music-staff and notes.
But the best part of that party was the costumes people dreamed up. Starting with myself, and my first husband, who was a mechanical engineer… He always liked to say that I played the violin and he played the stereo. He bought some foam-core board and made himself a very elaborate boom-box costume. He painted on all the controls, front, back and sides, including all the legends (labels) and the battery compartment. I had the bright idea of going as a clarinet. We bought some black poster-board and silver paint. We cut out the front and back, and he painted on all the silver keys. Then, he made me a headdress that was the mouthpiece, with very realistic reeds on the front. I wore the costume like a sandwich-board, with shoulder-straps connecting the front and back of the clarinet. My one mistake was forgetting to put a hinge somewhere in the front panel so I could sit down! By the end of that party, I had very sore feet!
The other violinist in our quartet and her boyfriend also had a very creative costume (as a couple). They were very into opera at that time, so they did Carmen. However, in a very interesting role-reversal, HE was Carmen, and SHE was Escamillo! Her outfit was well-done, with a great bullfighter uniform and the requisite red cape. His costume brought the most comments, however. He used two grapefruits as breasts, and a low-cut dress and mantilla. Now, Dan was, and still is, a rather shy person in real life, but this costume totally brought out his extrovert side, and he was great as Carmen, and generated gales of laughter, especially whenever one or more of the heavy grapefruits fell out. They did their shopping for their costumes at the thrift store, and the produce section of the grocery store.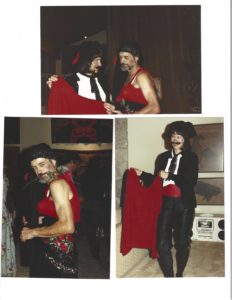 Our violist came as Minnie Pearl, of Grand Old Opry fame, and her thrift-shop costume was evocative of Country Music. And whenever she was greeted by someone, she replied in Minnie Pearl's distinctive How-DEE! Another friend came as the Phantom of the Opera.
Our other musician friends had lots of fun dreaming up musical costumes. One of our trumpet-playing friends came as "87-measures-rest" since the trumpet section often has long stretches of silence. Another one of our friends came as Dolly Parton (a perfect foil for Minnie Pearl), so we had a fair amount of Country. We had a couple come as piano keys, one white and one black (could we get away with that today?). A violin player in our string group (we had our own quartet as well as all playing in a separate string orchestra) came as a Fermata, with a t-shirt that read "Hold Me, I'm a Fermata." Beethoven didn't show up, but Brahms did.
Looking back on it, that had to be the best Halloween parties I've ever been to. Ever.
Published in Group Writing