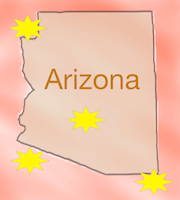 No, this is not a tale from the 1800s, although you might find some themes and players in common with the excellent account of Henry Lafayette Dodge's service. These three stories all broke since early October. First we learned of an Arizona native, from an old family, engaged in massive immigration and adoption fraud. Then we learned of a mass grave near a Mexican coastal town, long regarded by middle class Arizonans as their beach home community, nicknamed "Rocky Point." Finally, while mulling over these two stories, Arizona and a neighboring Mexican state became national news with the shocking slaughter of nine women and children on a Mexican highway, almost certainly at the hands of an identifiable cartel. All of these stories are tied to the enormous wealth of the American nation, enabling appetites unrestrained by moral sentiments.
Massive Fraud Centered in Arizona's Valley of the Sun:
In early October, news broke that Maricopa County Assessor Paul D Peterson had been indicted in a massive adoption and immigration fraud case. As the state and local government cast about for a legal way to remove this elected official from his office, I quickly captured his official biography.* He brazenly touted his adoption activities, apparently secure in his status as a fifth generation Arizonan and a staunch member of the Republican establishment.
According to court paperwork obtained by Arizona's Family, Petersen and associate Lynwood Jennet arranged and paid for pregnant women to travel from the Republic of the Marshall Islands (RMI) to the United States to place their children for adoption. The Compact of Free Association law, passed in the mid-1980s, bans women from RMI from coming to the U.S. just for adoption. The law allows for exceptions if a special visa is obtained.

[…]Between Nov. 30, 2015, and May 30, 2019, investigators identified 28 women from the Republic of the Marshall Islands who gave birth in the Phoenix area and then placed their babies up for adoption through Petersen. Petersen allegedly paid these women as much as $10,000 plus $1,000/month during the time they were staying at his home in Phoenix. Additionally, he allegedly covered travel, food, and cell phone costs.

Investigators found eight pregnant women from the Marshall Islands in raids of his properties outside Phoenix, and several more are waiting to give birth in Utah, authorities said.

According to investigators, Petersen helped the women get state health benefits through the Arizona Health Care Cost Containment System (AHCCCS) once they were ready to give birth. Petersen and Jennet lied on legal documents and claimed the women were from Arizona, the documents allege. They did this, investigators say, through the Law Office of Paul D. Petersen, where Jennet worked. AHCCS investigators estimate the current loss to Arizona exceeds $800,000.

[…]

Women got little to no prenatal care in Utah, and in one house slept on mattresses laid on bare floors in what one shocked adoptive family described as a "baby mill," according court documents.
To be clear, wealthy Americans, with the assistance of a small-time establishment Republican functionary, were buying babies from poor Pacific Islanders, from a tiny barely-independent nation of about 75,000 total population. The State Department says of the Marshall Islands:
The economy of the Marshall Islands is closely linked to that of the United States, and its GDP is derived mainly from U.S. payments under the terms of the Compact of Free Association. The U.S. Army garrison on Kwajalein Atoll, a key component of the U.S. missile defense network is the number two employer in the Marshall Islands. Through the Compact, the United States provides significant financial support to the Republic of the Marshall Islands to help achieve the Compact goals of economic advancement and self-sufficiency.
Naturally, this went from state cases to a federal case in a hurry, as the news got uglier:
Federal authorities will transport Petersen to Arkansas where he faces additional charges, according to U.S. Marshal for Arizona David Gonzales.

Petersen was arrested Tuesday evening and placed into MCSO custody. On Friday afternoon, Arizona's Family learned he was transferred into federal custody.
Then we learned that there were red flags all the way back in 2006. Who was president then? Surprise, surprise, it was President Bush the Second. He was all about protecting the homeland, so long as it suited his kind in the Chamber of Commerce. That is why it took so long to arrest Paul D. Peterson:
Red flags about Petersen's adoption process using Mashallese moms were raised multiple times for more than a decade.

"I just think that nobody really took the time to look into it. There were steps along the way where people identified that maybe there was a problem," said Fisher.

He wonders whether Petersen's status played a role in it taking so long before he was arrested.

"I think people either turned a blind eye, or they can't believe that a person of that status would be able to do something as illegal and inappropriate as he was doing, and I think that caused people to pause, and people weren't taking the allegations seriously," said Fisher.

Fisher says hospitals, AHCCCS, and law enforcement all may have dropped the ball at some point.

"Quite frankly that's very troubling to me," said Fisher. "I'm an attorney that practices family law in this county, and it just baffles me that this power and practice of wrongful adoptions would be able to continue for so long under everybody's nose."
So, how is this substantially different from birth tourism, or from encouraging pregnant women, near their due date, to stagger across the southern border and drop anchor in America's social welfare system for at least 18 years? It is all about caring for the children, of course. Except, the facts keep contradicting the establishment's slogans.
We are also not supposed to ask why there are, apparently, not enough children available for adoption here. We are not supposed to look too closely at human smuggling and human trafficking, largely across our southern border. The deep state, the crony capitalists, their Congress critters of both major parties, presidents of both parties (until President Trump), and lawless federal judges are unified in the belief that they, not we, know best here. So, stories like this are to be carefully contextualized and minimized, like the mass graves just across our border and the occasionally noticed bloody enforcement of cartel sovereignty.
A Mass Grave near Arizona's Beach (Rocky Point/ Puerto Penasco):
For decades, Arizonans have viewed the Sonoran Mexican town of Puerto Penasco as their beach town, a place where there is an entire community of Arizonans' vacation homes, and even an American Legion post. I visited a friend's house there for Thanksgiving around 2008. She and her husband were both solidly middle class, having made five figure salaries in Arizona public service.
The house, like others around it, had duel electrical systems. It had started off the grid, with solar panels powering a 12 volt lighting and fan system, water heating tubes on the roof, water delivered by truck, and a septic system. This had been augmented by municipal electric power.
The town, and the highway to the U.S.-Mexico border were peaceful, safe. Around 2009, a journalist asked the town chief of police about public safety. He replied by opening his office desk drawer and showing the reporter that that was where he kept his pistol. He felt no need to carry it in his daily duties. Then the cartels shifted their logistics routes to include, or pass through, Puerto Penasco. This was evidenced by the following stories:
2010 — Rocky Point falling on rocky times: Drug war fallout, real estate slide keep tourists away [emphasis added]:
Data from Sonora show that the murder rate appears relatively steady, though it rose slightly in 2009. Three homicides were reported in Rocky Point in 2006, 10 in 2007, 10 in 2008 and 13 in 2009. So far in 2010, six homicides have been reported.
But perhaps the most troubling incident wasn't a killing at all. On June 19, police chief Erick Landagaray and his bodyguard were shot several times, in what officials initially described as an ambush.
2011 — U.S. now includes Rocky Point in Mexico travel warning:
Travelers need to "exercise caution" in Nogales and Rocky Point, an updated warning for Mexico travelers from the U.S. State Department says.
This is the first time Rocky Point, also known as Puerto Peñasco, has been mentioned in an official travel warning. Nogales has been mentioned before as a site of frequent shootouts, but the city itself has not been singled out like this by the State Department.
2012 — Violence fuels fears about Rocky Point, but diehards don't fret:
It's all been enough to scare off many tourists from north of the border, especially after the home invasion and shootout prompted the U.S. Consulate to issue a new warning in July about travel to the town, known to many English-speaking tourists as Rocky Point.

[…]

Returning home last week, Tucsonan Cynthia Choate said she had been reticent to travel to Rocky Point due to news of recent crimes there. They included an unprecedented incident: On July 17 criminals robbed and assaulted a group of travelers in a home invasion at a house in Las Conchas, an American-dominated residential area that stretches along the beach to the east of the main town.
"We stayed at Las Conchas, and for the first time ever they actually checked me in at the guard gate," she said.
2013 — Five Killed in Puerto Penasco Tourist Zone Gun Battle:
Five people were shot dead in a gunfight with Mexican police in the Sonora beach resort of Puerto Peñasco, or Rocky Point, early Wednesday.

Sonora Attorney General Carlos Navarro said the gunfight took place in a tourist zone called Sandy Beach. It's a popular destination for Arizona travelers, and it has left some American visitors afraid to stay.

[…]

Mexican officials have not identified the dead. But Mexican press accounts report that among those killed was an enforcer for the Sinaloa Cartel named Macho Prieto. He's been named in various grisly murders in Mexico's cartel battles.

Rocky Point has seen very little of the organized crime violence that has dominated the news in Mexico for much of the past decade, but this is the third gun fight in the beach town in less than a month. Two weeks ago, a young man fired on police after officers tried to pull him over. He was found carrying four rifles and body armor.
2016 — New Peñasco cop unit signals a break from shakedown days:
For too long some police officers were used to extort visitors, said Mayor Ernesto "Kiko" Munro. "They would stop them at any corner under the excuse they had run a stop sign or were driving over the speed limit, when we didn't even have the equipment to determine that."
The new mayor, who took office last September, said under his administration the municipal police have orders to not hassle visitors, but instead to hand out warnings when appropriate.
Notice that this initiative is about limiting police corruption experienced by tourists, something possibly achievable by local authorities. No mention here about public safety defined as reducing cartel violence in the tourist areas.
2018 — Rocky Point travel warning unchanged:
The only thing that has changed is how the government labels the level of risk. Areas are now assigned numbers from 1 to 4. Level 4 is a "Do not travel" zone, Level 3 is a "Reconsider travel" zone, Level 2 advises "Exercise increased caution" and Level 1 is "Exercise normal precautions."

[…]

Puerto Peñasco, in northern Sonora, is Level 3 in the new system because of drug and crime problems in other parts of the state, including a triangular region west of Nogales, east of Sonoyta and north of Altar that is well known for drug trafficking.

[…]

Rocky Point has seen its fortunes rise and fall with U.S. travel advisories. It was first included in the government's Mexico travel warning in April 2011.

[…]

Since then, state and local governments in Sonora have invested heavily in security, in attempts to lure back visitors. To this day, it's common to see armored police vehicles patrolling the city at all hours.
2019 — Driving to Puerto Peñasco, 1 year into 'safety corridor' project:
Thousands of Arizonans have driven to Puerto Peñasco or Rocky Point and it's become a hot vacation spot. Last year, Arizona and Sonoran governments teamed up to improve the road to Rocky Point by creating a safety corridor.

[…]

"The work between the Mexican government and the United States government is evident because there are signs all along the way, the roads has been improved, you have actually shoulders on both sides all the way down," [traveler Dan Hurwin] said.
Notice, that, even at the Sonora and Arizona state level, the levers being pulled are infrastructure improvement, not a coordinated attack on cartel power. Of course, as local and state governments are overwhelmed, the reach of the cartels make them a national security and national law enforcement issue. That may be addressed in some other post on the cost of the War on Drugs and the need for effective border and interior enforcement. Never mind Syria, what about Mexico?
Well, we have been hearing for months now that the Mexican military has heavily deployed to both borders to deal with the flood of third-country migrants encouraged by bad organizations and politicians to rush our border. In the midst of that high profile presence near our border, the following two stories become more shocking, possibly even showing cartels contemptuous of national military power:
First, we learned of a mass grave near Rocky Point:
Orduño, spokeswoman for the state's Attorney General's Office, has said it is too early to come up with theories on why the bodies were buried in a mass grave because they first had to determine how they died or were killed.

Rocky Point, about a three-hour drive southwest of Phoenix, has been relatively safe in the past few years in an area that is otherwise known as a busy, and profitable, drug and human smuggling route into Arizona.

Occasional cartel-related gunfights have occurred. The city was the scene of especially heavy fighting among criminal groups and the Mexican military in the early 2010s.

Recently, the Sonoran state government, with the help of Arizona officials, has heavily invested to improve safety in and around the beach resort town, as well as the main highway from Arizona leading to the city.
Massacre on Mexican Highway near Arizona Border:
It appears that a three-vehicle convoy of women and their children was ambushed on a highway, at least one vehicle bursting into flames and nine women and children dying in the hail of bullets or from the resulting car crashes and fire. These were members of a "fundamentalist" Mormon sect, meaning they lived in Mexico so they could practice plural marriage without being prosecuted. Instead, they were slaughtered by one or more drug cartel enforcer teams, who may have made a bad identification on their target or may have been involved in a gun battle, with the women and children caught in the middle.
The Arizona Republic tells of families murdered in Mexico on the way to a wedding [includes cell phone video of the bullet-riddled, burned-out minivan with charred bodies]:
The three mothers were driving from Bavispe to a wedding in LaBaron, another community in the state of Chihuahua, when their three vehicles loaded with children were attacked by gunfire, causing one of the vehicles to explode in flames, Staddon said. A video posted online shows a burned vehicle riddled with bullet holes.

[Arizona resident Leah] Staddon said the community is home to members of the Mormon Church and members of a fundamentalist Mormon sect. She said the victims of the attack were members of the fundamentalist group.

[…]

She said her brother discovered the bullet-ridden vehicle still smoldering with the charred bodies inside and shot the video as evidence.

Mexican authorities described the victims:

They said bodies of one woman and four children were found inside a burned Chevrolet Tahoe.
Three more people, a woman and two children, were found dead in a white Suburban nearby.
The body of a woman was found in a second white Suburban.
Unless this fundamentalist Mormon community was foolishly getting into the meth manufacturing or other drug business, this slaughter makes no clear sense. As President Trump tweeted about it, his words suggested that the deep state was telling him it was a tragic case of two gangs, rival cartels, shooting it out on the highway and the women and children getting caught in the crossfire. This, however, is unlikely to be true.
Yes, I am saying the President may have been lied to again by the same crew that has decided they will run this country and the elected president, the electoral majority, and the real Constitution, can pound sand. If there was a gun battle on the highway, you would not get three, and only three, vehicles effectively engaged and the occupants all killed. This, based on what we are given, has all the marks of a classic linear ambush, either by a small force in position off the side of the road or by a mobile force overtaking the three vehicles and then pouring bullets into them at point-blank range.
Another account points out that the women and children were part of La Mora, a community established decades ago when the founders moved from the United States to Mexico:
All of the victims were apparently related to the extended LeBaron family in Chihuahua, whose members have run afoul of the drug traffickers over the years. Benjamin LeBaron, an anti-crime activist who founded neighborhood patrols against cartels, was killed in 2009 in a watershed moment in Mexico's drug war.

The attack happened near Rancho La Mora on the border between Sonora and Chihuahua in a remote, mountainous area where the Sinaloa cartel has been engaged in a turf war with another gang. The ambush scene stretched for miles.
So, this sounds a lot more like a horrific message, not a mistake. Further reporting confirms that this was a linear ambush:
As two countries grieve the ambush killings of six children and their mothers, Mexico's president has set up a special commission to find the killer or killers.

[…]

The three mothers drove together in a convoy for added protection, family members said.

"All of a sudden, bullets just rained from above, from on top of a hill, down on top of them," said Lafe Langford, a relative of the victims.

"The mothers were dead. There were seven wounded children that were alive."
So, the death toll stands at nine: three women and six of their children. Additionally, there were between seven children wounded. This seems most likely to have been in the two white Suburbans, the vehicles that did not burn. The community from which the victims came is clear they were deliberately targeted:
The [Salazar criminal group] is aligned with the powerful Sinaloa cartel — once headed by Joaquin "El Chapo" Guzman — and is mortal enemies with the Linea, a faction of the Juarez cartel of Chihuahua.

"They run everything here," Miller said.

And largely out of fear, the Mormon community, which runs large pecan and pomegranate farms in this fertile river valley, has not challenged them.

Miller said the cartel frequently set up roadblocks to track who was coming in and out of the area and last year told the Mormons — who settled here decades ago after breaking off with the Church of Jesus Christ of Latter-day Saints — that they had to buy gasoline from the cartel and couldn't purchase it anywhere else.

The Mormons obeyed. In exchange, cartel members warned them to stay home when they thought there might be violence.

While nobody in the community knows for sure the meaning behind Monday's attack, some here have speculated that the Juarez cartel wanted to send a message that it controlled the road into Chihuahua state that the caravan of mothers and children was traversing.
Reporting on President Trump's reactions is willfully uninformative. The president of Mexico, his military, and his government are well-aware that President Trump refused to let the deep state continue Obama's and their policy in Syria and Iraq. They know he compelled the rapid destruction of the ISIS caliphate and the successful lethal attacks on the ISIS leader and successor. Perhaps it is only our own deep state, our own military-industrial complex, our own Chamber of Commerce, that is preserving the rigged game in which the cartels thrive.
As I finalized this post, I saw Laura Ingraham on a television screen. The woman who was for the Iraq War and the troops, before she was against them (but claims to really, really respect us poor dears, victims of bad leadership and fore-doomed policy), is now apparently back in fan-girl mode for some sort of action against the allegedly failed state of Mexico, whose president she condemns as effectively enabling the cartels.
Is there an achievable solution, something that breaks the power of the Mexican cartels or makes them deeply fearful and circumspect about raising their hand against an American? I can say with some confidence that no one in the deep state, no one in the institutionalized "War on Drugs," and no one in the commentariat has a feasible solution.**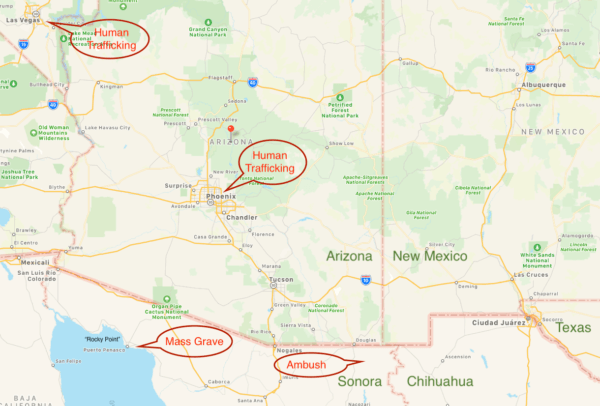 ---
* Biography captured from Maricopa County Assessor's website:
Professional Career
Maricopa County Assessor Paul D. Petersen is serving his second term as the elected Assessor in Maricopa County. After winning a special election in 2014, he was re-elected as Assessor in 2016. In the process, Assessor Petersen received over 1 million votes. This is the most votes cast by Maricopa County voters for any elected official in County history. Prior to his election in 2014, Assessor Petersen served nearly eight years in the Assessor's Office working as the Assessor's representative at the Arizona Legislature and as the Public Information Officer. In this capacity he advised the previous Assessor regarding legal, administrative, and political issues regarding the property tax system in Arizona.
Currently, in addition to serving as a county elected officer, Assessor Petersen serves as the President of the Arizona Association of Assessing Officers (AAAO) and Past President of the Arizona Association of Counties (AACO). He is also serving as an appointee to the National Association of Counties (NACO) Finance, Pensions, and Intergovernmental Affairs Committee and to the International Association of Assessing Officer (IAAO) on the Legal Task force. He is an active member of the Maricopa County Republican Party, the Arizona Republican Party, and a precinct committeeman in Legislative District 25.
Before joining the Maricopa County Assessor's Office, Assessor Petersen was a sole practitioner in his own law office. Assessor Petersen continues to practice law from his Mesa-based law office, and his law practice remains committed to helping people all across the country in their effort to adopt children. He has helped guide families through this complicated process for nearly 15 years and has provided counsel for adoptive and birth parents alike in hundreds of adoption cases since the beginning of his adoption practice. Assessor Petersen graduated from the Sandra Day O'Connor School of Law at ASU in 2002. He is admitted to practice law in Arizona and several other states.
Assessor Petersen is a fifth-generation Arizonan with familial ties that trace back to the territorial days of our State. He is a lifelong resident of Mesa, Arizona. Assessor Petersen is an avid fan of all things ASU, (his undergraduate degree was from the ASU Walter Cronkite School of Journalism), a lifelong fan of the Arizona Phoenix Suns, and the Arizona Cardinals.
** The relevant book, one in the line of speculative military fiction by serving or former mid-grade Army officers in the 1990s, is Harold Coyle's Trial by Fire. If you have not considered the moves and counter-moves in this novel, your plans and prognostications are not serious.
Published in Politics