Maximum concern would be warranted if 70 percent of millennials said they were likely to vote for candidates who supported Chavismo or Maoism or Marxist-Leninism. But more than two-thirds of that generation saying they are "somewhat likely" or "extremely likely" to vote for a generic "socialist?" Not so much.
And certainly I wouldn't read the results of a new YouGov/Victims of Communism Memorial Foundation survey as Axios does: "Young people's political views often change as they grow older, but their support for socialist ideas and leaders is a sign that the old rules of politics are changing fast."
Expressing preference for life in a "socialist" country is a bit like wanting to live in Thor's Asgard or on Wonder Woman's home island of Themiscyra. (Or go to school at Hogwarts.) This is true even if one charitably interprets "socialism" as humane democratic socialism and not the more brutal, repressive variety seen in Cuba, Soviet Russia, or Venezuela (the latter also being a prime example of destructive populism). Good luck finding such a place.
Given other polls similar to the YouGov one — as well as the continuing popularity of Bernie Sanders and rise of Alexandria Ocasio-Cortez — a recent JPMorgan report tried to determine how "democratic socialism" works in the real world. Its conclusion: "A real-life proof of concept for a successful democratic socialist society, like the Lost City of Atlantis, has yet to be found." The report defines democratic socialism as an economy with high taxes and high spending, inflexible and trade-protected labor markets, and vast state intervention throughout the private sector far beyond what American business experiences.
What about Scandinavia, the go-to, real-world example of socialism done right? Well, at least that's been the exemplary case since pointing to Venezuela has become an embarrassing exercise for all leftists other than blinkered ideologues and Sean Penn? The Nordic nations, after all, do tax and spend a lot — including universal, taxpayer-funded, and publicly managed health care systems. Don't they qualify as democratic socialist? From the report:
While Nordic countries have higher taxes and greater redistribution of wealth, Nordics are just as business-friendly as the US if not more so. Examples include greater business freedoms, freer trade, more oligopolies and less of an impact on competition from state control over the economy. And … while Nordics raise more taxes than the US, the gap usually results from regressive VAT/consumption taxes and Social Security taxes rather than from progressive income taxes. The bottom line: copy the Nordic model if you like, but understand that it entails a lot of capitalism and pro-business policies, a lot of taxation on middle class spending and wages, minimal reliance on corporate taxation and plenty of co-pays and deductibles in its healthcare system. … Nordic countries [are] firmly rooted in capitalism and free markets.
The only national example that comes close to meeting the JPMorgan test is Argentina, a country "which has defaulted 7 times since its independence in 1816, which has seen the largest relative standard of living decline in the world since 1900, and which is on the brink of political and economic chaos again in 2019." It's had a tough century, as these two charts illustrate: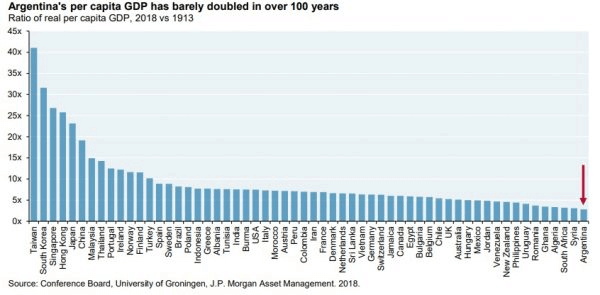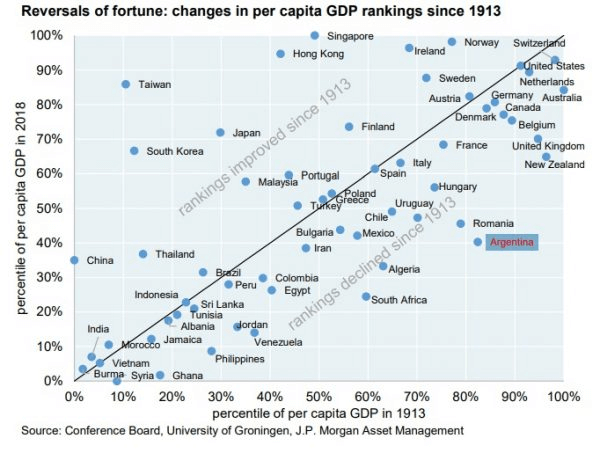 What millennials might be saying is that they would like an economy that generates sustainable, broad-based economic growth with a wider safety net, and not the sort of capitalism seen from 2007 through today where a nasty economic shock was followed by years of mediocre economic and wage growth. Also, a hard pass on a federal student loan program that is, according to a recent AEI report, "needlessly complex, fails to offer an effective safety net for borrowers in financial difficulty, and distributes the largest benefits to borrowers who need them the least."
Published in Economics