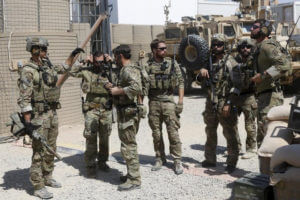 Let me put your mind at ease: the answer to the title is "no." WaPo is not coming to its senses in changing its obituary on al Baghdadi. The question is, why did they greatly distort Baghdadi's history, and then why did they back off their repugnant distortions?
Originally WaPo changed their description of Abu Bakr al-Baghdadi from terrorist-in-chief to "austere religious scholar." They noted the brutality of his forces (here is one listing), but focused on his academic career.
In response to the protests against WaPo calling al Baghdadi an austere religious scholar, WaPo changed its description to "extremist leader." The Vice President of Communications at WaPo, Kristine Coratti Kelly put out a tweet that said, "Regarding our al-Baghdadi obituary, the headline should never have read that way and we changed it quickly."
In one sense, this debacle is a positive event. First, it validates (although they probably don't need validation) that someone at WaPo was actually prepared to honor a man who has been responsible for hundreds of thousands of deaths. I suspect the only people who would appreciate those descriptions were his followers, and maybe Ilhan Omar and Rashida Tlaib. But even more interesting is WaPo's caving into criticism. Since the newspaper doesn't care about pushback from the Right, I wonder if the obituary had gone a step too far, even for the Left.
At this point, I'll be pleased with any actions that show the ugliness, deceit, and distortions of the Washington Post.
Even from the Left.
Published in Journalism