When I first came to Ricochet, I was baffled at how people engaged so seriously in political discussion. I mean, it's just politics—right?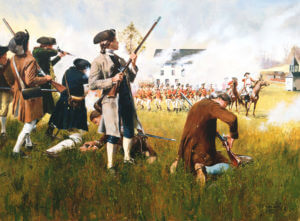 As discussions got especially rabid and polarized over the entry of Donald Trump, I found myself feeling compelled to take sides. At the same time, I was trying to keep up with the destructive efforts of the Left and the media. What in the world was going on?
On several Ricochet posts I questioned people about their hostility within the entire political arena. They explained that it had always been a contentious environment. Cooperation only meant who caved in first, and the most often.
I began to realize that this was not just a hostile arena. Although many people refused to call the dynamics a "civil war," the news reported the violence of antifa, and the hateful accusations and lies used to bludgeon people on the other side (of wherever their particular party sat). Sans weapons, it was definitely a war.
With that realization, I recognized how I had changed. Slowly but surely, I had become more and more frustrated with the unwillingness of people to look at all the facts, with their preference to create stories out of whole cloth. I'd never seen the media so vicious and obsessed, the commentary repeated over and over like the lines in a tragic play or horror movie. I began to write my own rants, rail against the distortions of facts and the damage that was happening to people, to their lives and their families. I had to let my own political warrior emerge.
What does that mean? I discovered a part of me that feels compelled to fight against injustice in the political arena. People who had once seemed over the top in their writing were suddenly my partners in the fight. I also found (at least in my own experience) that many people were focusing on the serious issues at hand: betrayals by our intelligence agencies, by the previous administration, by the media; a refusal to acknowledge any of the accomplishments of Donald Trump, or discounting their relevance to our country. I was angry. I felt betrayed. And I felt compelled, even obligated, to speak out against the lies and to encourage the Republicans to fight. Fight!
I don't like to fight—at least not if I don't have to fight. I'd rather talk things out, build relationships, find a way to work together. But I can't even imagine trying to do that with people on the Left, not even my own friends.
Have I changed? If I've changed, is it permanent? I don't feel more violent. I still seem to have my core that is settled, balanced, and thoughtful. But I've discovered a part of me that, when the situation calls for it, I will fight. Maybe my training in using a gun has contributed to my outlook. There is still a part of me that wants all the hatefulness, betrayals and deceptions to just go away, even though I know they won't.
* * * *
Has the political environment changed you? Are you sitting on the sidelines, watching but trying to avoid the ugliness that permeates the current actions? Are you at the other extreme, fighting back or picking fights to call out injustice? Or are you somewhere in the middle, trying to find your own balance of listening and learning, as well as fighting for truth, integrity, fairness and the Constitution?
* * * * *
I know my own limitations. I couldn't be a member of the military; I don't have the courage and constitution for it. I'd make a lousy politician; I'd be kicked out of most gatherings for misbehavior. But I can write; I can speak out; I can represent ideas that support our Constitution and condemn those who would destroy it. I am a political warrior.
What about you?
Published in Politics