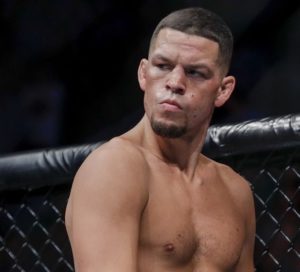 This is not a political story, in the party-politics sense at least. It is a story about protecting your reputation in the face of bureaucracy, modern corporate calculations, and the 24/7 cable sports and social media environment. The protagonist is one of two brothers who have fought professionally for practically their whole lives, and who are now reaching the age cruel to combat sports practitioners. In considering the latest tale of Nate Diaz, brother of Nick, we might find generally applicable lessons. In that sense, maybe you could take it as a parable for the politics of our day.
Nate Diaz officially weighs in at a very long and lean 170 pounds in the UFC. He has won 22 of his 33 professional fights. He fought his way into the UFC, out of other lower-level promotions, by winning the Ultimate Fighter 5 tournament. He is known as a working-class brawler from the rough part of town in Stockton, California, yet his victories break down 5 knockouts/ 12 submissions/ 4 decisions. That is, he is more likely to win choking or manipulating an arm until his opponent taps out, surrendering to avoid serious damage. At the same time, that mixture of wins and losses points away from ever being a fair-haired boy in the organization.
The Diaz brothers have always been known for playing the rebel; the "don't give a [redacted]" fighters. This matters to our tale. Nate Diaz has also been known for fighting clean, long before the UFC teamed up with the U.S. Anti-Doping Agency (USADA) for a rigorous anti-doping regime. Nate has been vegetarian for a very long time, and he has that super-lean look all the time. He occasionally eats eggs or seafood, but these fit within the broad category of "vegetarian" practice and mean he is not exposed to the flesh of animals fed or injected with growth chemicals. He runs, really runs, all the time, so has endurance to burn. It can be the fifth five-minute round in a championship or main event and Nate Diaz can come out of his corner with a blur of hands and feet striking from all angles. This matters to our tale.
But Nate has only won 2/3 of his fights, so how does that square up with such talent? In part, he has suspicions that he has faced opponents who were not caught in their doping. So, here he is near the end of his career, a 36-year-old combat sports athlete with the scar tissue to show for it. He is looking for a couple of big paydays and a way to go out on top. This, too, matters to our tale.
Nate Diaz had a great win recently, after a three year lay-off. He came out of the August 2019 fight uninjured, and called out an East Coast tough guy, Jorge Masvidal, "West Coast gangster to East Coast gangster." Masvidal has a 34-13 record, with 14 wins by T/KO, 3 submissions, and 17 decisions. So, you get two very different styles with two veteran fighters looking for about the last shot at the brass ring. Masvidal and Diaz were scheduled to meet Saturday, November 2, 2019 as the main event in UFC 244.
How to make this fight, which is scheduled for Saturday evening, November 2, 2019, really pay? Create a story. Nate Diaz, in calling out Masvidal, also said the fight was for a special belt, not in existence before this: the BMF belt. Baddest [redacted][redacted]. The UFC loved it, and created a special belt for the occasion.
OK, OK, so we have carnival barker hype around a loud violent sport. Who cares, and what is new? Remember Nate's reputation? Remember that USADA is running a rigorous anti-doping program? Yup. That happened…or did it? Let's let Jim Rome give us the second act in this three-act play:
So, the suits said Nate should shut up, fight, and then deal with the suspicious test. Had he done so, it would have come out in the post-fight interview news conference, at the latest. In a world of 24/7 sportscasting, on every sort of platform including all social media, Nate would have been deluged with insinuations and questions about why he, a totally clean, straight-talking rebel, was clamming up and going along with the Man. Instead, he stayed true to his own personality and called the testing agency and UFC the cheaters, demanding they publicly clear him at once.
The comment about "I don't even eat meat" is a jab at another fighter who claimed, with some plausibility, that he unknowingly ingested a banned substance that had been fed to livestock in Australia. The NFL had put out a warning against Mexican beef as a source of possible positive doping tests. But everyone knows Nate doesn't eat meat, so he was not laying it off on that. And, he knew exactly what all-natural supplements he took, so there was no "I just didn't know what someone was giving me." If anyone could accuse the testing agency of "cheating," it was Nate Diaz.
ESPN gives us the rest of the story. The fight is on. Nate Diaz was immediately fully cleared. His team had rushed samples of every supplement he takes to USADA. USADA found that their tests have become so sensitive that they generate "positive" reports that are false in the important sense that the substance is in such trace amounts as to have no possible performance effect. There will be substances that naturally occur in plants and animals in such small amounts as to be meaningless. USADA and the UFC cleared Nate Diaz:
The United States Anti-Doping Agency (USADA) has ruled that Diaz, who is scheduled to headline UFC 244 at Madison Square Garden next weekend, has not committed an anti-doping rules violation, despite an atypical finding in an out-of-competition test taken in October. Diaz's test showed the presence of Ligandrol, a banned selective androgen receptor modulator (SARM).

…The USADA traced the substance to a legal supplement Diaz ingested, which was categorized as an organic, vegan, plant-based daily multivitamin.

"Mr. Diaz has not committed an anti-doping policy violation, has not been provisionally suspended and is not subject to any sanctions," a UFC statement said. "Additionally, UFC has been informed by independent experts who have determined that there is unequivocally no appreciable performance enhancing or therapeutic benefit from the significantly limited amount of LGD-4033 that may be present in his system, which is roughly 10,000 times lower than one LGD-4033 therapeutic dose."

[…]

Diaz's team was able to send supplements to the USADA for testing at the World Anti-Doping Agency-certified Sports Medicine Research & Testing Laboratory (SMRTL) in Salt Lake City, sources said. The supplements were tested Thursday night and one tested positive for LGD-4033, the prohibited substance in question.
You will have to tune in Saturday evening, or maybe just check Sunday for results, to see if the fight lives up to the hype. However, we already know that Nate Diaz is entering the octagon clean, chemically, and with his reputation for integrity in his brutal sport fully intact. So, maybe there is some other lesson for us here. Think about it.
Post Fight Update!
First, Nate Diaz's scar tissue cost him the fight. Masvidal opened two very deep cuts above and below one of Nate's eyes, and the fight doctor stopped the fight between the third and fourth rounds. Nate, of course, wanted to win or lose fighting, but doctors are there to protect the health of athletes in competitive overdrive, riding adrenaline. So, Mazvidal gets the one-time special promotion BMF belt, even if he did not win it by knock out, submission, or decision. He will be the very seasoned fighter likely put on a very fast path to a title shot, while Nate will have to have plastic surgery to really repair the tissue over his eyebrows, possibly marking the end of his career.
But wait, there's more! Much more! If you had not followed this, Donald J. Trump was a friend to the UFC when it was a brand new promotion. He hosted several of their first events under the Fertitta brothers and Dana White were hosted at Trump properties in Atlantic City when other venues refused. He has called Dana White to congratulate him on every major milestone in the business. Trump asked Dana to speak at the RNC, which he did.
Dana White has dined at the White House four times, and President Trump asked to come to this Saturday's event at Madison Square Garden. This was no ordinary fight night. It was the 500th event in the promotion's history. You don't really say now, although Dana offered the next Las Vegas event instead. The dates did not work for President Trump, so he came to Madison Square Garden. Not only did he come to Madison Square Garden, he rejected the Secret Service preference to enter and stay in a suite above the crowd. No way. President Trump walked out with Dana White, up and out of the tunnel, through the crowd, and sat in the second row for the five fights of the main card.
Dana White said afterward that he had never once seen that level of crowd reaction in all his years of the UFC. There was a great mix of cheers and boos for the entrance, but no one acted the fool, no one forgot they came to watch the fights. Dana said: "The entire building was on their feet, standing as tall as they could with their cell phones. I was literally blown away." Can we say now that the UFC fans at Madison Square Gardens, New York City, are a better class of citizens than the MLB World Series Game 5 fans in the nation's capital?
Watch Dana White's comments from 32:59 to 40:40 [a couple of NSFW words]:
By the way, Masvidal was interviewed backstage before the fight and praised President Trump as a man, as "a BMF himself" for his business accomplishments and attitude. Look it up if you will (be aware these men speak in NSFW terms), searching for UFC 244, the fighter and Trump. Perhaps do the same with another fighter who happens to be black, Derrick Lewis, who gave respect to Trump for showing up and sitting ringside, while wishing Obama had done so. Lewis, at the end of his comments, threw even heavier shade on Obama. It is worth paying attention to the comments of men who we are told are supposed to think a particular way.
Published in Sports