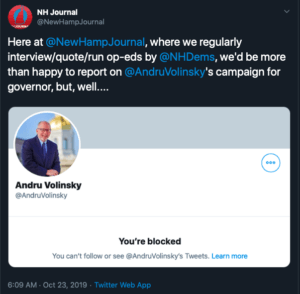 Andru Volinsky, a Democrat, announced this morning that he will seek the Democrat nomination to run for governor of New Hampshire against incumbent Chris Sununu, a Republican. New Hampshire Journal, run by friend of Ricochet @michaelgraham, naturally wanted to get a comment from the candidate, but noticed that Volinsky has blocked New Hampshire Journal's twitter account.
Volinsky is engaging in unconstitutional "view point discrimination" according to the 2nd Circuit Court of Appeals, which ruled unanimously this past July in upholding a lower court's decision in Knight First Amendment Institute v. Trump:
This case requires us to consider whether a public official may, consistent with the First Amendment, "block" a person from his Twitter account in response to the political views that person has expressed, and whether the analysis differs because that public official is the President of the United States. The answer to both questions is no. …blocking of the plaintiffs based on their political speech constitutes viewpoint discrimination that violates the First Amendment.
This summer, Rep. Rashida Tlaib blocked Steven Crowder on Twitter. However, after Crowder's attorney threatened the congresswoman with legal action Crowder's account was unblocked.
Now, whether you agree with the court ruling or not (I don't), we can all agree that everyone should be held to the same standard. Andru Volinsky must immediately unblock the NewHampJournal twitter account (and all other he has blocked). If he doesn't, then he should be sued for violating the Constitution.
Published in General