As I've shared with y'all before here, the Democrats seem to think that I'm one of them, I still reside in New Mexico, and my name is Shawn. Not Kamala Harris, though! This highly astute presidential candidate knows my name and knows I live in Texas.
It started on December 11 of last year. Kamala emailed me the shocking news ("This is shocking news. . .") about possible voting irregularities in a North Carolina US House race. She then asked me to donate to the Democrat candidate. I was about to reply that there had been similar irregularities in several House races in a state where a certain US Senator used to be Attorney General, but I held off. I saved the message to a folder called "KH." Over the next month, I got about an email a week from Kamala telling me all about the exciting things she was doing in the Senate.
Then on January 21, Kamala announced that she was running for president. What a surprise! I received messages both from her and someone named Juan Rodriguez telling me how much they were looking forward to running my life. Of course, they needed my help. Almost every subsequent email ended like a Spın̈al Tap song:
You know what I want,
You know what I need,
Or maybe you don't.
Do I have to come right flat out and tell you everything?
Gimme some money!
That started a stream of emails: Kamala's running for president! (Gimme some money!) The campaign raised $1.5 million! (Gimme some money!) Did you see Trump's tweet? (Gimme some money!) Host a debate watch party! (Gimme some money!) Kamala did great at the debate! (Gimme some money!) Our fundraising numbers are down for this month! (Gimme some money!) Other candidates have more money than we do!! (Gimme some money!)
Wait, what was that? You're admitting you're doing poorly and want me to prop you up? I'm not going to send money to Kamala in any case, but I don't think that strategy will entice the average Democrat voter to fork over cash.
The stream has since become a firehose. I now get as many as five emails a day. (Gimme some money!) Not only from Kamala and Juan, but from Jenn Liu (Gimme some money!), Lily Adams (Gimme some money!), Kamala's sister (Hi, it's Maya! Gimme some money!), and Kamala's Ken-doll Doug (Gimme some money!) Oddly enough, Doug's full name is never mentioned. I'm sure the fact his last name is not Harris has nothing to do with it.
Kamala also enjoys jumping in front of the latest parade. Sign the Green New Deal petition! (Gimme some money!) I'll issue an executive order banning assault weapons! (Gimme some money!) A story in the New York Times proves Brett Kavanaugh lied and needs to be impeached! (Gimme some money!)
In September, I actually got a message not asking for money. Click here for a free sticker! So I did. Still no come on. I entered my nom de plume and address, clicked the button and Gimme some money! Yea, right, free. I just closed the window.
Then, last week, I got this in the mail:

Wow, free actually meant free. Oh, let me give you some perspective on the size of this: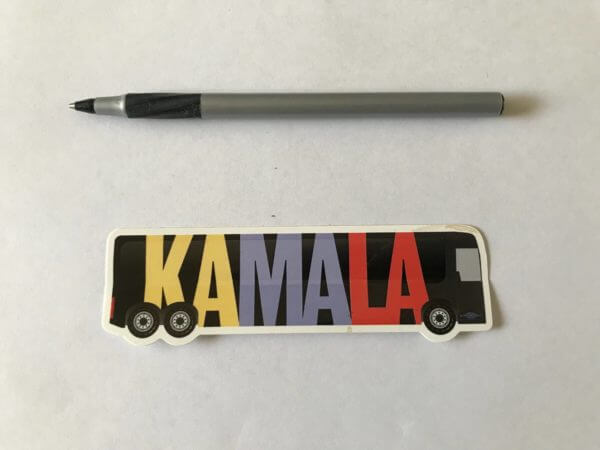 I think we know why Kamala's campaign is circling the drain. Her supporters are being taken out, rear-ended by people trying to read the bumper sticker. That, and the fact that Kamala is an awful candidate.
Interestingly, since I ordered my "free" sticker, I've made all sorts of new email friends. The Democratic Governor's Association. (Gimme some money!) The Democratic Action Committee. (Gimme some money!) John Bel Edwards. (Gimme some money!) MJ Hegar. (Gimme some money!) And, I'm honored to say, former vice president Joe Biden. (Gimme some money!) Look, here's a message from him just a couple of days ago: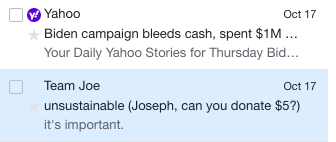 What's that, Joe, you want me to contribute 1/200,000th of your private airplane bill? I think I'll pass.
Published in Humor