An essay commissioned by Peter Robinson on this week's Ricochet Podcast.
After the devastation of two World Wars in less than a half century, the British Empire began to dismantle itself in the late 1940s. As commentator Mark Steyn has observed it then precipitated an event unheard of in human history – one dominant military power ceding power to another peaceably – not as the result of losing a war, but through sheer exhaustion. The British decided to tend to their knitting at home and left the new dominant power, the United States, to play the role of the world's policeman.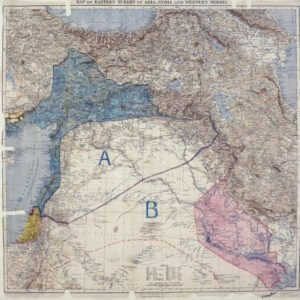 After almost 75 years we're still at it. But we're doing it in the world designed by our predecessors. The borders and political divisions we see are largely due to two events: The Sykes-Picot agreement of 1916 which divided much of the Middle East into spheres of influence between the British and the French and the 1923 Treaty of Lausanne that created the modern Turkish state. Both of these agreements, the former made at the height of the First World War and the latter after it, were made without regard to the people that were actually living there.
Mark Sykes and Francois Georges-Picot were, as Tarek Osman calls them, "quintessential empire men." They believed that they could run the Middle East in the best interests of England and France and all would be well. But if anything, all they did was manage to insert their countrymen into the long standing grievances of the region. If there were hatreds boiling over between Turks and Kurds, between Muslims and Jews, between Sunni and Shia, then they also created hatred among Arabs and the West. When the "West" became the target, America became the target, too. Not because we were directly involved with these forays into map making, but because we inherited the British Empire. Not her lands or her armed forces, but her attitude, that somehow if we decided how things were going to be, if we decided the nature of the relationships between countries, or worse, we decided who deserved a country in the first place, then all would be well. That is the arrogance of empire, something we have told ourselves time and time again throughout our history that that is exactly what we did not want to be.
This is an attitude that's widely held among the American people and one that is held in such contempt by politicians and pundits alike. But it is actually something that resides very deep within us, as a part of our national DNA. We are the remnants of empire. We fought against it, we spilled our blood against it and gained our independence from it. And then we wanted to be left the hell alone.
For the longest time we were reluctant to involve ourselves in other people's arguments. Although individuals turned themselves into mercenaries, we were determined as a nation to heed our first Commander-in-Chief's admonishment to avoid entangling alliances. "Why quit our own to stand upon foreign ground?" asked George Washington. "Why, by interweaving our destiny with that of any part of Europe, entangle our peace and prosperity in the toils of European ambition, rivalship, interest, humor or caprice?" Thus we were late to both World Wars and yet, when we got there, did our best to finish the job. Because we knew what the end game was, we knew what was at stake, and we willingly paid the price.
One hundred and forty-seven years after Washington came Prime Minister Winston Churchill. Here was another man of Empire. In September of 1943 he was preparing America to take on the attitudes and ambitions of it. At a speech at Harvard he admonished isolationist America, "The price of greatness is responsibility. If the people of the United States had continued in a mediocre station, struggling with the wilderness, absorbed in their own affairs, and a factor of no consequence in the movement of the world, they might have remained forgotten and undisturbed beyond their protecting oceans: but one cannot rise to be in many ways the leading community in the civilized world without being involved in its problems, without being convulsed by its agonies and inspired by its causes.
"If this has been proved in the past," he continued, "as it has been, it will become indisputable in the future. The people of the United States cannot escape world responsibility. Although we live in a period so tumultuous that little can be predicted, we may be quite sure that this process will be intensified with every forward step the United States make in wealth and in power."
This sense of world responsibility did intensify. At least among the powered elite. The rest of the country wanted to get on with their lives. But this attitude that we were responsible for the rest of the world would eventually lead the WWII generation into Korea, and then their sons into the quagmire of Vietnam, and that was the beginning of a great divide that tore the country up and still stirs deep resentments. (A lot of the snide remarks, such as "President Bone Spurs," have come from a lot of others who took advantage of the era's deferment rules. Mitt Romney, Joe Biden, George W. Bush, Dick Cheney and Bill Clinton all did what they could to avoid going to Southeast Asia.) But all the while we tried to convince ourselves that we were acting in our national interest. We had to stop the Communists, both in China and the Soviet Union. We were living by the Domino Theory, that every country that fell to Communism would lead us closer to our own collapse.
But a funny thing happened. The Soviet Union would disappear and the Chinese would get in bed with American business. Saigon fell but the only thing the Vietnamese would take over is the apparel aisle of K-Mart and Target. Almost everything our betters told us would happen simply didn't.
When the Towers fell in September of 2001 we all knew what had to happen. The gut instincts was the same as it always had been. You bring war to us and you will regret it. And just like 1917 and 1941, the feeling was to go over there, kick some ass and then come home. Only that didn't happen. We took a detour into Iraq. And then in to some 20 other nations on the continent of Africa. And then into Syria. And increasingly it became more and more apparent to a lot of Americans, that unlike past wars, those that were making the ultimate sacrifice were not the sons and daughters of those that were committing the troops to fight. And the small minority that did go were going as officers, mostly as JAG lawyers and not as grunts. (Shout out to Tom Cotton, who despite his Harvard JD, did his duty with an M-4, not a law book.)
One of the biggest complaints against President Trump is that he has never signed on to the consensus of American foreign policy, the consensus that all of the "experts" and "professionals" have made their reputations on. All of them claim their decisions are based on sound theories and that everything they do is well considered and part of a larger strategy and plan. But the average Americans knows about plans, too. Those are the things that never survive first contact with the enemy and the thing that makes God laugh when you share them out loud. The idea that they can plan the outcomes of other people's desires is the arrogance of empire.
Colin Powell once noted in 2003 that we Americans "have gone forth from our shores repeatedly over the last hundred years and we've done this as recently as the last year in Afghanistan and put wonderful young men and women at risk, many of whom have lost their lives, and we have asked for nothing except enough ground to bury them in, and otherwise we have returned home to seek our own, you know, to seek our own lives in peace, to live our own lives in peace."
That's precisely what we've always believed in. But here we are, 16 years after those words were spoken, told that to return home and seek our own lives in peace is out of the question.
Some have noted that members of our military are upset with the withdrawal. They are warriors and that is to be expected. But as they say in the Marine Corps, we are not retreating, we are advancing in another direction. Our warriors are willing to die for their country and that is admirable. But for those on the homefront it is also to be expected that we ask exactly why they've been asked to make that sacrifice.
With China increasingly dictating the terms of what we can do and what we can say, it's harder to justify an unending presence in the Middle East. Yes, we need to defend Israel as the only true liberal democracy in the region. But we also have to let these people sort a lot of their own problems out. Because imposing our will and our solutions is, ultimately, not going to work any better than it did for the British or the French 100 years ago. We're Americans. We don't believe in empire.
Published in General