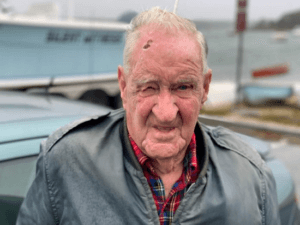 Unbelievable. Stephen Nichols, an 84-year-old Korean War veteran who served on the Tisbury, MA, police force for 60 years has had his firearms seized. Here's what happened:
He was eating breakfast in the local diner, Linda Jean's, when he commented to a friend that the school resource officer was often seen leaving school in the mornings. When he'd investigated it, he found out that the resource officer at Tisbury school was leaving — after children were present — to get himself a coffee at the Xtra Mart nearby.

Nichols pointed out that anything could happen while the school security guard was gone. He said that somebody could come in and shoot up the school while the guard was gone. Nichols described the situation as the school guard 'leaving his post.'

And that's it, folks. A dangerous, violent threat.
A waitress overheard the conversation and called the Tisbury Police Department, and the Police chief and another officer arrived and told Mr. Nichols to get into their police car; they took him to his home where they confiscated his guns. They have taken away his gun license, which he's had since 1958. He's been fired from his job as a crossing guard. Nichols was told that he could have been charged with a felony for what he said, but that he wouldn't be.
After confiscating his guns, they didn't give him a receipt for them, although Nichols' son-in-law, who owns a gun shop, has been told he can take possession of the guns and sell them. Mr. Nichols has 11 grandchildren and 11 great-grandchildren. He was quoted as saying, "I would never, ever, ever, harm a child."
I hope he gets a very, very good lawyer. Beto O'Rourke should be proud.
Published in Guns