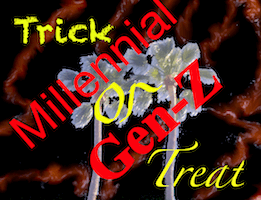 I happened to fall into conversation with a young veterans' organization member, who turned out to also be eligible for the veteran's organization to which I belong, due to service in Korea. My outfit needs more fresh blood, so I had an ulterior motive to sit and listen, just prompting him for more of his thoughts. It was a treat to hear a well-spoken young man's perspective on his own life, work, and service. The trick, really the pleasant surprise, was to then find an amazing breadth and depth to this fellow veteran, who I took from the conversation to be in his mid-20s.
That places him on the cusp between Millennials and Gen-Z. Folks, he was none of the negative stereotypes routinely riffed about his age cohort. He started on active duty, then (fairly recently) transitioned to a reserve component. He was highly focused on leveraging the mutually reinforcing training, certifications, and experience of his civilian and military careers. He had mapped out paths of advancement in both, taking advantage of the commonality in the two technical occupations. Oh, and he had not even needed college to get on this path, but already had thought through the evening/weekend/online schooling that would punch his ticket to the top of his chosen field in both the military and civilian life.
He had already been to the Middle East and Asia, so was looking for opportunities to see Europe and especially Africa in Uncle Sam's service. And then it got interesting. We really do not understand the Middle East because we have forsaken much of our own intellectual and spiritual inheritance, he observed. We have the Arab world largely on our side or under our control, yet we cannot see the lines everyone there sees, of the Ottoman and Persian empires, let alone the one that once was centered in present-day Iraq. Turkey and Syria are two fixed countries in our eyes, yet Turks have a memory of empire that included Syria and more.
He showed great wisdom and maturity in not voicing full or unrestrained opinion, at least to a stranger, even in a friendly setting. Yet, he had dropped a mention of church, so when I asked an opening question, he showed a few cards. He is Roman Catholic and worried about the direction of the church and of society. Here he was carefully circumspect.
I offered that perhaps it would have been better for this time if an African had been selected as the Pope instead of an Argentine. "Yes," he answered. The current pope was shaped by the Jesuits, and the Jesuits were at the center of the current situation. [He employed very careful language at this point.]
There is a common misconception, he averred, that the Holy Spirit selects the Pope. It is rather the case that the Spirit transfers authority from one to another, but the church has gone through schisms before when the wrong man was chosen. The laity's prayers help guide the church, he continued, but when the laity is confused or astray, the "lens" of prayer becomes "smudged," leading to blurry guidance in church leadership.
But, he was not passively resigned or fatalistic. Instead, he was determined to act where he could and had hope. Britain, he volunteered, had fallen more than once. When the Saxons invaded, it was left to a faithful remnant in Ireland to spread the true faith again. So, now, with Europe and America, a spiritual child of Europe, dying, it was likely the turn of the church in Africa to be the source of revival.
All that, from a clean-cut, fit young man on the rise in the rising generation. With a few more men like this, the kids will be alright, and the trick will be on the Trickster.
Published in Group Writing