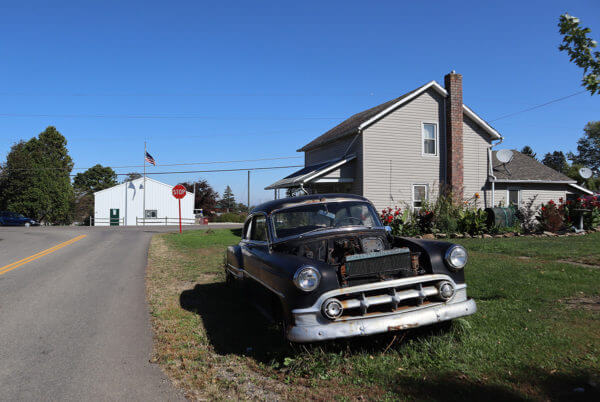 This photo was taken at the first of five township hall stops on Saturday's bike ride in eastern Ohio. The township hall is the white building under the American flag. A lot of township halls in this part of the world are uninteresting pole barns, but they are often in interesting surroundings. In this case, I wanted to get the old Chevy into the photo with it.
I didn't notice at first that by standing where I was, I was blocking the owner of the residence from driving into her driveway. So after I got out of the way and she pulled in, I explained that I was taking a photo of the township hall, and thought the 1953 Chevy belonged in the photo with it, if she didn't mind. She didn't, so I got my photo.
It's not the first time that I've taken advantage of an old car in somebody's rural Ohio yard to get a photo. I wrote about one last year, too: Elimination: The MoravianTracts.
Today one of my stops was a couple of townships further to the west. While waiting for a guy to finish unloading his recyclables at the recycling bins, I went to read the notices on the town hall/garage door to learn what issues the township was dealing with lately. What I found was this:
The [Redacted] Township Board of Trustees has received complaints regarding junk motor vehicles within [redacted] Township jurisdiction. This Notice serves to notify residents of the legal authority pursuant to inoperable vehicles.

[Redacted] Township Zoning prohibits parking of any disabled vehicle within township limits. "No person shall park, store or leave, or permit the parking or storing of any unlicensed motor vehicle or any vehicle in a rusted, wrecked, junk, partially dismantled, inoperative, or abandoned condition, whether attended or not, upon any property within the township unless the same is completely enclosed within a building."
Then it goes on to explain how it will enforce this regulation.
I'm all in favor of local regulation, and usually don't offer my own opinion on local decisions. But this time I will.
Perhaps what put me off was this closing remark: "[Redacted] Township Board of Trustees sincerely hopes these efforts will continue to improve the quality of life for all [Redacted] Township residents."
For me, a high quality of life would come from living in a township where people take enough pride in their property to keep their places looking nice of their own free will and to get along with their neighbors, and not because of government mandates. I try to live with neighbors who have different ideas of what constitutes a nice neighborhood, though I must admit that I have trouble with loud noises (aka music). But even if the old cars create a public health hazard, I think it's even more important to let people manage their own affairs to the maximum extent possible. If 90 percent of the people in the township were dying from old-car cooties, sure, we'd need to take action. Even if it was only 80 percent I'd almost certainly be on the side of those who'd want them vaccinated down to a safe level. It's a balancing act. But I place a high value on the individual-freedom side of the scale, and am willing to take some risks to the health and finances of my loved ones for the sake of those freedoms.
(Partial disclosure: A couple of years ago my son had a couple of more-or-less disabled cars in our yard. I asked him to move them around once in a while so the neighbors wouldn't report us for having inoperable cars in the yard. I don't know if we have an ordinance about it, but we probably do. Eventually, we put them out of sight behind the garage. He finally sold them for a few hundred dollars each, and the grass behind the garage grew back this summer.)
Oh, back to the guy at the recycle bins. He was taking a long, long time, and I couldn't figure out what the banging noise was about. He wasn't young, and was a bit on the rotund side; also shirtless, bearded, and wearing sweatpants. I could have asked him if he'd be willing to be in a photo, but I tend to get into long conversations with people, and time was short. I still wanted to get to my final destination, a historic museum, before it closed. I had missed my chance last year.
Then, as I was leaving, I noticed that he was not dropping off recyclables, after all. He was rummaging through the bins and putting some of the items in his van. I've known people like that. They are often interesting to talk to. But I moved on and made it to the museum in time to view the exhibits.
Published in General