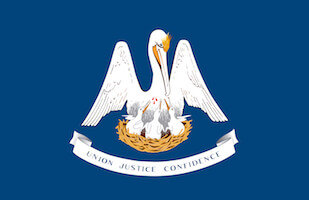 Louisiana is one of the states that has a top-two or "jungle" primary system, in which all candidates of all parties compete head-to-head. If one candidate gets 50% plus 1, they are the outright winner, otherwise the top two vote-getters, regardless of party affiliation, go on to a mid-November run-off election. President Trump both stopped the Democratic Party from an outright win in the governor's race but also used the Lake Charles MAGA rally Thursday to preach solidarity to both strong Republican candidates and their supporters. It was Ronald Reagan's 11th commandment restated as he brought Ralph Abraham and "Eddie" Rispone up together to speak to the crowd: "You are not allowed to hit your Republican opponent. You are only allowed to hit John Bel Edwards, because he deserves it."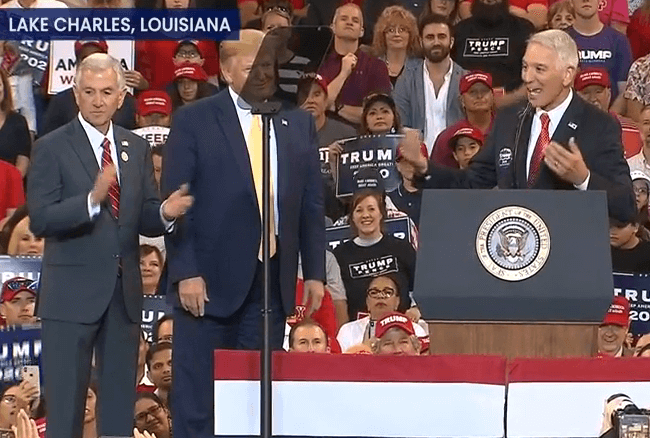 President Trump reminded everyone of the rules of the election and the vital importance of turnout "vote before you go to the game." "Get out and cast your ballot for Eddie or Ralph. Eddie or Ralph, it's important." "Let's get a runoff. Just vote tomorrow for the entire Republican ticket." He got the desired results, with 43 percent turnout on this off-cycle primary. The Democratic incumbent governor was forced into a run-off against Eddie Rispone, who narrowly edged out Ralph Abraham. Ralph Abraham immediately endorsed Rispone, and President Trump tweeted his congratulations to "the Great State of Louisiana."
Congratulations to the Great State of Louisiana. A big night. You will soon have a new and wonderful Governor, @EddieRispone. Your Taxes and Car Insurance Payments will go DOWN!

— Donald J. Trump (@realDonaldTrump) October 13, 2019
Looking at the rest of the races, Republicans won outright, exceeding 50 percent of the votes cast, in five of seven statewide races. Republicans split the vote in the governor's race three ways: 27/24/1. If most of these people show back up in November, the Democratic Party incumbent will lose. Likewise, the Secretary of State will almost certainly be a Republican, as they split the vote 41/19/6, versus the one Democrat taking second place with 34 percent of the primary vote.
Overall, you can see that this is now an overwhelmingly Republican electorate at the statewide race level. Rispone came out ahead of Abraham with a very strong play on the idea that he, a businessman, was going to be like Trump. No one is running away from the president and leader of their party in Louisiana. See a good local analysis in the Monroe News Star. The Louisiana Secretary of State has the election results in clean graphic and numbers form.
Oh, Ralph Abraham is not out of the picture; he is still Congressman Abraham. His path now is likely to be advancing into House leadership, working with Rep. Steve Scalise for a renewed Republican majority.
Published in Elections