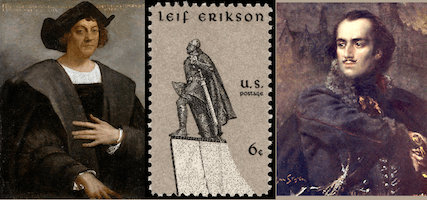 President Trump has issued the standard annual proclamation for Columbus Day, without any bowing to the oppressive white man narrative. Nor, did he leave the "Columbus wasn't first" script dangling, as he had already issued the lesser-known annual proclamation for Leif Erikson Day! In between those two proclamations about dead white guys, he issued a third! Friday, October 11, marked the anniversary of the death of General Pulaski! I considered some highlighted themes in the proclamations and offer brief analysis.
Presidential Proclamation on General Pulaski Memorial Day, 2019
Issued on: October 10, 2019

On General Pulaski Memorial Day, we remember Brigadier General Casimir Pulaski, the great Polish hero who fought and died in America's noble pursuit of freedom during the Revolutionary War. We honor his bravery and unwavering commitment to liberty and self-government, and we pay tribute to the abiding friendship between the United States and Poland, which has prevailed since General Pulaski took up the sword on behalf of the American cause and helped forge our young Republic.

Throughout his military career, General Pulaski was renowned for his gallantry and skill on the battlefield. He fought courageously against the Russian Empire as Poland sought to secure its own freedom from foreign tyranny in the anti-Russian insurrection of 1768. Later, in 1777, that same conviction impelled him to journey to the United States and join General George Washington's Continental Army.  At the Battle of Brandywine, Pulaski successfully covered the retreat of Washington's troops and saved the life of the future first President of the United States. To show his gratitude, Washington promoted Pulaski to Brigadier General and entrusted him to lead his own independent cavalry unit, "the Pulaski Legion," which included both American and foreign-born soldiers. This famous and formidable fighting force cemented Pulaski's status as the "Father of the American Cavalry."

On October 11, 1779, Pulaski made the ultimate sacrifice for our Nation when he succumbed to battle wounds that were inflicted during an attempt to retake the city of Savannah from British forces two days earlier. Although he did not live to see the British surrender at Yorktown, his indispensable role in advancing the American quest for self-governance is uniquely part of our country's history. His undaunted spirit will forever be preserved in the hearts of those who take up the fight for liberty.

General Pulaski's tremendous legacy of fighting for freedom and democratic principles continues to inspire us today. His name is forever enshrined next to such luminaries as Winston Churchill and Mother Theresa as one of eight individuals in the history of our country to have received the distinction of Honorary Citizen from the Congress of the United States.

As we celebrate General Pulaski as a great hero of our Nation, we are reminded of the bonds that unite the United States and Poland. The longstanding and enduring friendship of our two countries is strengthened and renewed each day by the more than 9 million people of Polish descent who are citizens of the United States. We greatly cherish the cultural, economic, and security ties that bind us, and we look forward to a fruitful relationship in the years and decades to come.
Notice that he is celebrated for fighting against the Russian Empire, meaningful today. Note that he is celebrated as a positive hero in noble causes, and that Polish contributions to America are to be celebrated. We see, in both the Columbus and Leif Erikson proclamations a celebration of courage, of exploration, of cultural contributions to our society, and of the nations of origin as important partners, allies who happen to point against unstated Russian aggression.
On Leif Erikson Day, we honor the spirit of exploration, courage, and faith that led this legendary Viking and his crew to sail across the Atlantic in search of new lands and opportunities more than a thousand years ago. His dream — to venture beyond the known horizon and redefine the impossible ‑- still defines and inspires Americans today.

Leif Erikson's undaunted life of exploration began in Iceland — the same location where the Apollo 11 crew trained for its historic journey to the surface of the Moon. The bold spirit that propelled Erikson and his fellow mariners across an unknown ocean is the same spirit that carried our brave astronauts into space 50 years ago, and it is what continues to fuel our desire to unlock the mysteries of the universe and pursue the exploration of Mars.

Americans share strong bonds with the homelands of the Vikings. Millions of Americans proudly trace their ancestry to Denmark, Finland, Iceland, Norway, and Sweden. All of these nations help keep our transatlantic community strong. They stand shoulder to shoulder with us as North Atlantic Treaty Organization Allies or partners to enhance regional peace and stability. And as members of the Arctic Council, we work together to promote sustainable growth, scientific research, and environmental protection in the High North while maintaining the region as an area of low tensions.

Nordic Americans contribute each day to the rich tapestry of our country by their self-reliance, drive, spirit of adventure, and cultural traditions.  On this day, we pay tribute to the remarkable achievements of Leif Erikson, and we celebrate the daring dreams, big vision, and passion for discovery of all people of Scandinavian heritage.

To honor Leif Erikson, son of Iceland and grandson of Norway, and to celebrate our Nordic-American heritage, the Congress, by joint resolution (Public Law 88-566) approved on September 2, 1964, has authorized the President of the United States to proclaim October 9 of each year as "Leif Erikson Day."
These two days will occasionally coincide, as Columbus Day floats as the second Monday of October.*
On October 12, 1492, after a perilous, two-month journey across the treacherous Atlantic Ocean, Christopher Columbus and his crew aboard the Niña, Pinta, and Santa Maria landed in what is today The Bahamas. This watershed voyage ushered in the Age of Exploration, changing the course of history and setting the foundation for development of our Nation. Today, we commemorate this great explorer, whose courage, skill, and drive for discovery are at the core of the American spirit.

While Columbus sailed from the port of Palos under the Spanish flag, he took pride in the fact that he was a citizen of Genoa, Italy. The celebration of Columbus Day is, therefore, an appropriate opportunity to recognize the more than 16 million Americans who claim Italian heritage and to carry forth the legacy of generations of Italian Americans who helped shape our Nation. The United States greatly values its close bond with Italy, a longstanding friend, ally, and economic partner. Our relationship, built on shared values and a commitment to furthering peace and prosperity, continues to benefit both of our nations.

Columbus's daring voyage to the New World brought two continents together, enabling a global perspective for the first time. The bold legacy of Columbus and his crew spun a thread that weaves through the extensive history of Americans who have pushed the boundaries of exploration. On Columbus Day, we draw inspiration from this intrepid pioneer's spirit of adventure. We also affirm our commitment to continuing our quest to discover and better understand the wonders of our Nation, the world, and beyond.

In commemoration of Christopher Columbus's historic voyage, the Congress, by joint resolution of April 30, 1934, and modified in 1968 (36 U.S.C. 107), as amended, has requested the President proclaim the second Monday of October of each year as "Columbus Day."
---
* Naturally, the America hating left is on the case, seeking to stir hatred of both men and the migrations, the kind of globalism, they represented. Time, a former newsweekly, advises us that it is all raaacist!
Many Americans will celebrate the second Monday in October as Columbus Day, a federal holiday that marks the anniversary of Christopher Columbus's Spanish-led expedition arriving in the Americas, or as Indigenous Peoples Day, to acknowledge those who were displaced by European settlement in North America.

Others, however, will opt for Oct. 9 to celebrate something else: Leif Erikson Day, a celebration of the Viking explorer credited with reaching the continent around the year 1000, nearly 500 years before Columbus did.

But, while it may sound only fair to share the credit for exploration, the movement to recognize Erikson also has a dark back story, as Leif Erikson Day's history is connected to nativist backlash against immigration to the United States. At one point, for some people, the debate over who really "discovered" America came down to one question: who was whiter?

[If you wish to read the nonsense in the bulk of the article, you might notice that places with heavy Nordic and Scandinavian immigrant populations had politicians who looked to celebrate their place in making America. You might find the same for Columbus and Mediterranean immigrant waves.]

Since at least FDR, American presidents have generally issued annual proclamations recognizing Oct. 9 as a day to honor Leif Erikson's achievements and, more currently, the achievements of the larger Scandinavian-American community. At least for Brøndal, it's hard to imagine the holiday will gain much more additional recognition at this point, especially as the tide grows behind the idea of Indigenous Peoples Day, since the celebration of the Viking explorer isn't any less problematic in that sense than the celebration of the Italian explorer. And yet both holidays have become a source of pride, for Italian-Americans and Scandinavian-Americans, and have become opportunities for these groups to raise awareness about their roles in the American story.
But consider this, all three of the White House proclamations were nearly boilerplate. Not one was "Trumpian" or "populist" or anything other than plain vanilla presidential proclamation. No one serious would have considered this stuff controversial at any point in the past. Indeed, it is a mark of the common expectations in our country that the following was issued by President Obama in 2016:
More than 1,000 years ago, an intrepid Scandinavian explorer, Leif Erikson, embarked on a voyage that landed him on the North American coast. A son of Iceland and grandson of Norway, Erikson and his crew are believed to be the first Europeans to reach the shores of our continent, founding the Vinland settlement in modern-day Canada. Today, we recall Leif Erikson's historic journey as we seek to carry forward the bold spirit of exploration that has inspired Nordic Americans for generations.

Eight centuries after Leif Erikson's trip, six families of Norwegians boarded a ship called Restauration bound for New York City. Following in Erikson's footsteps, these individuals sought the promise of freedom and opportunity America offered and became the first group of organized American immigrants from Norway. Millions of Americans proudly trace their ancestry to Nordic countries, raised by parents and grandparents who crossed oceans to carve out new lives for their families and help steer the course of our country. The United States and our Nordic partners are united by ties of family and friendship, history and heritage. Earlier this year, I was proud to welcome Nordic leaders to the White House. This visit illustrated many of the values and interests we share — including increasing opportunity for all and recognizing the inherent dignity of every human being.

Nordic countries remain some of our most reliable and effective partners, steadfastly helping us meet the shared challenges of our time. We remain grateful for their friendship, and for the ways the Nordic people have influenced our country and enhanced the American melting pot. On Leif Erikson Day, as we express our appreciation for the myriad contributions of Nordic Americans, let us remember the discovery that set this profound history in motion.
On the other hand, President Obama tried to please everyone with his Columbus Day proclamation:
In October of 1492, Christopher Columbus completed the first of his expeditions that would land him on the shores of North America. Sponsored by Isabella I and Ferdinand II, Columbus embarked on a 10-week voyage he had hoped would lead to Asia. But when his ships instead landed in the Bahamas, a new story began to unfold. The spirit of exploration that Columbus embodied was sustained by all who would follow him westward, driving a desire to continue expanding our understanding of the world.

Though Columbus departed from the coast of Spain, his roots traced back to his birthplace of Genoa, Italy. Blazing a trail for generations of Italian explorers and Italian Americans to eventually seek the promise of the New World, his voyage churned the gears of history. The bonds between Italy and the United States could not be closer than they are today — a reflection of the extraordinary contributions made by both our peoples in our common efforts to shape a better future. Across our Nation, Italian Americans continue to enrich our country's traditions and culture.

As we mark this rich history, we must also acknowledge the pain and suffering reflected in the stories of Native Americans who had long resided on this land prior to the arrival of European newcomers. The past we share is marked by too many broken promises, as well as violence, deprivation, and disease. It is a history that we must recognize as we seek to build a brighter future — side by side and with cooperation and mutual respect. We have made great progress together in recent years, and we will keep striving to maintain strong nation-to-nation relationships, strengthen tribal sovereignty, and help all our communities thrive.

More than five centuries ago, one journey changed the trajectory of our world — and today we recognize the spirit that Christopher Columbus's legacy inspired. As we reflect on the adventurers throughout history who charted new courses and sought new heights, let us remember the communities who suffered, and let us pay tribute to our heritage and embrace the multiculturalism that defines the American experience.
Note, too, the subtle contrast in President Obama's General Pulaski Memorial Day proclamation:
Over two centuries ago, Polish immigrant Casimir Pulaski crossed an ocean to take up the cause of defending a young nation. Rising quickly to the rank of Brigadier General in the Continental Army, he reformed our cavalry, saved the life of General George Washington, and helped secure our independence. Today, we celebrate the legacy of liberty he forged and reflect on the many ways Polish-American voices continue to shape the unending story of our Nation.

Spending his formative years in Poland laboring for his home country's independence, General Pulaski came to America with both an expertise in combat and a passion for liberty that made him invaluable to our new Nation's fight for freedom. Leading a legion of men on horseback and working alongside General Washington, General Pulaski achieved victory after victory. But he would never see the results of his valiant efforts fully realized — he succumbed to battle injuries on October 11, 1779, giving his final full measure of devotion in defense of the ideals we cherish.

More than 200 years later, Polish Americans across our country honor the spirit of General Pulaski through their many contributions to our Nation and through living the values that unite us all. The proud members of the Polish-American community strengthen the rich heritage of our country — many serve in our Armed Forces, protecting the very freedoms General Pulaski helped secure centuries before — and they reflect the strong friendship that endures today between the United States and Poland.

On General Pulaski Memorial Day, we commemorate one of our Nation's earliest embodiments of the belief that no matter who you are or where you come from, those who love this country can change it for the better. In honor of General Pulaski's sacrifice and the important role Polish Americans play in our country, let us rededicate ourselves to defending our founding ideal of liberty for all.
That's right! Russia is missing. Maybe this was part of being more flexible, while his team was spying on Donald Trump and building their insurance policy with the help of Russian operatives. Even so, the broad forms of acknowledging cultural contributions, even if they were by dead white guys, were observed—even by the president who promised to "fundamentally transform" America.
Published in History