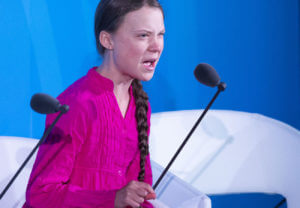 The Nobel Committee pored through 301 peace prize nominees and came up with a winner: Not Greta Thunberg. Media scribblers were outraged by the Oslo peaceniks, notably Newsweek with the story, "Greta Thunberg snubbed for Nobel Peace Prize by committee run by Norway, one of the world's biggest oil and natural gas exporters."
The Nobel Committee has surprised oddsmakers by not picking 16-year-old Greta Thunberg to win the 2019 Nobel Peace Prize.

Thunberg has become the figurehead of the youth climate movement after skipping school to protest outside the Swedish Parliament in August 2018, inspiring the waves of student strikes that followed.

Over the last year, she has (among other things) led a Global Climate Strike spanning 150 countries, graced the cover of Time Magazine as a 'Next Generation Leader' and sailed across the Atlantic Ocean in a yacht to speak to lawmakers in Washington and New York.

"Greta Thunberg has become a household name, elevating the climate conversation both globally and generationally," Gregory Wetstone, president and CEO of the American Council on Renewable Energy, told Newsweek.
Shock quickly spread across social media, both from climate activists on the committee's decision and by everyone else learning that Newsweek still exists.
Why did the Oslo-based Nobel Committee snub Greta? Newsweek, again, on the case:
"Norway has benefitted from oil and gas production in multiple ways, but primarily from the security and economic advantages they have derived from exporting energy to other parts of the world," Michael Webber, Josey Centennial Professor in Energy Resources at the University of Texas at Austin and Chief Science & Technology Officer at ENGIE, told Newsweek.

"That has earned them phenomenal wealth (divided amongst a small population) and security (because they do not need to rely on other countries for their energy)."
The perfidy.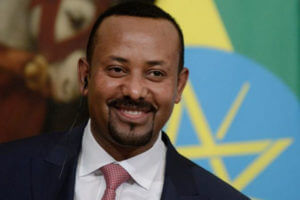 Who did win the celebrated Nobel Peace Prize? Ugh, some African dude who didn't skip school, get on the cover of Time magazine, or even travel by yacht. The only thing this guy accomplished was ending a 20-year war. How do you sell that lame story on "Morning Joe?"
The Nobel Committee Awarded Ethiopian Prime Minister Abiy Ahmed its annual peace prize early Friday morning, lauding the African leader for his substantial efforts in brokering a peace between his country and neighboring Eritrea.

The 43-year-old Abiy assumed the role of prime minister in April 2018, and made remarkable strides in his first 100 days toward resolving decades of conflict between Ethiopia and Eritrea, which were formerly one county until Eritrea seceded in 1991. For decades, the two East African countries were in a complex state of "neither peace nor war," the New York Times writes; families were separated and unable to reunite, and violent conflicts on the Eritrean-Ethiopian border cost more than 80,000 people their lives over a span of just two years.
"This award is for Ethiopia and the African continent," Abiy tweeted upon receiving the news. "We shall prosper in peace!"
I look forward to young Miss Thunberg traveling to Addis Ababa by blimp so she can yell at the Ethiopian Parliament. "People are dying. Entire ecosystems are collapsing. We are in the beginning of a mass extinction. And all you can talk about is prizes and fairytales of peace with Eritrea. How dare you!"
Published in General