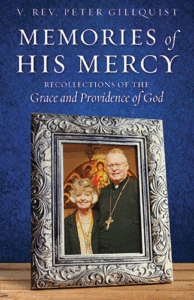 The name Peter Gilquist is incredibly well known in the Orthodox churches of America today. Father Gilquist, along with several other pastors, led a mass conversion of Evangelical churches into the Antiochian Orthodox Church in 1987, after nearly 15 years of searching for the historical Christian church as described in the book of Acts, and in the epistles of the New Testament. That quest is told in his more famous work, Becoming Orthodox, and in related works by others from that movement (I reviewed one such memoir, Surprised by Christ, late last year), but towards the end of his life, Reverend Gilquist wrote a different sort of work – personal memoirs of many of the key seminal moments in his life, ministries, and faith. Those memoirs were compiled and published several years after his death in the book Memories of His Mercy: Recollections of the Grace and Providence of God.  
In Memories of His Mercy, Fr. Gilquist tells stories of his upbringing within a devout Christian home, the men and women who mentored him in his family and beyond, and the courtship of the woman he would later marry. He later moves through some of his fondest memories, particularly of people whose lives touched his. His aim is not to write an overarching narrative, but a much humbler one of attempting to convey how faith, charity and empathy for others, and a strong work ethic tempered by consistent honesty can allow one, with the grace of God, to both be a blessing to others, and be blessed in turn.  
The various tales are also quite simply experiences that he genuinely enjoyed and wanted to share (such as when he helped ghost-write Johnny Cash's autobiography in the 1970s), or of which he was particularly and personally proud (such as his involvement in the creation of the Orthodox Study Bible). His greatest personal joys were, of course, in his wife and family, and so their lives feature prominently in the stories too. Through it all he talks about how he saw every interaction with other people as an opportunity to evangelize and make friends.
Memories of His Mercy is a quick read at just about 200 pages, but it captures well the confident and happy personality of a man who was a natural preacher and an unashamed Christian. These memoirs, however, are not written with an eye towards preaching or conversion, but merely as means for one remarkable man to tell a little of who he was apart from what he was most famous for doing. 
Fr. Gilquist died in 2012 after a brief but fierce relapse of a cancer he had first been diagnosed with several years prior. The final months of his life were therefore described by his wife, and are a touching recollection of how he faced death in confidence, and surrounded by his loving family. At the very end are several letters and tributes from his friends from his journeys, all bringing home what a remarkable figure he cut in his day. As a memoir of a dedicated Christian, writer, pastor, and family man, Memories of His Mercy is a touching book.
ISBN: 978-1-944967-22-2
Ancient Faith Publishing, Chesterton, IN, 2017
Available on Amazon and through Ancient Faith
Nota Bene: Ancient Faith Publishing provided me with a copy of this book.
Published in Literature