Friday nights have always been the death zone in media. You never wanted your favorite TV show to be moved to Friday because that's traditionally the place where programs were sent to die. DVRs have changed a lot of that because your favorites can now be consumed at leisure on any day you choose. But if it's no longer true of television it is now supposedly true for Twitter.
According to marketing guru Peter DeLegge the absolute worst time to promote anything on Twitter is after 3 p.m. on Friday and for the remainder of the weekend, or as we like to call it, exactly when we release the Ricochet Podcast.
Still, I try my hardest and before hitting the hay for the evening I always check to see how the day's efforts have been received. Tonight brought intrigue. The promotional Tweet had one response and it looked downright ominous: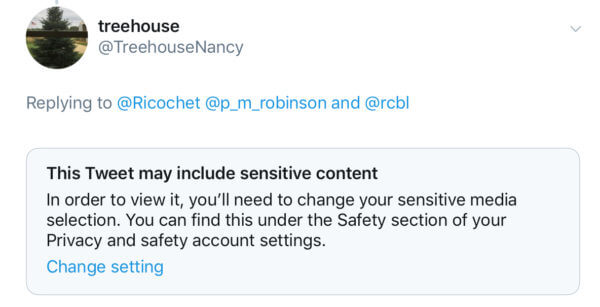 What do I do? Do I change the settings? Good grief, this content is so sensitive, so foreboding and potentially calamitous to life and limb, I am being asked to go to the "Safety section." Will this hurt me physically or just psychologically? Will it only hurt me or must I fear for the safety of my loved ones as well?
Personally, I figure I can take anything. A wilting wallflower I am not. I've heard every nasty word there is and I've seen some terrible things. I figured I could take it. And if it caused me to fall I swore that I would destroy my iPad with my last ounce of strength before any of my family could be harmed by it. But no matter how I steeled myself I wasn't really prepared…
…for a freaking animated gif of a poodle dancing for joy.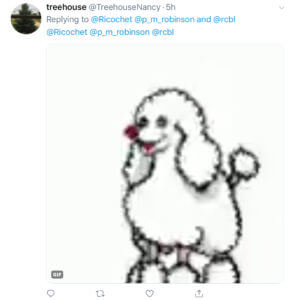 Nice algorithm ya got there, Jackie boy.
America is a safer place tonight because of you and your army of Twitter Health and Safety officers.
Published in General