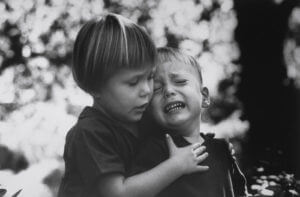 Clearly, the Democrats don't care about kindness. Their goals are strictly to search and destroy. I don't know if they even know what it means to be kind to each other; too often, we see them attacking those who don't line up with their cause. Kindness is probably a sign of weakness and vulnerability to them. Kindness is also an attribute that we may be in danger of losing as well, as Conservatives, if we aren't careful.
Recently I had a conversation with a Ricochetti about kindness. We have different views on the meaning of the word, and another Ricochetti suggested one or both of us explore "kindness" in a post. And why it is so precious and hard to find.
For most people I know, kindness is an acquired trait; it doesn't seem to come naturally to them. To me, kindness shows up when we are willing to be gentle, empathic, or sympathetic, and fully present to another person.
Trying to be a kind person can be demanding for some of us. We are busy—offering kindness takes time, because it requires us to be fully engaged, putting other endeavors aside. It also often calls for us to be mostly a listener and not a talker. And for those of us who love to give advice, it means that we have to curb our judgment, at least in those moments, and not blast the other person with our dismay, outrage, and even confusion. Kindness requires us to put all of our most assertive behaviors aside in consideration of what the other person needs. We have to transcend the acrimony of the times and not let it take us down.
That brings up another aspect of kindness. Sometimes time limitations are not the only problem we have with being kind. We are just not motivated to help. But frankly, kindness expects us to be available, even when we don't especially feel like it. Maybe we're not crazy about the person. Maybe we don't empathize with the person's situation. Maybe we're uncomfortable with their feelings about victimhood. But this particular person may be a dear friend, or an acquaintance we feel connected to, and we feel kindness nudging us to pay attention; it doesn't care how we feel. Kindness relates to the other person and knows he or she needs a listening human being to be with them.
Kindness also expects us to be courageous; it requires us to make ourselves vulnerable at times, to relate to the other person's situation (if we possibly can). It desires us to keep in mind the kindness that others have shown us when we're struggling, confused, and hurt. Most of us at one point or another have interacted with people who have been kind to us, and we almost always remember them because they took the time to care. Kindness mends our souls and fills our hearts.
Kindness is a trait that often needs to be nurtured and practiced, especially when we don't feel like being kind. We may much prefer to act annoyed, to discount the other persons or their states of mind. We might prefer to give them advice they haven't asked for or are not interested in; that way we get to reinforce our belief in how smart we are and how helpless they are. If we wait until we feel like offering kindness, we may have a long wait. Kindness is a trait that may require us to go through the motions, to act kind, even when it's not natural for us; over time, we will discover that kindness arises naturally through our demonstrating it repeatedly. The beauty of this effort is that we experience the joy of kindness along with the recipient.
Here's the thing: kindness is needed more than ever in our world. We have an overabundance of people who are wounded or lost or simply struggling. Some of them are our friends. Some of them are our family members, or simply people we care about. They may not be willing to ask for help, but when we are with them, we sense their pain and misery.
Many years ago, I wrote a post about my returning to Judaism from Buddhism. (Yes, I've written many, but the specific post doesn't matter here.) One of the people who commented on the post attacked me, essentially saying that I was arrogant, that I couldn't make up my mind about what I wanted to do, and a few other negative comments. On reading his comment, my first reaction was to feel stunned. I couldn't imagine that I had caused such an angry response to my writing. In fact, before I could even respond, several people addressed the commenter saying if he had issues, he should ask questions or pursue a dialogue. I surprised myself—I didn't feel anger, because I sensed a deep hurt on his part—and I only felt compassion and curiosity. (Believe me when I say that I was surprised by my own reaction, that I didn't act defensively!) I stated my perplexity at his response; that I was the last person to be arrogant about my religious journey and was still clarifying my faith for myself. I invited him to elaborate on his reaction and that I genuinely wanted to talk to him.
But I didn't hear from him again.
I remember his name and I do think he's been on Ricochet since then, and even commented on my posts, but I don't know if he ever got a better sense of who I was by sticking around for a while.
But I felt comforted that at least I had responded to him with kindness. Whatever pain he was feeling, that was the least I could do.
In many situations, especially on this site, many of us react to posts and comments and current events with outrage and disbelief; this site is a great place to blow off steam.
But remember, no matter what people say or do, no matter the uproar and chaos we experience, we all can use a little kindness.
Published in Culture