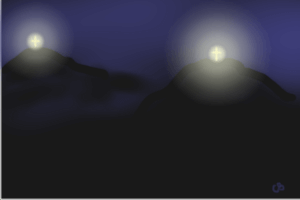 The remarkable courtroom events, following the sentencing of Amber Guyger to 10 years in prison for the murder of Botham Shem Jean, called to mind the similarly remarkable courtroom events in 2015 in South Carolina. These, together, called to mind the famous passage in the Gospels about lighted lamps. Politically aware readers will at least recall President Reagan talking about America as "a shining city on a hill." In an era of oppressively negative news, we were reminded at the beginning of October 2019 that an individual can make a significant positive difference.
Christians were challenged by the faithful witness of a young man this past week. Brandt Jean is the brother of the man murdered in Dallas. Botham Jean had graduated with an accounting degree from Harding, a private Christian college, and was working for the accounting firm PwC.* He was the first to speak in the victim impact statement phase, which comes immediately after the sentence (the time to be served) is pronounced. The sentencing phase follows the jury's finding of guilt for one or more specified crimes.
The jury had given Amber Guyger 10 years. This is the top of the range for what she would have got if convicted of the lesser charge of criminally negligent homicide with a firearm (mandatory 3rd-degree felony sentence, 2-10 years). This is also less than half what the prosecutor demanded for the murder conviction. The prosecutor had been playing to the identity left, crucial for election in very low turnout local elections. The prosecutor asked the jury to sentence Guyger to at least 28 years, one for each year of the age Botham Jean would be if Guyger had not been shot him in his apartment.
So, Amber Guyger stood in the dock, convicted of murder under Texas law and sentenced to ten years in prison. Now, the survivors, the family, had the opportunity to read into the record the impact her actions had upon them. This record would set the jury's judgment in perspective for the public, and create a court record that might be considered in any parole, clemency, or pardon deliberation. Outside the courthouse, the actors were in position, ready to raise the standardized cry of racial injustice and an oppressive law enforcement culture that keeps resulting in young black men being killed by cops.
Brandt Jean was first to speak of the impact of Amber Guyger killing his brother Botham, and his words and actions changed everything:
"If you truly are sorry, I know I can speak for myself, I forgive you," he told Guyger from the stand. "I know if you go to God and ask him, he will forgive you."

He then asked the judge if he could hug Guyger.

"Please?" he said.

Brandt Jean then left the stand and embraced Guyger, who broke into tears as Brandt whispered something into her ear.

"An amazing act of healing," said Dallas County District Attorney John Creuzot later about the moment.

Before impact statements began and just after the verdict was read, there was no audible reaction inside the courtroom. But just outside the doors, women wearing red chanted, "No justice, no peace."

"This ain't right," said one woman with tears streaming down her face.
This was truly amazing and an act of grace. Brandt Jean is 18 years old but reflected a maturity in his Christian faith rare not only among his peers but among those who are supposed to be the parents, the elders, the teachers. His words and actions caused the judge to respond to the Jean family and the convict, Amber Guyger, in a way we've not seen before on video:
A short time later, Judge Tammy Kemp spoke with Jean's parents, before giving them both a hug.

She then went into chambers, got her own bible, and brought it to Guyger.

She read John 3:16, "For God so loved the world," and guided Guyger through accepting Jesus Christ into her life.

The two prayed together, and during that time, Guyger did just as Jean's brother said he would have wanted, asking for salvation there in the courtroom.
Let us look back to Charleston, SC, in 2015. A young white man walked into a historically black church during a midweek evening bible study. He apparently sat and listened for a time before he drew his firearm and started methodically murdering the congregants. What spirit of evil or evil spirit could carry a young man into a bible study, have him hear the Scripture and respond by killing all he could?
The Obama administration had been dedicated to promoting racial tension and promoting the belief that cops and whites were out to get blacks. The script everyone expected to see run would split communities apart and enforce color lines for political gain. Yet all of this collapsed when the old saints, survivors of the mass murder, showed up at the wicked young man's first court appearance:
The relatives of people slain inside the historic African American church in Charleston, S.C., earlier this week were able to speak directly to the accused gunman Friday at his first court appearance.

One by one, those who chose to speak at a bond hearing did not turn to anger. Instead, while he remained impassive, they offered him forgiveness and said they were praying for his soul, even as they described the pain of their losses.
These saints, along with Brandt Jean and Judge Tammy Kemp, stand as lights shining on two hilltops in the darkness of our land. They do so, not by constitutional or economic argument or example, but by obediently living out the admonitions of their Lord.
"You are the light of the world. A city that is set on a hill cannot be hidden. Nor do they light a lamp and put it under a basket, but on a lampstand, and it gives light to all who are in the house. Let your light so shine before men, that they may see your good works and glorify your Father in heaven." — Matthew 5:14-16 (NKJV)

"No one, when he has lit a lamp, covers it with a vessel or puts it under a bed, but sets it on a lampstand, that those who enter may see the light. For nothing is secret that will not be revealed, nor anything hidden that will not be known and come to light. Therefore take heed how you hear. For whoever has, to him more will be given; and whoever does not have, even what he seems to have will be taken from him." — Luke 8:16-18 (NKJV)
These are the two accounts of Christ's instructions to his disciples, and so to all followers of the Way. The first comes at the end of what are called the Beatitudes, three of which came to mind in the Dallas courtroom scene:
4"Blessed are those who mourn, for they shall be comforted."

7"Blessed are the merciful, for they shall receive mercy."

9"Blessed are the peacemakers, for they shall be called sons of God."

— Matthew 5:4-9
The account in Luke caps off the explanation of the parable of the sower, in which seed lands on barren ground, on shallow soil, and on the good soil in the field. "But the ones that fell on the good ground are those who, having heard the word with a noble and good heart, keep it and bear fruit with patience."** The world saw the word bear fruit in an 18-year-old, that the moment when his culture said he should do the opposite of what he did. Indeed, there were quickly denunciations of him, of the judge, and of the ten jurors with darker skin than the defendant.
The "social justice" identity politics set shouted on social media that these people had false consciousness and had betrayed the community and themselves. Yet, such reactions are themselves instructive to those who have eyes and ears to hear. A young man and a middle-aged judge shone forth the light that had come into them, as had the Christian congregants in Charleston.
Each of these acts of faithfulness was rewarded with a temporary peace in the land. These acts by "ordinary" people, not secular or religious leaders, had real effects in this world in their day. Realizing this might cause us to further reflect.
We, I, spend a great deal of time thinking, arguing, and writing about political, economic, and cultural institutions. While these matter, I think another Ricochet member, a friend of mine, has it right:
The moral backbone and unifying principle of our Republic from the beginning has been Faith in God. Whether that be the God of the Reformation, or the God of the Pope, the LDS or of us Orthodox, there are a base set of principles on which we can all agree: life is sacred, the meaning of life is transcendental, the Church is where we find healing and guidance. If we want to save our Republic, we should start by getting people back in churches.
---
* See his college's summary on the first year of scholarships in Botham Jean's name:
The scholarship was established by Harding and PwC in honor of Botham Jean, a 2016 alumnus of the University who was tragically killed Sept. 6, 2018, at his home in Dallas. Jean was a beloved risk assurance associate with PwC, a proud Harding graduate and faithful Christian.
** Luke 8:15, NKJV
Two afternotes:
1. I commend two podcast episodes to your attention:
Airing the Addisons, 3 October 2019, on American Family Radio, had an excellent exposition of Christian forgiveness and consideration of other responses from the culture and even from parts of the church.
The Mark Davis Show, a Salem host in the Dallas Fort Worth area.
2. The sentence, in this case, was comparable to that pronounced on a black male police officer who shot a white woman in her alley when she came out to the patrol car after calling 911, reporting hearing a possible sexual assault in the area. Mohamed Noor got 12 1/2 years.
3. Brandt Jean tells the Good Morning America host who challenged him on forgiveness: "God forgave you, and I know that every time I ask God for forgiveness, that He forgives me. So who am I to not forgive someone who asks?"
.
Published in Law, Religion & Philosophy