Remember the side-by-side search engine results in the 2016 election? Google has not changed, and if anything, they have gone from thumbs to whole hands all over the balance of search results. Here are the results for a phrase that might produce factual results unhelpful to Google and their fellow Democrats:
"Democrats asked Ukraine to investigate Trump" *
Google gives us this ordered list: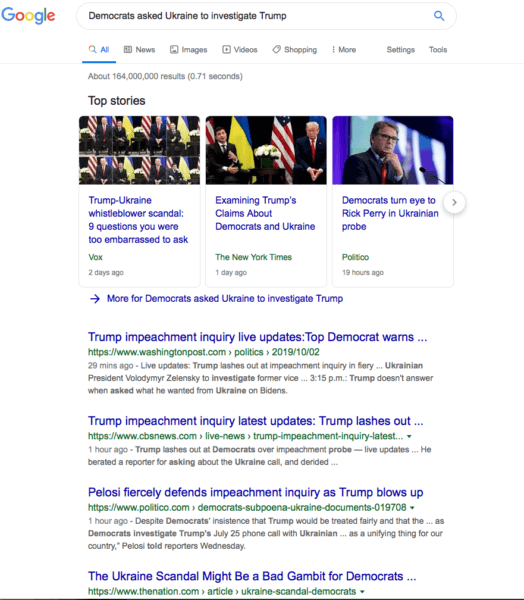 Note that you get absolutely no hint that there might be poor motives or behavior by Democrats that directly contradicts the party, its media organs, and Google. Here, within a minute of the Google search, are the DuckDuckGo results: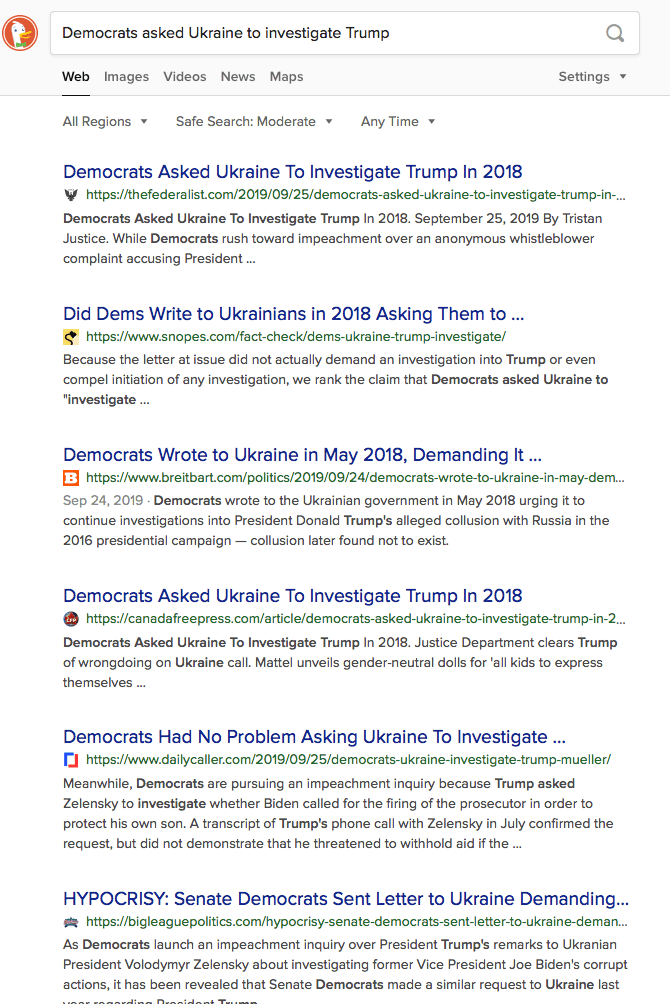 Notice that the top DuckDuckGo result is from the Federalist, and the second result is from the leftist Snopes. So, you really do get answers from both sides in DuckDuckGo. They actually trust you to make up your own mind, unlike the leftists at Google who are determined to engineer permanent government by the right people. This is the face of real "election meddling" and "collusion."** Switch your browser's default search engine in the settings menu, if you want politically unbiased results. Google lies.
---
* I was tipped to this search today by an Andrew Klavan podcast. My results are different but consistent with his claims.
** I think it is past time to play hardball. President Trump should publish an executive order mandating the immediate change of search engine in all executive branch computer browsers. This is accomplished by a centralized admin policy code pushed out from one or a few central computers nightly.
The president should note that Google admits skewing results and that the results are grossly inaccurate as a representation of the real world in which American citizens live, express opinions, and vote. Government workers should have the most accurate representation of real opinion, not partisan slant.
For additional security, delete the Chrome browser so Google loses that source of spying on the government. Howls from the Democrats and their TruCon lapdogs would prompt an unprecedented level of awareness of what Google and their leftist allies are doing on people's computers, tablets, and smartphones. It would have far greater and faster effect than months of kabuki theater in Congressional committees. It might just hit Google's share of browser searches hard enough to defeat their 2020 election manipulation scheme.
Published in Politics