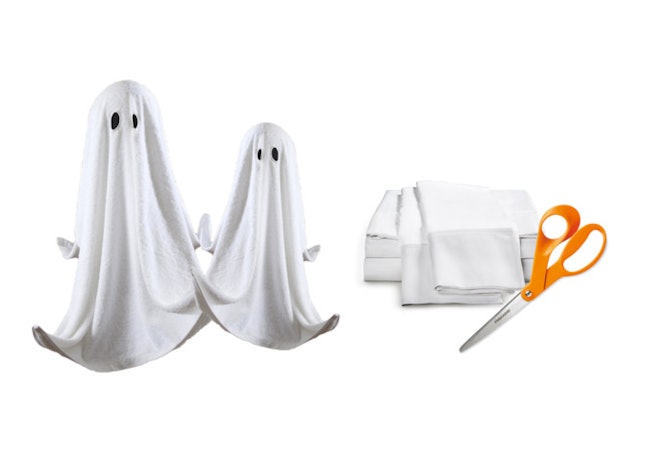 I am old enough to remember when…we kids trooped around our neighborhood collecting candy from the neighbors. We mostly wore homemade costumes. Unless there was an old enough family child, our father was riding herd, while Mom held down the fort and doled out the candy to other little monsters, in accordance with her rules. Over the years, and with our incredible surge in material wealth, Halloween became an increasingly adult event, with slutty [occupation here] outfits and other costumes in adult sizes sold or rented from seasonal party stores.
For the past several years, yours truly has attended an adults-only party, but not like that. A couple with whom I am friends has a house party without the bacchanalia atmosphere. Yes, it is a costume party, a costume party with a difference.
Sometimes the party is without a costume theme, and sometimes everyone is challenged to pick a costume within a theme. A theme like, say, MST3K. Now I'm not saying we're a bunch of geeks, but I did show up as Joel, after pulling together Gismonics Institute insignia to attach to my old Army coveralls, with a nametape that furthered the joke. And most people got the references.
I assign any credit or blame to my parents, especially my father. I do not really remember most childhood Halloweens. I know my mother put our costumes together, often or always. I vaguely remember that plastic loot buckets were not a thing, that we likely trooped around with old pillowcases, which would have much greater loot gathering capacity, by the way. What I most clearly recall was my father escorting us as an old-style ghost.
Back then, you went as a ghost by cutting eye holes in an old sheet. Dad went as a visual joke ghost, the ghost of the Hubert Humphrey or McGovern campaign, as I vaguely recall. Well, over the years, I've turned out to be a chip off the old block, or maybe a boulder off the old cliff.
Yes, I'm cheap and like to assemble my costume from the Dollar Tree store and other steep discount sources. One year, I was driving and noted a hospital uniform store was going out of business. I popped in, grabbed a white lab coat for dimes on the dollar, added a couple of dollars worth of fat tipped markers from the Dollar Tree to appropriately mark the lab coat with visual clues, and topped it off with a few pocket Constitutions for a dollar apiece online. What? Doctor of Democracy, dispensing the Constitution for what ails you, of course.
Another year, I grabbed a large piece of white foam board, red, blue, and black markers, and blue and red shoelaces from my favorite cheap source. I cut the foam board sheet in half, formed a sandwich board sign with the laces holding it all together, and went as a ballot box with a political message about choices and about voter turnout overwhelming Democrats' customary ballot box stuffing. I even rolled in one time with a simple extra-large white t-shirt, marked up front and back to represent the two faces of the American trade union movement, AFL-CIO and IWWW (the Wobblies).
I won't claim everyone else is just as nerdy. In fact, one year we have had a near Heath Ledger quality Joker. I'm not revealing real-world identities with photos, but they do exist. OK, so we did do a WKRP theme costume party. Nothing wrong with that, not a thing.
What is especially right about it is that there are not drunken incidents, and no regrets the next day. It is a chance for friends to gather and laugh or groan over costume ideas. The only thing missing is that moment from childhood when we all would dump our loot out on the dining room table, taking stock of the evening's haul. So, what has been your experience of Halloween costumes and celebrations over the years?
Published in Group Writing