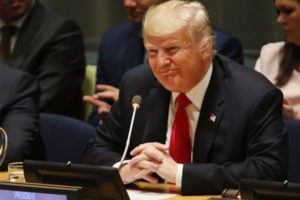 It seems it was months ago we were laughing at Swedish Veruca Salt yelling at the barking seals at the UN, but as most sane adults politely ignored being screamed at by Algore's and Soros's hand puppet, there was a meeting taking place behind closed doors. That day Nancy Pelosi contacted House Majority Leader Steny Hoyer who, like Pelosi, was fighting a growing tide of dissent by the leftists. These congresspeople would impeach Trump for jaywalking because, as they have stated, without taking out the King, he is likely to win reelection.
The Mueller Report and subsequent congressional testimony was a bust. Democrats were antsy and the shrill AOC+3 caucus was starting to get downright angry. Pelosi needed to jump on this, even though both the Democrats and their media spokesholes were flying blind as the actual transcript had yet to be released. Pelosi had to decide before the leftists imploded and started to cause electoral damage in 2020. Both Pelosi and Hoyer agreed: now's the time.
On Tuesday morning, Pelosi "consulted" with potential wayward House Democrats who didn't want to push for impeachment until actual (and convenient) facts came out. It was at this time President Trump was giving what many consider his best speech at the UN:
The future does not belong to globalists. The future belongs to patriots. The future belongs to sovereign and independent nations who protect their citizens, respect their neighbors, and honor the differences that make each country special and unique.

It is why we in the United States have embarked on an exciting program of national renewal. In everything we do, we are focused on empowering the dreams and aspirations of our citizens. Thanks to our pro-growth economic policies, our domestic unemployment rate reached its lowest level in over half a century.
This speech said everything historians will write about the "Trump Doctrine" and would fill what would be a great two-day news cycle for the President. He had countless meetings with world leaders and things actually got done. Trade, immigration, Iran … all discussions were fruitful.
Nancy needed to ensure that something would replace Trump's successful Tuesday at the UN and the scorched-earth impeachment bomb would suffice. No matter that it wasn't clear if Trump actually pressured Volodymyr Zelensky with bribes. Democrats knew facts didn't matter. CNN could and would cut-and-paste the eventually released transcript to make it look like Trump did a quid pro quo. Easy peasy, they would just yadda yadda yadda 540 words to frame Trump.
CNN skipped an entire section of the released and unredacted transcript of a phone call to charge Trump with requesting a favor he never asked for.
Adam Schiff will write his own version of the transcript and then read the Martin Scorsese-like mafia script to open the House Intelligence Committee hearing. Fake? Lies? No matter. The networks will replay for the low information voters ad nauseam until enough voters believe.
This was the plan all along. They changed the rules from day one of the 116th Congress to not allow Republicans to have a say in any impeachment inquiry, and therefore would not hold a vote.
Rules, law, facts. None of that would preclude their small-minded, but ultimate goal: Pelosi knew that while the President would not be impeached by the Senate, he still would be branded with the scarlet letter "I" by the House. The third President to ever be technically impeached. This branding will be forever and will become Donald Trump's permanent first name.
Democrats always focus on selling the sizzle and never the steak. Seems they brushed off the likelihood Mitch McConnell may, in turn, leave several rakes for the Democrat Senate to step on; primarily, having to subpoena Hunter Biden and the deep-state instigators who pushed the entire Ukraine Spygate chapter from within the Obama Administration. House Democrats and Presidential candidates are perfectly happy to risk any and all blowback. They will have their scalp and will forever smile with the oft-repeated phrase "Impeached President Trump."
It's been said that Democrats have the emotional disposition of preteens. They are unable to control their feels and allow anger to navigate their rusty, sinking vessel. It's all about stage one – never mind the bollocks. Every policy, decision, lie, and manipulation is appropriate when your modus operandi is the belief that good intentions justify any result as acceptable. Forget the repercussions of failed economic policies in the inner city, or providing sanctuary to illegal alien murderers, or taxing businesses out of your state, or regulating growth until there is none. In this case, impeaching a president for diddly squat is fine as we will be satiated – and then we can call him names.
Changing just enough minds, like my usually much smarter Mother who told me Monday at our Rosh Hashana lunch she now thinks the President broke the law because the news says so. She and many others may either stay home next November or even vote for the other party.
Many think today's Left is just like yesterday's Right: it's just about taking back control. They take the Presidency back, then one day we get it back, and so on. That may have been true when we were all much younger.
Today, for the Left, Trump's worldview threatens not just the next one to five years remaining in Trump's term(s), but could profoundly change the global political balance leaving Leftists behind. The globalists' factors on which all legal, social, and political relations are formed requires an evergreen centralized government, unaccountable international organizations, and elites determining who gets to divide the ever-shrinking spoils of socialist policies.
The current wave of conservativism sweeping the world is cancer to the Left. In Australia, the UK, France, Spain, Hungary, Brazil, Thailand, Austria — the list goes on and on — we see populism and Trumpism taking hold. This is the greatest threat to the order of things as bureaucracies prefer the status quo.
For the global change to happen, a leader is required to enlighten and show success by example. When America's economy remains the best in a contracting world, people want likewise. And if that leader is President Trump, it's no matter that he's a flawed man; his policies of lower regulations, reduced taxes, strong national security, and a reinvigorated national pride will be emulated.
These are dangerous policies to globalist's chiefdoms. And anyone who is a threat must be eliminated.
However this sordid, cancerous, angry period ends, Donald J. Trump, with or without "impeachment" next to his name, will be the man remembered for having the audacity to remind all peoples across the world that now is the time to take back control.
For Pelosi and her Leftists, the final two paragraphs of President Trump's speech to the United Nations petrifies them.
For people who desire true freedom, this is our clarion call.
Love of our nations makes the world better for all nations. So, to all the leaders here today, join us in the most fulfilling mission a person could have. The most profound contribution anyone can make — lift up your nations, cherish your culture, honor your histories, treasure your citizens. Make your countries strong and prosperous and righteous. Honor the dignity of your people and nothing will be outside of your reach.

When our nations are greater the future will be brighter, our people be happier and our partnerships will be stronger. With God's help, together we will cast off the enemies of liberty and overcome the oppressors of dignity. We will set new standards of living and reach new heights of human achievement. We will rediscover all truths, unravel all mysteries and make thrilling new breakthroughs. And we will find more beautiful friendship and more harmony among nations than ever before.
Published in General