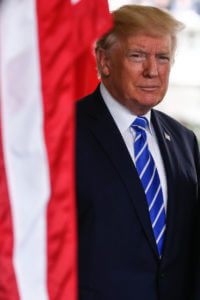 President Trump has declassified and released the transcript of his phone conversation in July with Ukrainian President Zelenskyy (See our post here.) The transcript is a complete nothingburger when it comes to the loony Left's (and NeverTrumper's) insane desire to remove President Trump from office. Trump did not, as had been alleged by partisan hacks in the Fake News, threaten to withhold military aid from Ukraine unless they gave him dirt on Biden. (Why this would have been an impeachable offense is not clear to me, in any case.)
Some people are suggesting that, like a Rorschach test, the transcript reveals different things to different people. Those who hate Trump will use it against him, those who love him will use it to defend him. Sure. Absolutely. This has been the case with many things over the past three years. But here's the thing: Some people have a track record of being wrong, and other people have a track record of being proven right by the facts. The people who told you yesterday the transcript would show Trump had corruptly threatened Ukraine with withholding military aid in exchange for opponents research on a potential rival were wrong. 
On the face of it, one would assume that House Speaker Nancy Pelosi's announcement last night that she had authorized "formal impeachment inquiries" was foolish and premature. But that's only if one assumes her intent was to actually impeach Trump. It's not. Despite her pronouncement, the Speaker has not so far scheduled any floor vote on the matter. Without a vote, there is no "formal" House investigation, no matter what she calls it. So what's going on?
What did the transcript actually reveal? Trump has reason to believe Ukraine has Hillary Clinton's email server with the 30,000+ deleted emails on it. Zelensky is appointing a new national prosecutor, this month, who is going to reopen the corruption probe into the company that was paying Hunter Biden $50,000 a month, presumably in exchange for favorable treatment by the Obama Administration.
And don't forget: The Justice Department Inspector General report on FISA abuse is expected to be released to the public in the near future. (I predict it will be released on October 11 — the Friday before Columbus Day weekend.)
Another thought: Sadly, Ruth Ginsburg has had two bouts with cancer just since last November. It is quite possible that she may pass away before the 2020 election. While none of us wish her death, you can be sure the rabid pro-abortionists on the Left are already concocting whatever false accusations they will lob against any nominee of Trump's.
The Democrat leadership does not actually want to impeach Trump in the House. First of all, they simply don't have the votes, not even in their own majority caucus. Even if they could pass articles of impeachment, they know that the Senate would not convict. Even if the Senate did convict, what then? President Mike Pence? No, the Democrat leadership doesn't want to impeach. They want to create a cloud of of illegitimacy around Trump. That has been their strategy all along. The risk of impeachment is so high that they may be sabotaging their own chances of winning the election, which means they don't believe any of the Democrats running can win anyway. (Also why they're willing to stick a knife in the back of Joe Biden, supposedly the front-runner.)
The "whistleblower" frenzy of the past week has been about distracting from the actual crimes committed in 2016 by Hillary Clinton, her presidential campaign, and the Obama Administration (soon to be revealed in the IG report, presumably) and from the actual corruption of the Bidens. And the not-formal "formal" impeachment inquiries are to cast a pall on any potential Trump Supreme Court nomination. ("The Senate must not vote on a nomination made by a president under formal impeachment inquiry!")
TL;DR Democrats, Media, NeverTrumpers think you're stupid.
Published in Politics