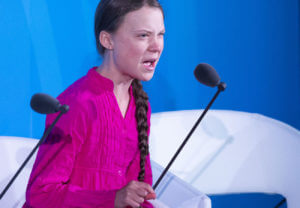 Every week, the rhetoric is ramped up: "Surviving climate change means an end to burning fossil fuels. Prepare yourself for sacrifices," the LA Times warns. The Guardian writes, "World 'gravely' unprepared for effects of climate crisis." For the New Yorker, it's already too late: "What if We Stopped Pretending the Climate Apocalypse Can Be Stopped?"
The latest round of ecological doomsaying hit the United Nations Monday in the form of Greta Thunberg, a 16-year-old Swedish climate activist. The media made this child a celebrity after her speech to the World Economic Forum in Davos. "I don't want you to be hopeful," she scolded the jet-setting elites. "I want you to panic. I want you to feel the fear I feel every day."
In Monday's speech to the UN Climate Action Summit, she was even more apocalyptic:
"You all come to us young people for hope," she said. "How dare you? You have stolen my dreams and my childhood with your empty words, and yet I'm one of the lucky ones. People are suffering. People are dying. Entire ecosystems are collapsing."
None of this is healthy, neither for Ms. Thunberg nor for anyone else. Especially other kids.
Those of us who have been around awhile are used to constant fearmongering about the environment. My first-grade teacher handed out maps showing how a pollution-caused ice age would soon cover our Chicago suburb with a glacier. Mom eased the panic with a reminder we were moving to Phoenix that summer.
After that, acid rain was going to kill us, then the ozone hole, then global warming, then "global weirding," and now, climate change. (Granted, the climate has always changed, but progressives think it started a century ago.)
Despite the wildly different scenarios, from freezing oceans to boiling ones, the solution is always the same: curtail capitalism and let government control more of our lives.
The young, unfortunately, don't have our luxury of perspective. And it's destroying their emotional health.
According to the National Institutes of Health, nearly one-third of all 13- to 18-year olds will experience an anxiety disorder. The numbers continue to go up; between 2007 and 2012, anxiety in children and teens rose 20 percent.
The suicide rate for young Americans is now the highest ever recorded. Between 2000 and 2017, the number of suicides has doubled for females aged 15 to 24. Males between 15 and 19 killed themselves at a rate of 17.9 per 100,000, up from 13 per 100,000 in 2000.
Our increasingly anxious kids deserve better. Daily prophecies of global annihilation are deeply unhealthy, not to mention unsupported by the vast majority of research. Even if you accept that human activity is heating the globe, relatively few scientists are predicting the end of the world in 12 years or 17 months.
What Thunberg's parents are doing to her borders on child abuse. Hyping increasingly apocalyptic claims is spreading that abuse to every other young person.
Published in Environment