For those who think that human sacrifice is a relic of the past, you are wrong. Its manifestations in the modern age are different, but they are violent, heartless, immoral, and unrepentant. We only need to look at the actions of the Progressive movement to understand how human sacrifice thrives and is equally deadly.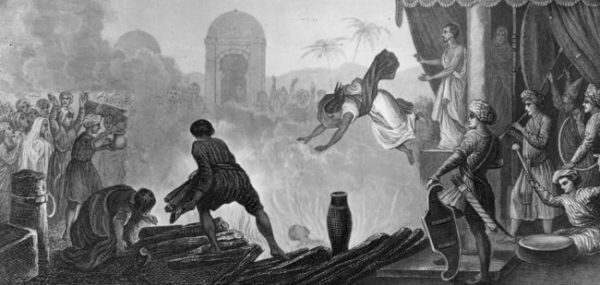 Let's look first at the origins of human sacrifice to lay the foundation for my argument:
Almost all of us would cringe at thought of sacrificing a person's life for the purpose of appeasing the gods. Modern society associates the phrase 'human sacrifice' with brutal, demonic, or satanic rituals. However, cultures that are considered by scholars to be highly civilized, affluent, and advanced considered human sacrifice a normal part of life.

Some ancient cultures engaged in human ritual killings to gain the favor of the gods, while others practiced it to show respect and devotion to their leaders. The ritual could be as serene as simply drinking poison or as cruel as getting buried or burned alive. But above all, it was considered perfectly normal.
Let me show you the parallels between Progressivism and ancient practices. First, I would suggest that some of the "gods" of the Left are Marxism/socialism, climate change, abortion, and those issues associated with them. As many of us have already acknowledged, Progressivism supposedly thrives on secularism, but we know that its ideology shows all the attributes of a cultish religion: a belief system, belief in supernatural beings (Gaia), distinction between the sacred (utopia) and profane (fossil fuels, Conservatives, etc.), rituals and sacred objects (protests, chanting); a moral code (nature matters, people do not; windmills, solar panels are elevated), and finally destroying anyone who challenges their beliefs. The human sacrifices are the intentions and actions that will destroy the life of another human being and everyone connected to him and her to preserve their "religion."
We can look at three Supreme Court nominees to see the lengths the Left will go to, to initiate a human sacrifice. In the case of Robert Bork, it was an ugly display. Although he had a list of worthy credentials to be considered for SCOTUS, Ted Kennedy decided to make his best effort to destroy him:
Robert Bork's America is a land in which women would be forced into back-alley abortions, blacks would sit at segregated lunch counters, rogue police could break down citizens' doors in midnight raids, schoolchildren could not be taught about evolution, writers and artists would be censored at the whim of government, and the doors of the federal courts would be shut on the fingers of millions of citizens for whom the judiciary is often the only protector of the individual rights that are the heart of our democracy. . .
In addition to his legal legacy, Bork also has a word named for him in the Oxford English Dictionary. The verb 'bork' is used as slang, to 'defame or vilify (a person) systematically, esp. in the mass media, usually with the aim of preventing his or her appointment to public office; to obstruct or thwart (a person) in this way.'
Robert Bork reflected on this rejection later in his life l :
The rejection deeply affected Bork, turning him further against a system in which, he said, 'the tactics and techniques of national political campaigns have been unleashed on the process of confirming judges. That is not simply disturbing. It is dangerous.' Ever more vociferously, he railed against left-wing judicial activism that, in his view, sought to substitute courts for elected politicians.
The rejection of Bork defined the future behavior of Supreme Court nominees who realized that providing limited comments about their views provided less ammunition for attacks by the Progressive Left.
The second example was the "lynching" of Clarence Thomas; this word was Justice Thomas' own choice when he responded to the actions of the Senate Judiciary Committee:
This is not an opportunity to talk about difficult matters privately or in a closed environment. This is a circus. It's a national disgrace. And from my standpoint, as a black American, it is a high-tech lynching for uppity blacks who in any way deign to think for themselves, to do for themselves, to have different ideas, and it is a message that unless you kowtow to an old order, this is what will happen to you. You will be lynched, destroyed, caricatured by a committee of the U.S. Senate rather than hung from a tree.
Anita Hill had accused Justice Thomas of sexual harassment when she worked for him; he denied all charges and went on to be confirmed to the Court. It's important to note that in spite of his confirmation, other women who accused him of sexual harassment but were not deemed credible (as seen in the Kavanaugh hearings).
Justice Thomas also learned the sad truth about who he could trust during the hearings. Although Joe Biden had promised to protect his privacy, Biden lied:
Thomas recalled, 'Throughout my life I've often found truth embedded in the lyrics of my favorite records. At Yale, for example, I'd listened often to 'Smiling Faces Sometimes,' a song by the Undisputed Truth that warns of the dangers of trusting the hypocrites who 'pretend to be your friend' while secretly planning to do you wrong. Now I knew I'd met one of them: Senator Biden's smooth, insincere promises that he would treat me fairly were nothing but talk.'
Finally, we come to Justice Brett Kavanaugh. I'm choosing to not provide detail of his nomination and the way the investigations were handled because they are well known. But as an example of the disgusting efforts to annihilate him, there is this comment:
According to the Constitution it is within the purview of the Senate to 'advise and consent' on SCOTUS appointees. The Constitution says nothing about grilling these appointees half to death, about setting land mines made out of vague and ancient fictions. The concern is supposed to be whether or not the candidate has the education, the clarity, the self-discipline to weigh issues brought before him. It is not about changing the world. It is not about getting the jump on the opposing party. It is certainly not about high school antics –- if in fact any happened. The left seems to think that a SCOTUS judge can just haul off and change laws, which explains their hysteria, but a little knowledge about the balance of power would calm those fears. SCOTUS can't initiate lawsuits; they can only rule on what is brought before them.
Kavanaugh responded to the Senate Judiciary Committee and said, in part:
These are smears, pure and simple. And they debase our public discourse. But they are also a threat to any man or woman who wishes to serve our country. Such grotesque and obvious character assassination—if allowed to succeed—will dissuade competent and good people of all political persuasions from service.

As I told the Committee during my hearing, a federal judge must be independent, not swayed by public or political pressure. That is the kind of judge I will always be. I will not be intimidated into withdrawing from this process. The coordinated effort to destroy my good name will not drive me out. The vile threats of violence against my family will not drive me out. The last-minute character assassination will not succeed.
People's reputations should be sacred and inviolable, especially when they have a history of being honorable and dedicated. That assumption is no longer valid.
The effects on these men, their families, wives, and children cannot be measured. Those people who love them know that the enemy has tried not only to prevent their confirmations, but they have set out to destroy their lives. Their efforts have the sounds of zealotry, hatred for those who do not agree with them, and disdain for people who do not see the wisdom of their ways. Their movement has become a crusade, in the worst sense of the word. They will make sure their goals are met, and that people are either converted to their cause, or they will be sacrificed. We have seen many more human sacrifices in recent years; I hope you will speak to those abhorrent exploits.
With this kind of sick religious dogma, why would anyone choose to be a Supreme Court nominee?
Who will be the next human sacrifice?
Published in Culture