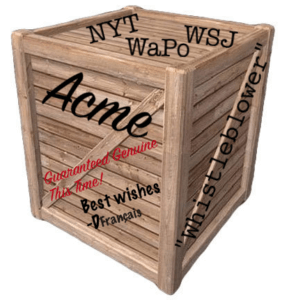 The falsely styled "whistleblower," a possible felon within the intelligence community who is seeking to subvert our Constitution, with the complicity of (fellow) Democrats and their Trump-loathing TruCon lapdogs, is already blowing up in "Wile E. Coyote's" face.
President Trump had a wonderful time in his sit-down press availability with the Australian Prime Minister. He spoke plain truths: that the "fake news" media represented in the room had just had one of their worst weeks and was now doubling down to discredit themselves even further.
Andrew McCarthy on the "Trump whistleblower" claim, cautiously laid out the law and some of the agreed-upon facts:
In my view, Chairman Schiff's claim, based on IGIC Atkinson's interpretation of the statute, is wrong. Section 3033 does not apply to a president's negotiations with or commitments to foreign powers, or to a president's sharing of classified information with foreign powers. To repeat, the statute applies to intelligence activities by government officials acting under the authority of the DNI. If I am right, the Trump administration should not be accused of law-breaking for declining to follow Section 3033, even if the whistleblower had an "urgent concern" in the ordinary understanding of that term.

[…]

…Consistent with this principle, the Justice Department has long adhered to the so-called "clear statement" rule: If the express terms of a statute do not apply its provisions to the president, then the statute is deemed not to apply to the president if its application would conflict with the president's constitutional powers. Section 3033 does not refer to the president. By its terms, it applies to intelligence-community officials. And, in any event, it may not properly be applied to the president if doing so would hinder the president's capacious authority to conduct foreign policy.

At least when a Republican is in the White House, progressives are enthralled by laws that, in effect, empower bureaucrats — here, "intelligence professionals"– to second-guess and otherwise check the president's power to direct the executive branch. That is not our system.

[…]

The president has the power to conduct foreign policy as he sees fit. The Congress has the power to subject that exercise to thorough examination. The clash of these powers is a constant in our form of government. It is politics. For once, let's find out what happened before we leap to DEFCON 1.
As it happens, John Solomon, writing at The Hill, has done the virtual and real shoe-leather work. His analysis, based on hard evidence and quotes other reports and pontifications missed, fills in the "missing piece to the Ukraine puzzle":
…Giuliani's contact with Zelensky adviser and attorney Andrei Yermak this summer was encouraged and facilitated by the U.S. State Department.

Giuliani didn't initiate it. A senior U.S. diplomat contacted him in July and asked for permission to connect Yermak with him.

Then, Giuliani met in early August with Yermak on neutral ground — in Spain — before reporting back to State everything that occurred at the meeting.

That debriefing occurred Aug. 11 by phone with two senior U.S. diplomats, one with responsibility for Ukraine and the other with responsibility for the European Union, according to electronic communications records I reviewed and interviews I conducted.

When asked on Friday, Giuliani confirmed to me that the State Department asked him to take the Yermak meeting and that he did, in fact, apprise U.S. officials every step of the way.
Notice the specific dates and identifiable actors. This set of claims is subject to fairly easy confirmation or falsification. Notice how different this looks, with senior State Department personnel apparently worried about their usual agents acting honestly. This worry is borne out by the fraudulent "whistleblower" leak.
The Ukrainians, in turn, are always right to worry. They are wedged between larger powers with no history of backing Ukraine's sovereignty. Obama greenlighted Putin's expansionist ambitions right from the opening days of his first term, when he canceled missile defense systems for allies in Central and Eastern Europe.
Where McCarthy only admits to knowing of claims that Vice President Joe Biden directly coerced Ukraine on behalf of his son, Joe was feeling so sure of himself that he openly boasted into a live microphone, on camera. Biden, at the Council on Foreign Relations, was among friends:
In June of 2019, ABC News caught Joe Biden on the street, questioning him about his and his son Hunter Biden's family practice of business and politics:
So, this is not right-wing talking points. Why would the current leadership at State want to use Giuliani? How about a pattern of obstruction by political and "career" staff? More from John Solomon on Ukraine reporting U.S. corruption [emphasis added]:
Why would Ukraine want to talk to Giuliani, and why would the State Department be involved in facilitating it?

According to interviews with more than a dozen Ukrainian and U.S. officials, Ukraine's government under recently departed President Petro Poroshenko and, now, Zelensky has been trying since summer 2018 to hand over evidence about the conduct of Americans they believe might be involved in violations of U.S. law during the Obama years.

The Ukrainians say their efforts to get their allegations to U.S. authorities were thwarted first by the U.S. Embassy in Kiev, which failed to issue timely visas allowing them to visit America.

Then the Ukrainians hired a former U.S. attorney — not Giuliani — to hand-deliver the evidence of wrongdoing to the U.S. attorney's office in New York, but the federal prosecutors never responded.

The U.S. attorney, a respected American, confirmed the Ukrainians' story to me. The allegations that Ukrainian officials wanted to pass on involved both efforts by the Democratic National Committee to pressure Ukraine to meddle in the 2016 U.S. election as well as Joe Biden's son's effort to make money in Ukraine while the former vice president managed U.S.-Ukraine relations, the retired U.S. attorney told me.

…

Ukrainian officials also are discussing privately the possibility of creating a parliamentary committee to assemble the evidence and formally send it to the U.S. Congress, after failed attempts to get the Department of Justice's attention, my sources say.

Such machinations are common when two countries are navigating diplomatic challenges, and, often, extracurricular activities with private citizens are part of the strategy, even if they are not apparent to the American public.
So, now the latest lawless bureaucrat's attack on the Constitution is unraveling, giving reason to talk about Joe Biden and his son Hunter, who was thrown out of the Naval Reserve after being caught using cocaine through a periodic unit drug test. All uniformed members of the military, in all components, are supposed to be tested on a random basis, at least once every 12 months. It took some real arrogance on Biden's part, some incredible sense of entitlement, to think he could get away with snorting blow…arrogance bred from his old man helping him shake down governments for dough, apparently.
As the weekend started, the story only got better:
"Trump Didn't Mention Foreign Aid 'Quid Pro Quo' During Call with Ukrainian President: Report" — credit to National Review for some truth-telling.
President Trump didn't mention an offer of providing foreign aid to Ukraine during a recent call with president Volodymyr Zelensky, the Wall Street Journal reported Friday.

Trump urged Zelensky to launch an investigation into Vice President Joe Biden's son on eight separate occasions during the July call but did not make an offer of foreign aid in exchange for the opening of a probe, as has been widely speculated.
John Hinderaker aptly summarized the situation: "TRUMP VS. THE MEDIA, PART 2,563,901 [WITH COMMENT BY PAUL]:"
Here, Joe Biden revealed the real scandal. A Ukrainian prosecutor was investigating a company in which Hunter Biden was involved, and Joe bragged that he had gotten Ukraine's government to fire the prosecutor by threatening to cut off $1 billion in loan guarantees. That, folks, is a real scandal, and a real abuse of executive power.

[…]

I don't agree with Paul that it was improper for Trump to ask Ukraine's Zelensky to deal with his personal lawyer, Rudy Giuliani, on the investigation rather than going through the usual diplomatic channels. By this time, Trump is well aware that the usual diplomatic channels are bitterly hostile to him. I don't blame him for wanting to avoid them under these sensitive circumstances. His caution was borne out, apparently, when a Democratic Party loyalist embedded in the bureaucracy leaked news of Trump's conversation with Zelensky anonymously, under the absurd guise of being a "whistle blower," a pose that the press has, of course, enthusiastically adopted.
Paul Mirengoff, a Trump hater who fights back from complete TDS to occasional lucid objections about bureaucrats behaving badly, offered a game response, already weakened by the John Solomon story linked at the top of the Power Line page:
It seems to me, though, that on any set of facts the choice between injecting Rudy Giuliani into this matter and having it handled through normal diplomatic channels is a false one. Mike Pompeo, the Secretary of State, is anything but bitterly hostile to President Trump. He and those in his innermost circle could have handled the matter without bringing in any Democratic loyalists.
This is nonsense, not responsive to the facts offered by Solomon and Mirengoff's fellow Power Line contributors. Secretary Pompeo has no "innermost circle" that can be trusted. Then things got even worse for those who cannot abide The Great Big Ugly Man who came up and tied his horse to them. Brit Hume reports succinctly:
Here's a "new revelation" in this article: the whistleblower complaint is based on hearsay. From the article: "The whistleblower didn't have direct knowledge of the communications, an official briefed on the matter told CNN." https://t.co/rPPVRD88Qp

— Brit Hume (@brithume) September 21, 2019
Now the Washington Post is on to insinuating a quid-pro-quo linkage, by President Trump, of foreign aid to Ukraine investigating the admitted Biden actions. This is classic projection and bold distraction from the offal storm rising against the Democrats. It is just icing on the cake that people like Bill Kristol and David French are deciding to surf that wave.
Still Not Tired of Winning?
Published in Politics