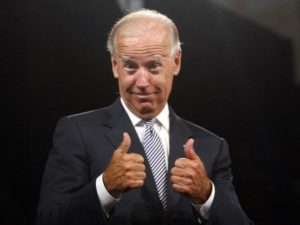 Disingenuousness is the lifeblood of political lifers, but for Joe Biden, it's the very air he breathes. How could it be otherwise given the impossible task of appeasing his party's wild-eyed woke base without alienating those Democrats – namely, African Americans – who still have at least one foot tethered to reality?
Asked how many genders there are at a campaign stop in Iowa, the former vice president answered, "At least three," which is an improvement, I suppose, on "At least one." When pressed to elaborate, he replied, "Don't play games with me, kid." What's striking – and endearing – about this last comment is its staggering cynicism. To the young college student who asked the question, gender isn't a game: it's an all-consuming obsession. So transparently cynical are Biden's pseudo-appeals to millennials that I wouldn't be surprised if his answer to the question "Can men get pregnant?" is "Sure, yeah, why not."
Much attention has been paid to the sheer quantity of gaffes performed by the logorrheic Biden, but the inscrutability of the gaffes deserves special attention. One could place Biden quotes side by side the output of a chimp banging away on a typewriter and still be hard-pressed to tell one from the other. Did Biden really say in the lead-up to the second Gulf War that "The Saudis are fundamentally vicious anti-Americans but they're our fundamentally vicious anti-Americans"? To ask the question is to answer it.
Biden is at his most appealing when, like Andrew Yang, he refuses to apologize. In an era when Republicans caught donning blackface are accused of culturally appropriating Democrats, an old-school Democrat regaling the country with tales about Corn Pop seems like the safest – and most entertaining – bet.
Biden is usually the last one in the room to get the joke. If politics is downstream from culture then Joe Biden is downstream from politics. The exception would be same-sex marriage, where former President Obama – God I love that phrase – found himself outmaneuvered by his white male dinosaur of a VP.
You know you're on the wrong side of history when Joe Biden is deemed too hip for the room.
Published in Elections