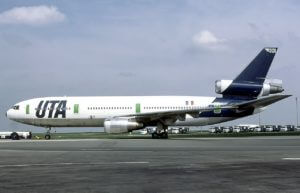 From the mid-1980s to early 1990s, I worked in Chad, Africa, for Esso Exploration. There was a lot of oil there and Esso had a group of ten geologists — me being one of them — who rotated to Chad on a 21-21 tour. We worked on the drilling rigs looking for oil and describing the reservoir. In September 1989, two of my best friends — who were also members of the ten — had just finished up a well and one of them was at the end of his tour. Mark was one of those men, and his best friend, Charlie, was the other. Going home after a 21-day rotation after working long hours on a rig was something we all looked forward to. Mark was pestering Charlie to fly back with him (Charlie still had a week to go on his rotation) because the rig was moving and it would be a week or two before we would be ready to drill another well, but Charlie decided to stay to finish up the office paper work.
That decision still haunts him to this day.
For on September 19, 1989, UTA Flight 772 took off from Ndjamena, Chad en route to Paris, France. But the flight never made it to Paris because it blew up over the Sahara Desert in Niger. Mark, our drilling supervisor, a few Parker drilling hands, and a Schlumberger engineer – all who worked for us in Chad — were on that flight.
This year is the 30th anniversary of that horrible day and there are still five of us left out of that ten-man group who memorialize Mark. It is a sad, devastating memory, but it helps us all to talk about that day and to tell stories about Mark. We did that yesterday and hoisted a few toasts to Mark.
The story of UTA Flight 772 is a story of murder. Muammar Qadaffi was the murderer. The story of the criminal investigation by the French is quite astounding. The evidence was found out in the middle of nowhere in the Sahara Desert and a successful prosecution of the Libyan government ensued. One new thing that came out of our day yesterday was the discovery of the video below that details this terrorist crime story. If you remember UTA 772, you might find the short video informative.
It has been called the greatest murder investigation in French history. When a suitcase bomb destroyed French Airlines UTA Flight 772, killing all 170 passengers and crew on board, it triggered a decades long search for accountability… a story that has previously been largely untold. But in his new book, "The Forgotten Flight," author Stuart Newberger remembers one of the deadliest terrorist attacks in history from his unique vantage point as the attorney who represented the families of the seven Americans killed. The story of an epic pursuit of justice across international borders provides the focus for this edition of Wilson Center NOW.
.
Published in Islamist Terrorism