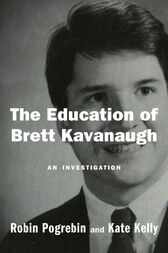 A real problem with the Amazon review section is that people can review a book even before it is released. This is particularly true of books by conservative authors. One star reviews flood the page before and shortly after such books are released. Obviously many people who didn't read the books are reviewing them. I don't think it's the right thing to do, it's dishonest to review a book you haven't read.
But it sure is tempting to post an Amazon review about the book intended to smear Brett Kavanaugh (though perhaps unsuccessfully), The Education of Brett Kavanaugh by Robin Pogrebin and Kate Kelly. If I were to write a review, it might be something like this:
Before Brett Kavanaugh spoke a word to a national audience, the majority of Democrat senators announced they would oppose his confirmation as a member of the United States Supreme Court. In fact, even before Trump announced who his candidate would be, most of the Dim (sorry, Dem) senators stated their opposition.

Therefore, if those senators could vote "No" before they who the nominee would be, I can give Pogrebin and Kelly a one-star review without reading the book. I know there will not be a fair take on the subject because these writers work for the New York Times (a former newspaper, h/t A.K.)

I know that the writers will do their best to question Kavanaugh's character and will treat him unfairly; even though there is an objective record that shows that those who know Brett Kavanaugh say he has a sterling record and his long judicial record is extraordinarily distinguished. But I'm confident Probrebin and Kelly will prove themselves in this book to be fibbers with britches ablaze.

Instead, read Mollie Hemingway and Carrie Severino's Justice on Trial. I'm only halfway through, but I'm giving it five stars.
Again, I don't feel good about cheating the Amazon system in this way, so I won't post this there. But if you should happen to have a lower moral standard than mine, and choose to post this review under your account, what can I do?
Published in Politics