UPDATE: News story based on bunk, as noted below by Midget Faded Rattlesnake. The general points about "cultural appropriation" stand, although not as related to this story. Fake but accurate!
In which California is fitted with a jet engine, loaded into a rail-gun launcher, and aimed so the trajectory takes it over the shark: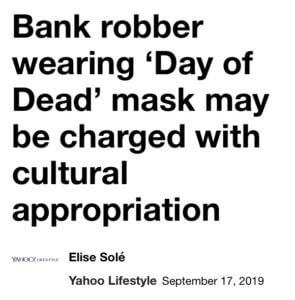 I used to say "not the Onion," but let's use "Not the Babylon Bee" going forward. From the story:
An armed robber wearing a "Day of the Dead"-type mask, who held up a Wells Fargo Bank, may be charged with cultural appropriation, in addition to bank robbery.

According to a press release by the Santa Monica Police Department, on Sept. 10, a man wearing a hooded sweatshirt, gloves, and a skull mask similar to one that represents the Mexican holiday, entered a Wells Fargo location in the beachside Los Angeles suburb.

"Use of a Day of the Dead Mask during a robbery can be a separate offense or an enhancement, under the California Penal Code," a police spokesperson said in a press release, per the Observer. "In this case, the suspect is sought for violating the rights of indigenous peoples, and for bank robbery."
Interesting set of priorities in that last sentence.
A spokesperson from Wells Fargo tells Yahoo Lifestyle, "We are working with law enforcement and are unable to provide more details as this is an ongoing criminal investigation. Wells Fargo values and promotes diversity and inclusion in all aspects of business at all levels. We do not tolerate racism, cultural appropriation or discrimination of any kind."
It is a good thing that Wells Fargo does not tolerate racism. One suspects they tolerate a great deal of discrimination when it comes to extending credit, but the term no longer means "make a distinction." What's new, at least to me, is this: Wells Fargo does not tolerate cultural appropriation of any kind, even if it's not related to a robbery.
I'd love to see someone make them codify precisely what that means. They can't, of course, and wouldn't, of course. It's a nonsense term, selectively applied, and profoundly illiberal. It suggests that every tribe should stay in its lane, as they love to say, with no culture polluting the folkways of another – as if the syncretic history of humanity hasn't eventually enriched everyone whose culture picked up something from another. It doesn't even define "culture," except for superficial manifestations that reduce culture to kimonos or burritos, but never the ideas that arise from a civilization. Even then, it's inconsistent: the high schooler wearing a kimono to a prom is culturally appropriating; the Japanese businessman in a suit is not. This has the odd effect of defining Western cultural signifiers as a global norm, which seems like cultural imperialism.
You could make the point that Western innovations arose from cultural differences unique to a time and place, a confluence of capital, societal endorsement of innovation, a post-Enlightenment elevation of reason and inquiry, and so on. But no one would make that case, because it would center the conversation around the history of Europe and the Anglosphere, which is inconvenient. Best to see that tale through the lens of colonialism, which prevented the occupied lands from developing the telephone and the three-piece suit.
More from the news story:
The Day of Dead, a holiday that lasts between October 31 and November 2, is a celebratory period for Mexican people to honor those who have passed on. Toy company Mattel is currently selling a "Barbie Día de Muertos" (retail price: $75) that some reportedly tweeted appropriated Mexican culture.
Somehow a news story about a bank robbery required the inclusion of a bad Barbie that resulted in some tweets, but okay. The designer of the doll is Mexican-American, according to a NYT story worrying about cultural appropriation. Doesn't matter. LANES. STAY IN THEM. THAT INCLUDES COLLECTABLE PAINTED FIGURINES.
The Left: absolutely you should do extra prison time for appropriating a culture. Also the left: vote Elizabeth Warren. Also the Left: we find your use of the phrase "pow wow chow" offensive. Additional charges will be filed.
Published in Culture