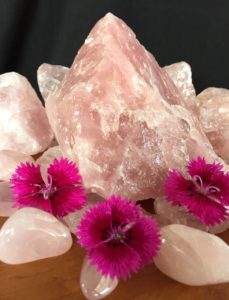 I was a minor rock hound — a rock pup, if you will — in my youth. Nothing serious, a small collection, only a few spectacular finds of my own, the rest either dull or store-bought. I liked crystals. But not as "wellness" aids. The folklore surrounding minerals, including their medicinal use, is part of their history. Still, I found myself mildly disappointed by the degree to which even geology shops treated the folklore as true.
Apparently, "wellness" claims for rocks have only gotten worse — er, I mean, more popular — since I was a young rock hound. Gwyneth Paltrow, for example, has gifted the world with Goop, like crystal-enhanced water bottles! Yoni eggs! (Warning: these eggs NSFW.) Rose quartz, with its soft pink hue, is particularly popular for "wellness." Fair-trade certification, which is supposed to guarantee humane treatment of workers, is also popular in wellness products. But — and it's a big but — most "wellness" crystals are far from fair trade. That pretty rose quartz is the color of sweat and blood.
Poor folk paid pennies to mine, in cramped, dangerous conditions, rocks that richer folk will sell for hundreds of dollars doesn't shock me. Terrible as these mining jobs are, people choose these jobs over the other available alternatives. But then, I'm usually of the attitude that there's no reason why bad conditions couldn't get worse, and that's not an attitude I'd expect the "wellness" crowd, which believes in "wellness," after all, to share. Even someone resigned, or callously indifferent, to human suffering might balk at the environmental damage wreaked by humanity's current appetite for crystalline "wellness." I have a rare stone in my wedding ring, but it's lab-created: I didn't find it appealing to molest tons of extra earth for one small pebble, not even for a wedding ring — especially when a better-quality version of the same crystal can be easily made in the lab. Natural and environmentally-friendly aren't always the same thing.
People who believe in crystalline "wellness" say stuff like crystals pick up the "vibrations" of their handlers. If this were true, then these crystals would pick up the suffering of those who mine them, and if you need their suffering in your crystal in order to make you feel better, well, that's just sick. At some level, I doubt even those who speak of these "vibrations" as if they were real truly believe in them, or at least not in the way they say they do.
***
Beautiful objects can be powerful talismans. My wedding ring is an example. Even when I'm apart from my husband, the ring's beauty reminds me we're together. The ringstone we chose has symbolic meaning for us, despite, I'm convinced, its lack of "vibrations." I've fortunately avoided scenarios stress-testing my wedding vows, and perhaps one reason why is because I use my wedding ring as a reminder if it seems like any such scenario might remotely pop up. I sort of did the silver ring thing in college, too. Not the Silver Ring Thing in Capital Letters, with the massive concerts and promotional materials, signed pledges, and Biblical engravings. Nope, my silver ring was a minor family heirloom, nowhere near sturdy or fancy enough to be someone's wedding ring. By happenstance, this heirloom had a little snail on it. (Yes, these exist!) "Take things slow," it reminded me, "and remember what you promised."
There's nothing wrong with beautiful talismans to remind you of your values. Nothing wrong, either, with elaborate ritual surrounding these talismans. We're ritualistic creatures, after all. Some rituals are centuries-long, like the veneration of icons or recitation of the Nicene Creed (also known as the "Nicene Symbol" — a verbal talisman recited to remind Christians of the essentials of their faith). Rituals with great tradition behind them connect us to something larger than ourselves. Other rituals are personal and idiosyncratic, and these have a place, too. While it would be hilarious if snail rings took off as a trend to remind folks of sexual continence, I don't expect they would, and I'm not sure I'd want them to even if they did. There was something beautiful about the serendipity of inheriting a bauble that just happened to remind me, privately, of what is, after all, a very personal goal.
Conservatives often mock the extreme personalization people put into their rituals these days — like writing their own wedding vows, or eschewing organized religion for a "spiritual practice" assembled out of tchotchkes (like crystals) from random corners of the earth — but I don't think it's the presence of personalization that's the problem. Rather, it's the absence of received tradition. Since each of us is, after all, a person, it's impossible to engage in received tradition without personalizing it somehow, which only seems fitting. It's breaking free of the reins of received tradition altogether which makes the statement, "I'm not just a unique person, but so special a unique person I can't join with other unique people in what would have been the tradition I received, had I only found some way to reconcile myself to it (but I couldn't — 'cuz I'm just that special)!" That's narcissistic in a way that incidentally accumulating a few rituals unique to you isn't.
***
To the extent crystals seem to "work" for "wellness," it's because they function as beautiful talismans. Consider the instructions for "charging" your crystal-enhanced water bottle:
The instructions for the bottle suggested I might want to charge my crystal by meditating with it. To do that, Leslie explains, I could pick an intention for my crystal, and then really focus on that intention while holding it. That way, my focused, intentional energy could be "transferred" into the crystal, and the crystal, in turn, would transfer it into the water. Like, right now, she's on a business trip, so she's been drinking from the rose quartz… "Every time I see this pink beautiful little quartz, I think, 'Okay, my intention is… to work on communicating more clearly and to be more present.'"

In my apartment, I set a timer for five minutes and fondle my rose quartz with my eyes closed while trying to imbue it with soothing thoughts. "I will probably be okay!" I think. "I am reasonably competent!" Then I think sappy thoughts about people I love. Then I wait for 51 more seconds until the timer beeps.
Those are instructions for turning your water bottle into a talisman. But why would you want to turn your water bottle into a talisman? Or rather, since it's possible to grow so fond of anything you use habitually it becomes a talisman, why would you want someone else to mass-market you the experience of turning your water bottle into a talisman? Why not accumulate your talismans the old-fashioned way, through received tradition and idiosyncratic habits?
***
Perhaps some people weren't given a tradition to receive, or at least not much of one. Still, even in a nontraditional age, and even in spiritually-impoverished circumstances, I suspect we absorb much more tradition than we realize. I don't think all attraction to traditions other than the one we received is phony, either. Foreign rituals can speak to us through shared beauty and shared humanity. And there's no doubt that crystals, whether it's truly traditional for anyone, foreign or not, to use them as such, can make very beautiful talismans.
But for Gaia's sake why would you attribute all these other pseudoscientific "wellness" powers to your talisman, powers that, if they were real, should horrify you if you're the sort of person you think you are? If you think unfair trade is a problem, and you think crystals really can transfer energies from their previous handlers, shouldn't you be ashamed to grow sleek and "well" off the "vibrations" "transferred" from someone else's miserable toil?
Image Credit: Max Pixel, Creative Commons Zero
Published in General