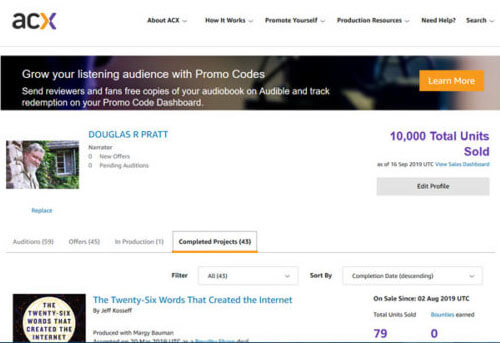 Ahem.
On July 13, 2002, after two years of sending around demos and auditions that produced zero response, my first audiobook narration hit the stands. It was an unremarkable vanity self-published title, but Amazon being Amazon, there is a market for such things. I was not turning down any offers.
My second title was also self-published but was a more serious and thoughtful treatment of racism in America, and garnered me my first notice from a real publisher. Said publisher was an offshoot of a Las Vegas newspaper, and they offered me a book about Howard Hughes' years in Vegas, a thrilling project for me. It went so well that they offered me another book by the same author, but it turned out to be one of the last titles they published before shutting the company down. That may be one reason they were so anxious to get the books into audio, since Audible titles need never go out of print.
Somewhere in this process, I auditioned for a history of the War of 1812 and met the fine folks at University Press/Redwood Audiobooks. I am now happily in their stable of regular narrators. Because they work with academic publishers, there are usually plenty of the histories and biographies that interest me available. I am now doing the final edits on my 44th title, which will go off to Redwood for review in a couple of days. I don't intend to stop here.
Audible has a publishing platform called ACX, Audible Creators' Exchange, that makes much of the process easier. I can search through a database of titles looking for a narrator, and send auditions to those that look interesting. When I get a contract, the approval process on the work is handled through uploads to ACX. When the book is done the chapters go into ACX, which does some basic screening to assure compatibility with Audible. The publisher reviews and requests corrections where necessary. When they sign off, it goes to Audible, which does their own QC and converts the file to their format. Finally, the book goes up on Audible, Amazon and iTunes. ACX provides a sales dashboard where I can track sales patterns, request promo codes for freebies, and track how many of those are redeemed. Once a month I get a royalty check. In comparison to the way such things were done even 10 years ago, this is an excellent system.
A couple of months ago I noticed that the total sales odometer was inching up. I started checking sales daily, instead of just at the end of the month when the check was due. Yesterday it was 13 short of 10,000, so I warned the kids I would have to take them out to dinner some night this week to celebrate. This morning, we got the line of zeroes. I was surprised to see it hit exactly. Does anyone else have pictures in their phone of the car odometer hitting 100 or 200 K? There must be something enticing about round numbers. Anyway, I took the screenshot.
All this is by way of saying a sincere thank you to Ricochet, where friends have expressed an interest in my narrations, accepted promo copies, written some reviews, and even in the case of @Richardeaston, brought me a title to narrate. I am grateful for all of the encouragement I have gotten here. As many of you know, writing is hard work. Narrating is a lot easier than writing, but it's still work, and it is a really big deal to the worker when it's appreciated.
Published in General