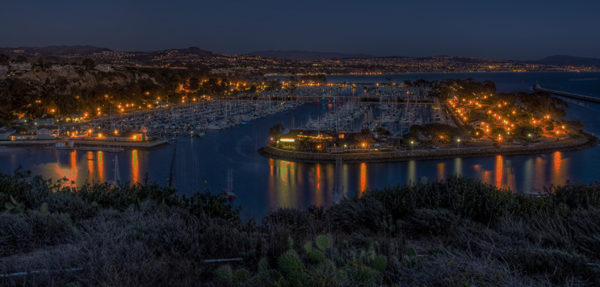 The last couple of weeks have been hot in Southern California. After all, it is predominantly a desert region, so temperatures in the upper 90s around this time of year should be expected. It was 100 on Saturday. My 26-year-old autistic, speech-challenged son doesn't do well in the heat. He moves slower, then gets ornery. Sometimes during these prolonged heat spells, he prefers to hang out in his room and take successive naps during the day and then come to life and become hyperactive after the sun has gone down. I can't blame him. To take him out of his routine last night, I offered to take him for a ride in the car as the temperature outside had dropped to a more tolerable 82 degrees after the sun had set over the Pacific.
It's rare when we go out at night. In fact, it's rare when I go out at night. It's also rare when I take him out by myself without one of his caregivers to help me because he can occasionally do something unexpected, like race through a restaurant and the restaurant's kitchen and then exit through an emergency door setting off an alarm or deciding he wants to bolt through Costco and make his way to the butchers' area as my items are being rung up at the cash register.
We drove down the hill toward the coast and eventually to Dana Point. For those not familiar, it boasts one of the largest marinas on the west coast where several hundred boats — sailboats, fishing boats, cabin cruisers, and more ostentatious yachts — are berthed. Around the marina are numerous shops and restaurants.
As we eventually found a space in the very crowded parking lot, my son and I strolled past the shops and restaurants with lines of hungry patrons out their doors while a soothing breeze wafted through the walkways between the buildings until we came to the edge of the marina. I suppose "stroll" isn't the right word. My son never really strolls. He jaunts even as I remind him that we're not in a hurry.
As we jaunted past row after row of berthed boats, I could hear a few folks on a cruiser enjoying cocktails and sharing a laugh. We walked past a young couple with a newborn and proud grandparents. I heard the young mother say something to the grandfather about walking some more so the baby would be exhausted and sleep well when they got home. I remember those days but realized that this was essentially what I was doing there with my own son at that moment. We passed at least two different families both with young children where one of the parents was pulling back on a leash attached to a very exuberant puppy very excited to be out and enjoying the night air. There's a metaphor in that as well.
My son and I turned and walked down a long causeway and heard the barks of sea lions emanating from somewhere in the dark marina, perhaps begging boat owners or fishermen or restaurant patrons with doggie bags to toss something, anything their way. We walked just below the windows of crowded restaurants and heard the sounds of clattering dishes and tableware and laughter. As we jaunted along, I managed to follow the progress of a Grand Banks-type fishing/cabin cruiser that had just cleared the harbor's jetty and was slowly gliding through the dark water toward her berth. Two teenagers were dangling their legs off the stern. We turned left down another causeway adjacent to the same busy restaurant. I noticed a couple seated at one of the outdoor tables in the restaurant's courtyard helping their young daughter who must have been about three or four years old with some ice cream.
We kept jaunting and heard the sound of a jazz band tuning up their instruments to do a set from the deck of a large yacht. I encouraged my son to sit on a bench and listen to the music but he would have none of it. Must keep jaunting. We came upon a pair of married couples perhaps in their 70s, who were either old friends or perhaps related, who actually were strolling and enjoying the occasional breezes and the sights and sounds that we were taking in.
They sensed my son's boundless energy behind them, perhaps because they heard his constant squeals of joy or incomprehensible blurts of information, and moved aside in front of us to let us jaunt through. One of the women looked at me and said, "You'll have to forgive us. We're just sashaying." I replied, "I'm sorry, I'm afraid my son doesn't sashay." Then quickened my pace to catch up to him.
As we eventually made our way back to the car, a magnificent full yellow harvest moon had risen just over the hills looking down on Dana Point. You know, the kind of moon that Disney animals sit under and lean closer to each other in silhouette as the words "The End" appear.
My son was happy. I was happy. It was good to get out. He got back into the backseat of the car and I handed him my iPhone, so he could listen to music through the car's sound system on the way home. As Beethoven's Symphony No. 6 ("The Pastoral") filled the car, and I maneuvered the car out of the parking lot and up the hill, I thought about all the families, and friends, and children, and puppies we had seen and the laughter, occasional snatches of music, and the barks of the demanding sea lions that we had heard.
Perhaps this summer evening scene was being played out in any number of coastal towns across America. There were no angry voices. There was no shouting. Politics and disturbing news stories seem to have receded from everyone's thoughts. After the heat of the day, the oppressive heat of a long week, a community had come together. Everyone was enjoying the night, the occasional breeze, the sound of a harbor full of light and laughter, music and the occasional pleading barks from sea lions. Everyone seemed happy. Or relieved. Or relaxed. There was a palpable feeling of contentment.
And then, my mind shifted to a darker thought as I pondered about some apocalyptic scenarios. No, not of the ever-changing and increasingly absurd claims of the impending Climate Chaos or Catastrophe about entire cities or states disappearing underwater but of more even dire scenarios — religious prophecies of doom, darkness and devastation because humankind has strayed. How could a loving Supreme Being destroy all of this because He is displeased and angry at His own creations? And then I heard the words of Claude Rains' Captain Renault from the film, Casablanca, materialize in my thoughts. After Major Strasser has ordered him to shut down Rick's Café, Renault responds, "But everyone's having such a good time."
As you would have surmised by now, as you sip your morning coffee, feed your nagging cat, or look out of your living room window — the obliteration of civilization on this Earth as we know it did not occur last night. It would have been uncalled for. It would have been wrong. Not on such a night.
Published in General