No matter how much fun you're having etching silicon, applying and stripping photoresist, or implanting ions, sooner or later you're going to have to actually put down some lines. Gotta build a circuit eventually. Chemical Vapor Deposition (CVD) is one of the main ways this gets done. Let's have a look at what we're doing, shall we?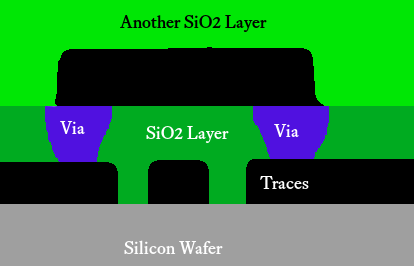 What you're looking at is a jump over a wire. You have two wires that need to cross but not touch each other, you gotta do something like this. Let's go over the process to get there:
Starting with a bare wafer, you apply the bottom three traces.
Grow an SiO2 layer.
Etch holes for vias in your layer.
Add vias
Apply the next higher level of traces
Apply the next SiO2 layer.
Always keeping in mind that there's a whole bunch of photoresist operations in there. Coat, expose, develop, strip. Gets expensive. We know how to do the resist operations, we might even be able to grow the bottom silicon dioxide layer (I mentioned it when we were discussing plasma last time). How the heck do we apply traces? And vias? And the higher SiO2 layer? The answer to all of these, my friend, may very well be Chemical Vapor Deposition.
Okay, okay, I've got the "why do we care" part worked out, but how do I do it? In principle it's simple; you float a bunch of gas with the stuff you need above the wafer, and then you cause a chemical reaction. The chemical reaction causes your interesting elements to drop out into a solid compound on the surface of your wafer. Whatever compound you were looking for. Here, let's try a simple example.
SiH4(g) —> Si(s) + 2H2(g) ~600 C
That is, if you heat up Silane gas to about six hundred degrees commie it'll decompose into straight-up silicon and hydrogen. The first problem is that you have gasses you need to put into the reaction, and gasses you need to get out. Okay, so you set the thing up so silane comes in the left side of the chamber and hydrogen goes out the right. You might have some trouble not putting down a uniform thickness layer that way, but we'll talk about that in a moment. Your next problem comes when your reaction happens in the air above the surface. You get clumps that way, and those clumps will eventually stick to your surface and screw things up. So we need a chemical reaction that happens on the surface. Try this one on for size:
SiCl4(g) + 2H2(g) —> Si(s) + 4HCl(g) ~1200 C
You've got to get two reactants in the left side in a good ratio, and you're shoving gaseous hydrochloric acid out the right side, which might be a problem too, (not to mention that you had to tack on an additional 600 degrees to get the reaction to run) but let's say you've got a plan for those. The major benefit of this reaction is that it only works right on the surface of your wafer. No gas phase interactions to worry about. Makes deposition much more even and less prone to defects. Trouble is that makes your process more complicated.
Introduce a molecule to the system
Stick the molecule to the surface (the word is 'adsorb'; note the 'd').
Cause the molecule to chemically react
The waste products have to unstick themselves from the surface
The waste products get pumped out.
(Optional) the adatom (that is, the molecule stuck to the wafer) may skitter around the surface until it bangs into more of it's kind to stick to.
In practice, the most interesting step is #3; how quickly your reaction goes. The question is whether your process rate is limited by the amount of material you have, or by the reaction rate. Here, let me give you an illustration.
When I go down to the local ballpark to see the Eau Claire Express play it costs me $8 to get in. There are two ticket windows with pretty young ladies taking my money and giving me a ticket (which can also be redeemed for a free scoop of custard at a local Culver's after the game!). Now, if I arrive early (fat chance of that) both windows are open and nobody's waiting in line. I casually stroll up to the one, give her my cash and get my ticket. If I arrive just before the game starts there's a line at both windows. I have to stand and wait while other people get their tickets first.
In the first example, when I'm the only person there, it doesn't matter how fast the ladies do their job. Fast or slow they can only process one person and then they'll have to wait for the next fan to come along. In the second example, it doesn't matter how many fans are standing in line; the ladies can only process one person at each window at a time. The first reaction is mass limited — despite my ample posterior they can only shove one person into the ballpark until the next person comes along. The second reaction is rate-limited — The fans go marching two by two (hurrah!), depending entirely on how efficiently those lovely ladies do their job.
Jumping back to my hypothetical CVD reactor design, that's why it might not be important that your process gas comes in on one side. If your reaction is rate-limited then it won't matter that your gas is denser with useful molecules on one side; if you have eight people in one line and only five in the other they're still getting processed two by two. You're more likely to get a film that's the same thickness on all parts of your wafer that way.
Let's say I don't want to just drop silicon on my wafer. What if I want silicon dioxide? Copper? Other fun things? Well, ladies and gentlemen, you'll just have to wonder for the nonce. I'm going to cut this short here. I've got more to say about CVD, but I'm not going to tax your patience by trying to write it all in here. Join us fortnight next for "Vaping with Hydrofluoric Acid" or "Deposition I'm Holding!"
---
This is part 36 of my ongoing series on building a computer, the take-me-out-to-the-ballpark way. You may find previous parts under the tag How to Build a Computer. This week's post has been brought to you by the Eau Claire Express! Keep your slide rule handy as you root root root for the home team, your Eau Claire Express!

[First – Silicon] [Previous – Anisotropic Etching] [Next]
Published in Science & Technology