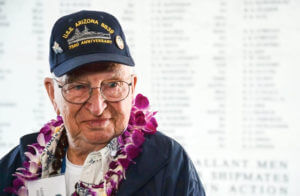 Lauren Bruner, aged 98, passed away Tuesday in California. He was one of four remaining survivors of the USS Arizona. The remaining three are Don Stratton (97), Lou Conter, and Ken Potts (both 98).
On December 7, 1941, Bruner was strafed in the legs trying to get to his battle station and received burns over 70 percent of his body from a subsequent explosion. In his memoir, Second to Last to Leave the USS Arizona, Bruner announced he would answer no more questions about the attack. "As you read these chapters," he wrote in the preface, "know that they were real and that it was truly a Hell on Earth. The horrors of what I witnessed on that morning have kept me from sleep for many years after."
He returned to duty aboard the USS Coghlan and saw action in the Aleutians and the South Pacific. He retired from the Navy in 1947.
After cremation, he will rejoin his shipmates on board the Arizona in a future ceremony.
Hat tip to Stars and Stripes and Hawaii News Now.
Published in General