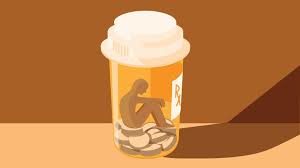 There have always been a few drug addicts around, but this is different. The opioid epidemic has gone from a theoretical issue to a national crisis seemingly overnight, and it continues to grow like wildfire. Like most social problems, it can be difficult to find a solution, so it's easier to just try to find someone to blame. Unfortunately, punishing the perpetrator is tricky when the victim and the perpetrator are the same person. One problem with liberty and self-responsibility is that it becomes more difficult to find someone to blame for your troubles. But every story needs a bad guy. And in politically correct American media, that bad guy can't be a poor person, and it can't be government. It has to be either a conservative or a corporation. You would think that simply following the playbook to a forgone conclusion would simplify investigative reporting, but in fact it can make it much more complex. What if that forgone conclusion is either questionable or outright ridiculous? That leads to some very creatively written news stories.
So I get my latest issue of JAMA (Journal of the American Medical Association), and front and center in this issue is an article called, "Lessons Learned from the Opioid Epidemic." The first sentence of this article reads thusly (emphasis mine): "Oklahoma's recent settlements with Purdue Pharma and Teva Pharmaceuticals, and the trial in the state's lawsuit against Johnson & Johnson, signal that the opioid epidemic is entering a new era of accountability." So to the authors of this article, their idea of accountability is to blame those who made the drugs. NOT those who took the drugs, and certainly not those who bought the drugs (very often, government – many of these people receive various forms of government benefits).
One wonders if these insightful physicians will attempt to cure obesity by suing corporations which make spoons.
To be clear, the pharmaceutical companies are accused not just of producing opioid drugs, but also of stating that their drugs were safer and more effective than they really were. But first of all, every company that produces anything is likely to see their own products in a positive way.
But that's not the point. As a physician, I just don't understand this lawsuit. We all know how addictive and dangerous these drugs are. We rarely used them until everybody from 60 Minutes to the CDC started screaming that people were suffering needlessly because heartless physicians were ignoring their pain, while withholding treatments that would reduce their suffering immediately. Then we had pain, the fifth vital sign. Rate your pain from 1 to 10. We were told that we were not treating pain aggressively enough, and you can understand that point of view. And presto, over-prescribing became a problem.
But it's a relatively small part of the problem, in my view. Some people get prescriptions from physicians, but many people get their opioids via other means.
Lots and lots and lots of people really want these drugs all of a sudden. Something has changed, beyond the prescribing habits of some physicians. I don't know what it is.
People now expect to be pain free? People are less willing to accept the difficulties of life and want a pill to make it go away? People are not as tough as they once were? People are unhappy or stressed out and like drugs that dull their anxiety etc? The 60's taught people that there are better drugs available than booze? People have lost hope for the future and just want to feel good today? Marijuana distribution networks make it easier to get opioids into typical communities? I could guess and guess and guess – I really don't know what has changed. But something has changed. Something really, really big.
And what strikes me as remarkable is that Americans in general, and this article in particular, seem to have little interest in what that big thing is.
In the remainder of the article, they blame doctors, pharmaceutical companies again, lack of education, and pharmaceutical companies yet again. But they never mention those who took the drugs or those who bought the drugs.
Comparing drug addiction to alcoholism is a dangerous business, but just think about it on a small scale. First of all, a drunk probably buys his own booze. He is likely to be encouraged to quit by those who love him the most. So his wife will tell him, "Stop buying booze." This may or may not help, but she views that as a big part of the problem. If his friend is buying booze for him, she will ask the friend to stop buying booze for her husband.
Again, she's trying to help, and will likely focus on the problem of her husband buying too much alcohol and drinking too much alcohol.
She is unlikely to blame Jim Beam. And if she does, she will never be able to help her husband. And her husband will be unable to help himself, as long as he insists on blaming others for his problems.
So what do we do in this "new era of accountability in the opioid epidemic?" We blame pharmaceutical corporations. Swell.
I hesitate to even post this, because I don't want to hear about how Oxycontin 40mg QID really helps your fibromyalgia. And I'm uninterested in the inevitable scathing comments which will suggest that pharmaceutical companies have an interest in profits. Ok, fine. But that's not at all what I'm writing about.
I just think that intentionally ignoring the root causes of a problem – any problem – will tend to prevent us from solving it. Ever. We have to develop, at the very least, an interest in why something is happening. We should try to find the cause, even if we don't want to hear it. It's ok to look for a bad guy, as long as you're willing to accept that the bad guy may be you. Or worse yet, someone that you care about.
I think that one reason that so many social problems go unsolved is not that we can't find the solution. It's that we don't want to find the solution. It may be uncomfortable. It may challenge our beliefs or sympathies. It may be right, but we don't want to hear it. Understandably. Who wants to deal with uncomfortable realities? Surely there's another way, right?
But by averting our gaze, we discretely abandon all hope of reducing the suffering of millions, while we publicly sympathize with their plight.
These problems are difficult. The solution is likely to be very difficult.
Blaming whoever is currently unpopular may get fools elected to public office, but it can only make it even more difficult to solve problems. Such blame shifting is not merely unhelpful. It's poison.
Democracy has many advantages. But there are disadvantages as well.
Published in General