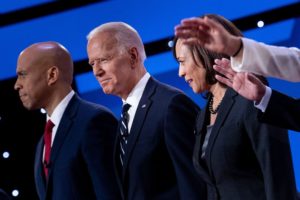 Two hours and forty-eight minutes later, the third Democratic primary debate is finally over. Nothing said Thursday night will significantly impact the race; Biden still leads with Warren and Sanders close behind.
ABC News hosted the latest scrum, filled with more Trump-bashing, tax-raising, and spending, spending, spending. According to party rules, only ten candidates appeared. In addition to the top three, the dais included Booker, Buttigieg, Castro, Harris, Klobuchar, O'Rourke, and Yang.
Without Tulsi, Marianne, or the red-state outliers, Thursday's debate was duller than the previous affairs — and that's saying something.
Entrepreneur Andrew Yang kicked off the festivities by saying his campaign will give $1,000 a month for a year to 10 families, a UBI sweepstakes requiring contestants to sign up on his website. The other candidates openly laughed at the stunt.
Julián Castro also had an early misstep with a clumsy attack on Joe Biden's age. "Are you forgetting what you said two minutes ago?" Castro sneered as the crowd groaned. He would have lost his senior-citizen votes if he had any to begin with.
Biden recoiled from a more substantive strike on Obama's immigration record, this time from moderator Jorge Ramos. "What Latinos should look at, comparing this president to the president we have is outrageous," he said, then added a flat-out lie. "Number one, we didn't lock people up in cages. We didn't separate families. We didn't do all of those things."
Yes, you did.
Another moderator, Linsey Davis, asked about Biden's 1975 comment that he didn't "feel responsible for the sins of my father and grandfather" when it came to segregation. Biden didn't lose his cool, instead outlining his record fighting racism.
To his credit, the left-leaning Ramos questioned Sanders about socialism. "You admit that Venezuela does not have free elections, but still, you refuse to call Nicolas Maduro a dictator," Ramos said. "Can you explain why? And what are the main differences between your kind of socialism and the one being imposed in Venezuela, Cuba, and Nicaragua?"
Sanders called Maduro "vicious tyrant," but added, "to equate what goes on in Venezuela with what I believe is extremely unfair."
"I agree with [what] goes on in Canada and Scandinavia," the Vermont senator continued. "Guaranteeing health care to all people as a human right. I believe that the United States should not be the only major country on earth not to provide paid family and medical leave."
Warren regurgitated her plans to solve every problem under heaven by taxing the rich and spending more. Despite being a top-tier candidate, she barely said anything memorable.
Beto O'Rourke framed nearly every answer with references to the El Paso Walmart shooting. "Hell, yes, we're going to take your AR-15, your AK-47," he said. "We're not going to allow it to be used against a fellow American anymore." Thus, ensuring he'll never be elected president or vice president.
Cory Booker dropped his Spartacus theatrics and returned to the affable moderate that first made him a national figure. The oddest performance went to Kamala Harris, who set aside her usual gravitas for a giggly triviality. Loosening up is fine, but Harris seemed two glasses in to a bottle of rosé.
Pete Buttigieg turned in another hyper-earnest TED-talk, while Amy Klobuchar stuck to her failing strategy of impenetrable dullness. Neither had a breakout.
The nearly three-hour debate shouldn't shift the primary race. There were no masterful takedowns, career-making/breaking gaffes, or viral moments. Mercifully, the next faceoff isn't for another month.
Published in Elections, Politics